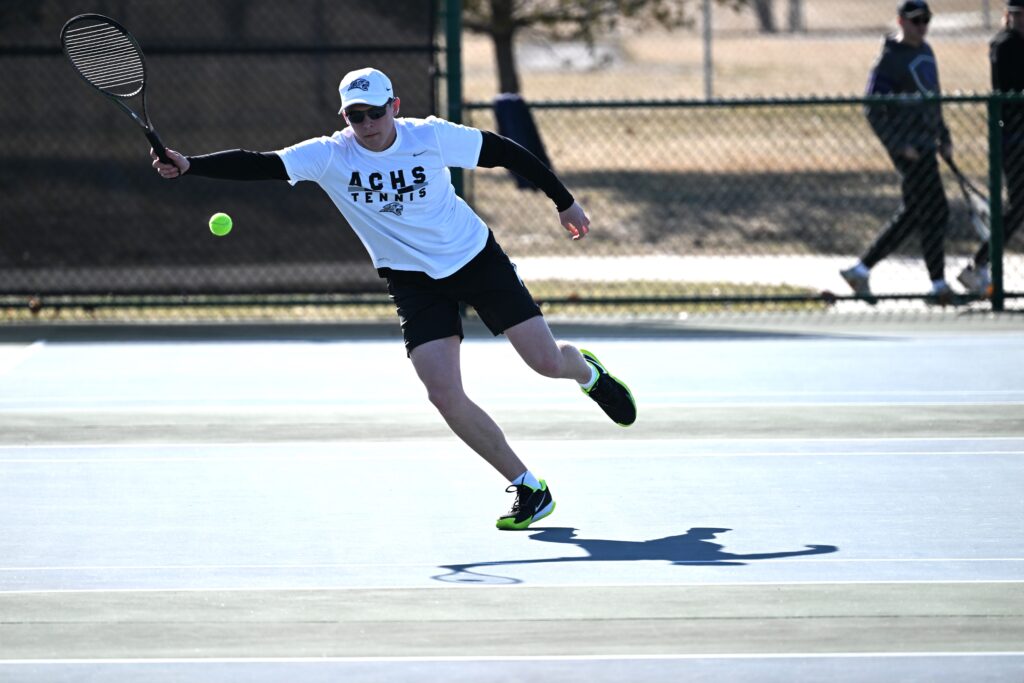 It's been a year of close losses for the Ankeny Centennial boys' tennis team.
The latest one brought the Jaguars' season to an end.
After posting a 5-0 victory over Dallas Center-Grimes in a Class 2A substate team tournament on Friday at Johnston, Centennial dropped a 5-4 decision to the host Dragons in the semifinal round.
The two teams were tied at 3-3 after singles play. Johnston then won two of the three doubles matches to secure the win.
"We really thought we had them," said Centennial coach Tami Lewton. "We won the first set at No. 1 and No. 3 doubles. We were up 7-4 at No. 3 in the super-tiebreaker, but just couldn't pull it out. All in all, I thought we played really well. We just lost the important points."
Fred Jensen was part of Johnston's winning team at No. 3 doubles. Earlier, he won a three-set match against Andrew Law at No. 5 singles.
"I was hoping to get a win at 5 or 6," Lewton said. "Andrew almost pulled it out, but lost in a super-tiebreaker."
The Jaguars finished with a 4-8 record. Four of the losses were decided by a single match, including a 6-5 setback to Johnston on April 25.
The Dragons (8-3) will play at fifth-ranked Linn-Mar (Marion) in the substate final on Wednesday. They posted a 5-3 win over Centennial in last year's substate final.
Caleb Peterson won both of his singles matches for the Jaguars on Friday. He will take a 17-0 record into the Class 2A state tournament on May 23-24 at the Hawkeye Tennis & Recreation Center in Iowa City.
"This season I thought we got a lot of really good experience that will serve our returning players well," Lewton said. "They will be veterans next year, and I look forward to seeing all they can achieve. We will lose Caleb, which is a huge loss, but we will return a plethora of experience."
Here are the match-by-match results from Friday:
Centennial 5, Dallas Center-Grimes 0
Singles–Peterson beat Rusch, 6-0, 6-0; Hiney beat Wilkens, 6-1, 6-1; Wellendorf beat Lampe, 6-0, 6-1; Smith beat Arends, 6-2, 6-0; Law vs. Fitzhugh (did not finish); Halverson beat Kleis, 6-2, 6-2.
Johnston 5, Centennial 4
Singles–Peterson (AC) beat Launderville, 6-0, 6-1; Love (J) beat Hiney, 6-3, 6-4; Wellendorf (AC) beat Driscoll, 6-1, 6-4; Smith (AC) beat Soni, 6-4, 6-0; Jensen (J) beat Law, 6-3, 1-6, 10-4; Dial (J) beat Halverson, 6-3, 6-3.
Doubles–Peterson-Hiney (AC) beat Launderville-Soni, 6-4, 6-2; Love-Driscoll (J) beat Smith-Valerio-Garsow, 6-1, 6-1; Jensen-Austin (J) beat Wellendorf-Halverson, 3-6, 6-4, 10-7.