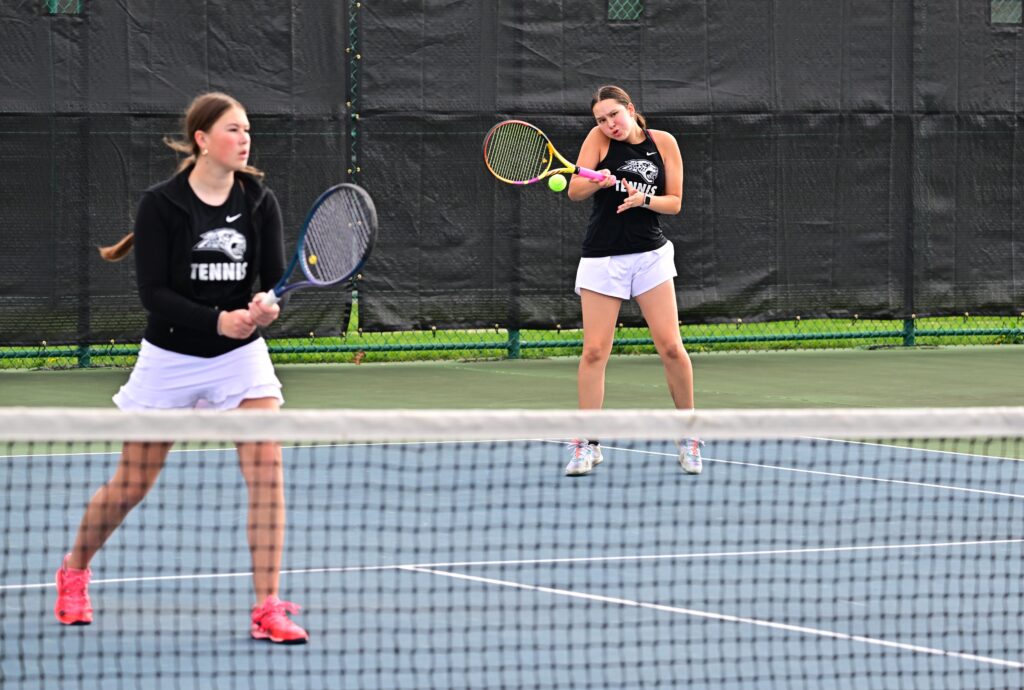 Junior Megan Yuan is one of six players on the third-ranked Ankeny Centennial girls' tennis team to qualify for the Class 2A state tournament, which will be held on May 26-27 at the Hawkeye Tennis & Recreation Center in Iowa City.
Yuan and Samara Peterson defeated teammates Jenna Benkufsky and Ara Lofgren, 6-2, 6-3, to win a regional doubles title on Wednesday at Ames. The duo has compiled a 13-1 record.
Here is some inside info on Yuan:
Congratulations on winning the regional crown. How does it feel to qualify for state?
Thank you so much! It's truly an indescribable feeling. We have put in a lot of work every single day, in practice and outside of practice, and seeing it start to pay off is so rewarding. After winning in the semifinals, I ran over and nearly tackled Samara in pure joy and relief. I'm so proud of us and excited to see where we can go at state. This is certainly an exciting first season for both of us!
Were you surprised that your team swept the top two places in both singles and doubles, becoming one of only three squads to qualify all six players for state?
I was not surprised. We have such a strong and deep team this year, so I was confident going into the tournament that we could all make it to the finals and qualify for state. I knew it was not going to be easy, and we would have to play our best and fight hard. But I have so much faith in this team and our ability to win.
You and Samara were seeded third in doubles, but you posted a 6-2, 6-3 win over second-seeded Madison Haskell and Ava Johnson of Norwalk in the semifinals to punch your ticket to state. What was the key to that victory?
The key was definitely adjusting our approach and strategy based off the strengths and weaknesses of that team. One of the girls had a huge presence at the net, but we were able to find ways to exploit that, especially by targeting their mid-point transitions to catch them off-balance. I believe that Samara and I have a winning mentality, and we've gotten pretty good at problem solving and adjusting our strategy to find the best way to win. We're very versatile players and we never have the same approach to a match, and I think that is really why we were able to defeat Norwalk.
Then you defeated your teammates in the final. Was it kind of strange to play your friends for the regional title?
It was a little different, but that matchup in the finals was the best possible outcome from the day and I'm still just so excited that we are all able to go to state together. I cannot say that enough. Jenna and Ara are really close friends of ours, and it's always fun to play with them. That match specifically was a little hard for me, because I always want what is best for my team and for my friends. I want everyone to be proud of how well they played, no matter the score of the last match. We are all one team and one family, and this whole family is headed to state!
Did it feel good to beat them though, since they were the higher-seeded team?
I do not think that necessarily describes how I feel about the outcome of the match. Like I said before, these girls are my family. I want them to be so proud of the way that they played throughout the entire day and season. We are all one team and one family, and that goes so much deeper than me individually. Going into that match, I knew I just wanted all of us to play our best and have a fun time. There were a few really fun points and we were all able to laugh about them, and I'm so grateful for that. There can sometimes be tension in situations like that, but I wanted to minimize that as much as possible. I love all of these girls so much. I always want to be their biggest (supporter) no matter what, because they are far more important to me than the outcome of any match.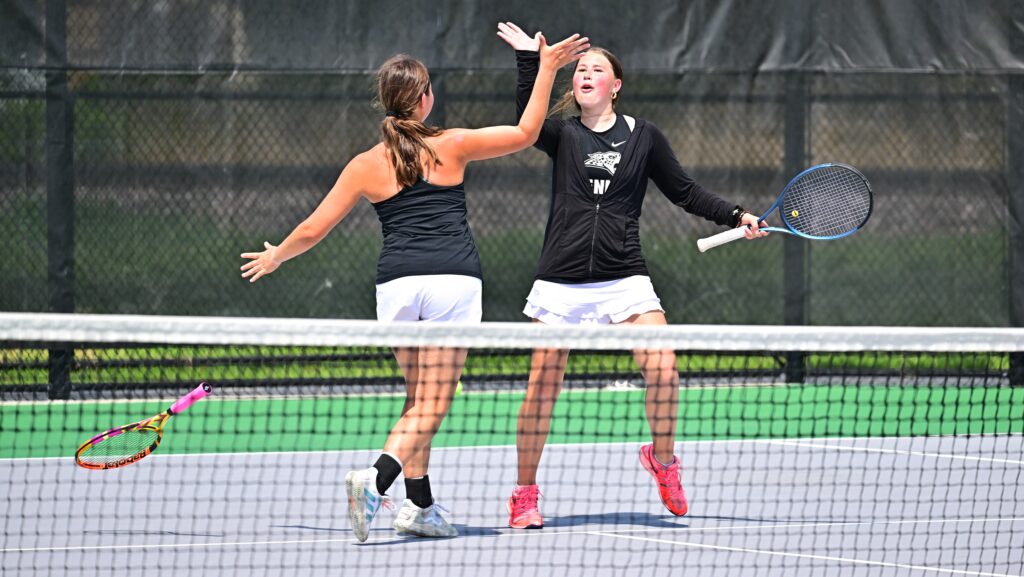 Samara is only a freshman, so I assume you probably hadn't played with her much at all prior to this season. Is that right?
Yes, that is correct. She is a freshman, and I am completely new to the Iowa tennis system, which meant that I had never met her or any of the girls prior to this season.
Did it take the two of you awhile to develop some chemistry?
I think we were able to connect well pretty quickly! I was comfortable with all the girls very early on and was welcomed as a part of the team almost immediately, which was helpful and I'm still so thankful for it. I can bring a lot of energy to the court, and I think it also made the process a bit smoother. We balance each other out very well, we're able to pick the other up when we're down, and we stay positive and keep our energy high to finish out a win. However, there is always growing to do, and there has been a lot of growth in the two of us this season. We're always learning how to play even better as a team. We've also grown so much as people, and we've had some really good conversations together that have shown that. Samara and I both agree that we have especially grown a lot in our confidence, both on and off the court, since meeting each other and being able to play together. I'm so incredibly thankful for her and could not have asked for a better partner to grow with this season.
What has been the key to your success?
Like I mentioned before, we're very versatile players. Sometimes we can underestimate our abilities, but once we're on that court, we're almost unstoppable. We work through problems and adjust our play to best attack the weaknesses of the other team. We have so many different strengths, and we know how to use them specifically in order to pull out each win. No opponent can ever accurately guess or try to prepare for our game. It's different every time based off of what will work best for us against that specific team. We love to keep them off-balance.
Your only loss came to a team from Johnston. Was that the best team that you've played?
I would not say that they are the best team we've played. We encountered a few very good teams this season–including Dowling and Valley as well as Johnston–and they always bring great competition. I think that day just came down to our mental game, which was not up to the bar that we usually like it to be at. We didn't have a winning mentality, and we were honestly tired. Johnston brought a great team that day, and they were ready to win. We started to fight back some in the second set, but we were ultimately unable to bring it to a tiebreaker. It was a bit of a wake-up call for us that came in the middle of the season, and I think it just helped show us the importance of coming out strong, as well as the importance of having a winning mentality every time we step onto the court. Like I said before, we have grown a lot already, and every match has contributed to prepare us for this postseason.
Your team will begin regional team competition on Tuesday. Do you think this team can make a run at the state title?
I am confident that we can and will make a strong run for the state title! I have said this before, but we have such a strong team and so much depth within our lineup this year. We have had an incredible season so far, and I am confident in our abilities at team state. This is what we've been looking toward all season. We will give it our all and fight to the end.
What are your goals for the individual state tournament?
At this point, I would just say that Samara and I want to take this opportunity and see how far we can go. We'll play as we always do–with lots of energy, fight, and love for the game and each other. There will be a lot of talent and great play at the individual state tournament, and we're so grateful that we get to be a part of that! We'll take it one match at a time, one point at a time, and see where it takes us.