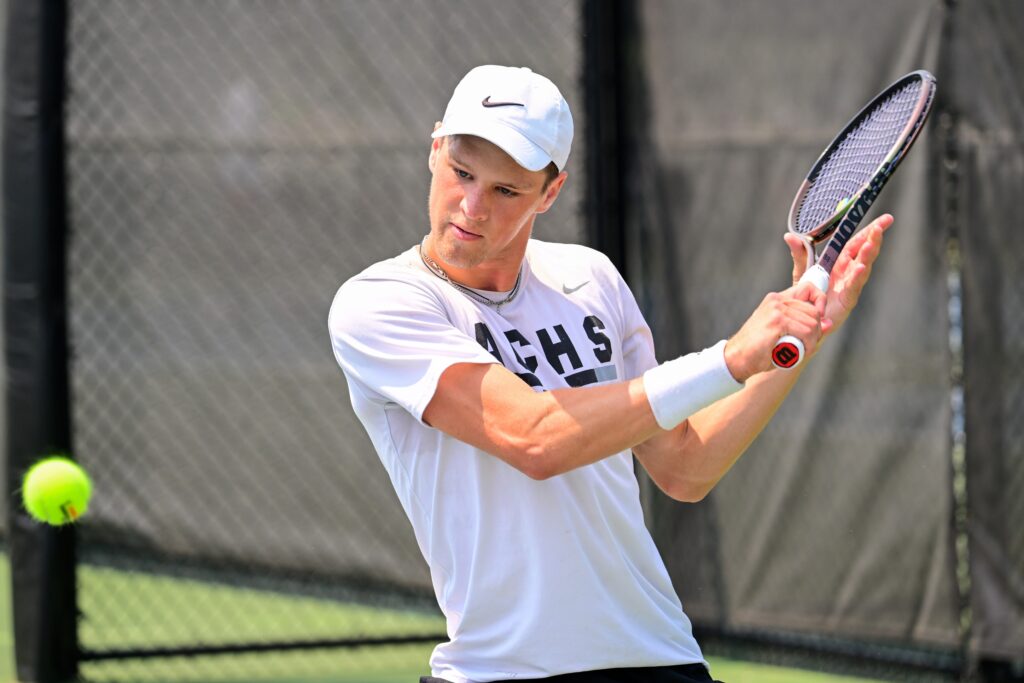 For the second time in three years, an Ankeny Centennial senior advanced to the championship match in the Class 2A singles bracket at the boys' state tennis tournament before having to settle for runner-up honors.
Top-seeded Caleb Peterson dropped a 6-3, 6-3 decision to second-seeded Kaden Taylor of Waukee Northwest on Wednesday at the Hawkeye Tennis & Recreation Center in Iowa City. Taylor, a junior, avenged a three-set loss on May 4 to capture the title.
"I didn't play to the level I'm capable of and didn't have a clear game plan," said Peterson.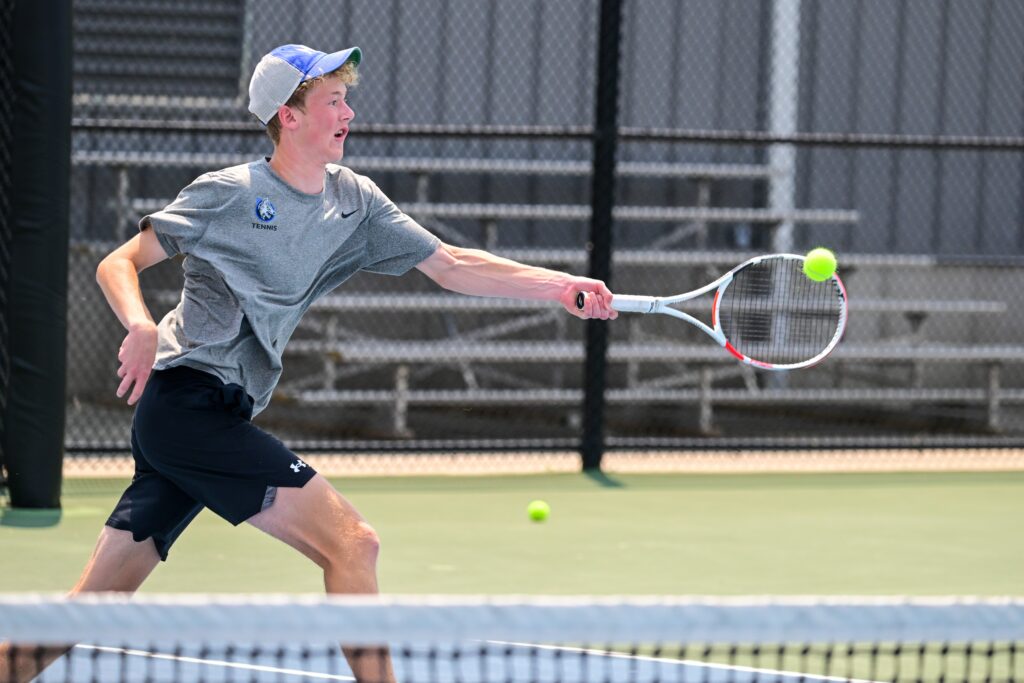 Peterson suffered his first loss since the opening round of last year's tournament, when he lost to Taylor in three sets. He bounced back to place fifth a year ago, then cruised through the 2023 season and easily advanced to Wednesday's final by losing a total of just two games in his first three matches at state.
"I thought Caleb had a fantastic tournament leading up to the finals," said Centennial coach Tami Lewton. "He absolutely dominated those first three matches."
Peterson got off to a good start against Taylor by rallying from 15-40 down to hold serve in the opening game. He scored four straight points to close out the game.
Taylor fought off a break point to tie the set at 1-1, then broke Peterson's serve at love to take a 2-1 lead. He smashed a service winner to hold serve for a 3-1 advantage.
Peterson responded by holding serve at love to pull within 3-2, but Taylor then won the next two games before Peterson got a break to pull within 5-3. However, Taylor again broke Peterson's serve at love to close out the first set.
Peterson later got a huge break to take a 3-2 lead in Set 2, but he was unable to sustain his momentum. Taylor broke right back for a 3-3 tie.
Taylor, a lefthander, fought back from 0-30 down with four straight points to hold serve for a 4-3 lead. After getting another break, Taylor again scored four consecutive points to overcome a 0-30 deficit in the final game.
Taylor hit an incredible backhand winner on the penultimate point. Peterson then hit a backhand return out of bounds to end the match.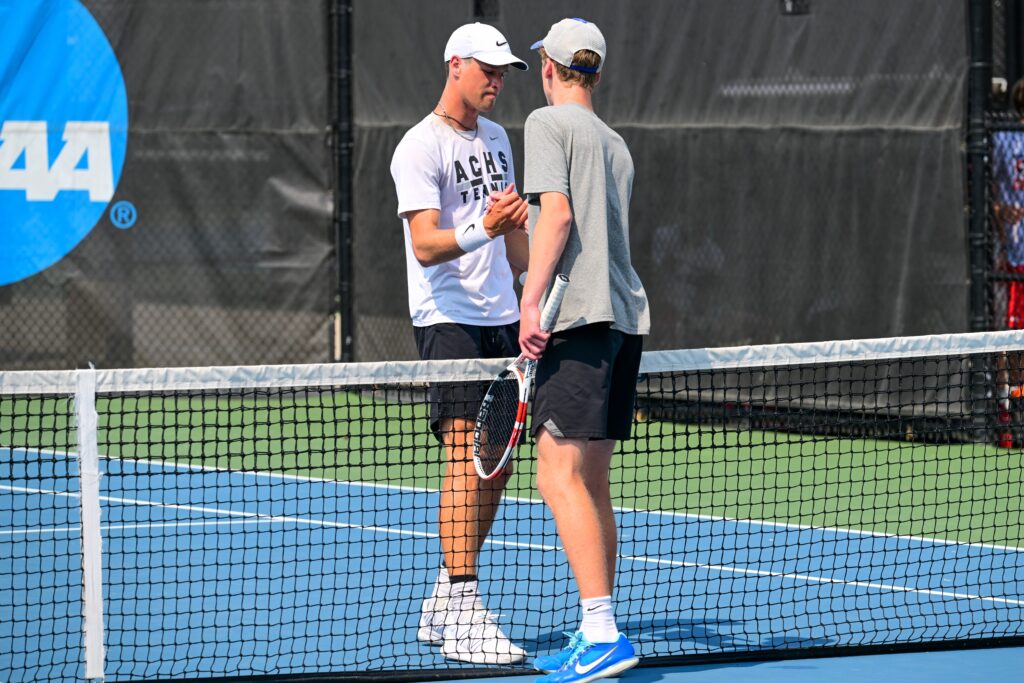 "Honestly, as I look back at the final–and not to take anything away from Kaden–but I think Caleb is the better player," Lewton said. "To beat Kaden you have to play a certain strategy that is not a fun way to play. Caleb wanted to play the final out on his terms–the way he likes to play. It is difficult to overpower Kaden, and I'm not sure Caleb believed that he could win.
"I will always believe in Caleb. He just needs to learn to trust himself," she added.
Peterson finished with a 20-1 record.
"I'm proud of my accomplishment, and I'm looking forward to improving in college!" Peterson said.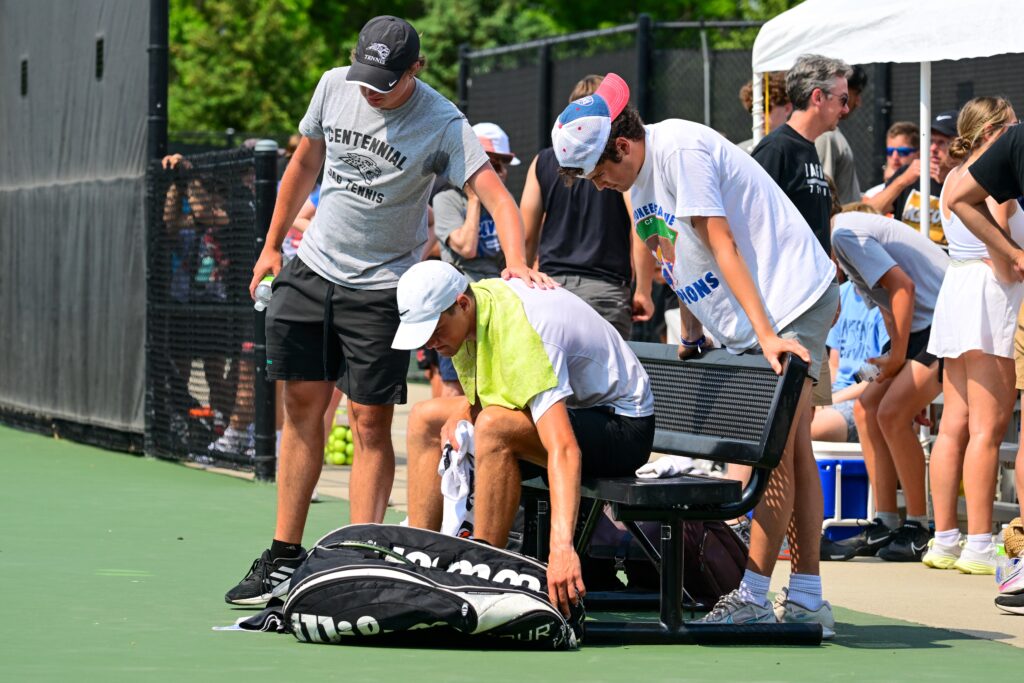 Peterson's former teammate, Will Blevins, was in the crowd on a sunny afternoon. Blevins was the state runner-up in 2021, when he lost to Daniel Lu of Dowling Catholic in the finals.
"It does bring back some memories, watching Caleb play," Blevins said.
Peterson placed sixth in doubles as a sophomore before turning his focus to singles the last two seasons. He went a combined 38-3 in 2022-23.
"I'm not surprised at all that he made it here," Blevins said.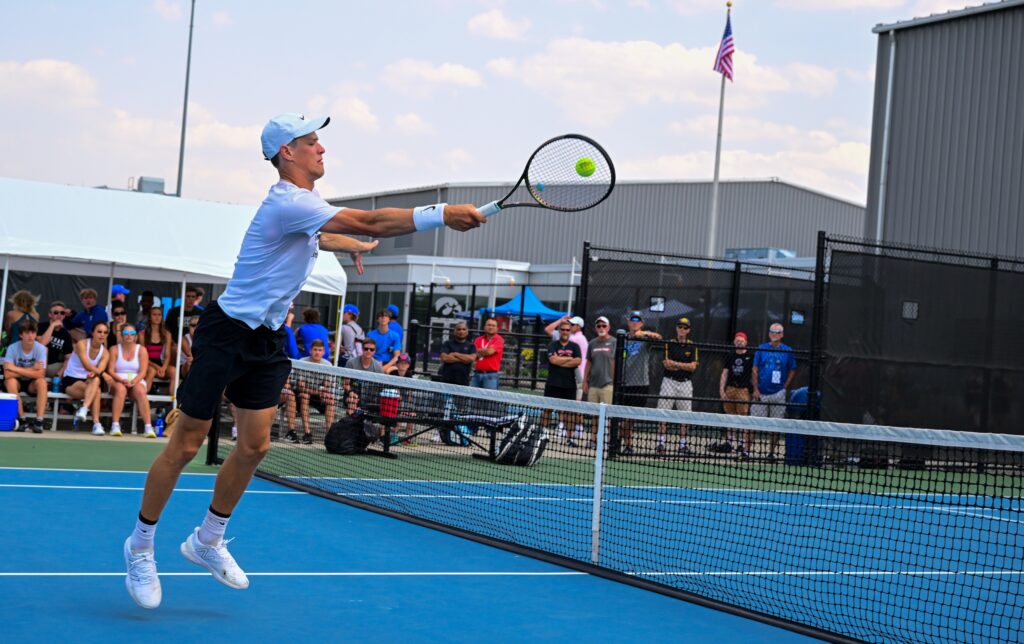 Blevins is now a sophomore on the Drake men's squad. The Bulldogs have qualified for the NCAA Tournament in each of the last two seasons.
"I'm enjoying college," Blevins said. "It's a lot different than high school, and I feel like I've been improving a lot since transitioning there."
Peterson is being recruited by the Bulldogs. Blevins wouldn't mind being reunited with his former teammate.
"I've always liked playing with Caleb, and I like him as a person as well," Blevins said.