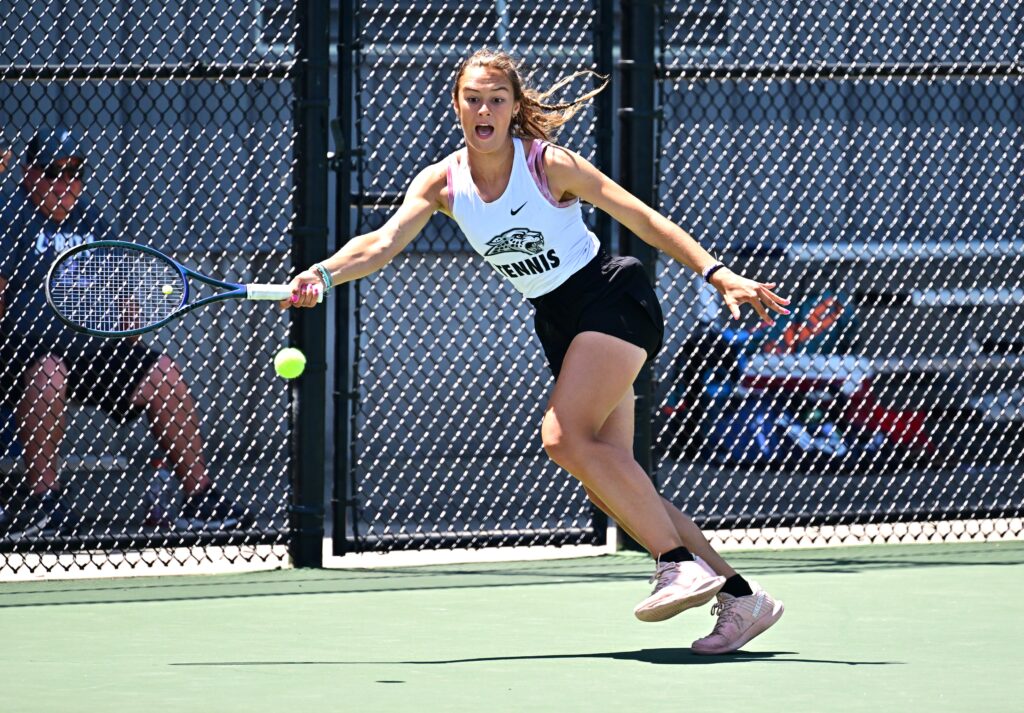 Abbie Peterson barely worked up a sweat during the opening day of the girls' state tennis tournament on Friday.
The Ankeny Centennial junior won her first two matches without dropping a single game in the Class 2A singles division at the Hawkeye Tennis & Recreation Center in Iowa City. Peterson raised her record to 16-0 on the season.
"I thought I played smart," said Peterson. "I wasn't focused on how fast I was getting off the court. I just fought and was determined for every point."
The second-seeded Peterson opened with a 6-0, 6-0 win over Lily Schreckengast of Cedar Rapids Jefferson. She then followed with another double bagel against Ella Gilbert of Iowa City Liberty.
"Abbie was on today and played the way she needed to play in order to keep advancing," said Centennial coach Alli Gustafson. "She was not being super aggressive, but playing the way she's capable of. Beating the girls was great and doing it in the least amount of time on the court was perfect."
Peterson will face Julianna Mascardo of Iowa City West in the semifinals on Saturday morning. Mascardo upset third-seeded Ava Petersen of Dowling Catholic, 7-5, 7-5, in the quarterfinals.
Top-seeded Claire Gu of Valley, the defending champion, will meet fourth-seeded Andrea Porubcin of Bettendorf in the other semifinal. The title match is slated for 12:30 p.m.
"I am excited to play (Saturday)," Peterson said. "I have been working hard, and I'm confident and ready to fight for (the title)."
Five other Centennial players were in action on Friday along with Kira Smith of Ankeny. They were all eliminated from the tournament.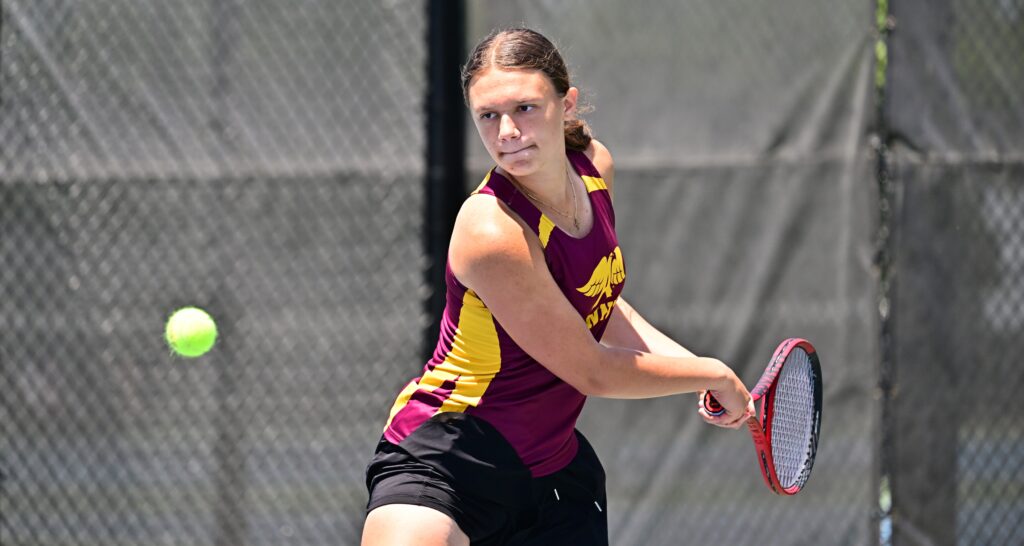 Smith, who placed fourth a year ago, could have met Peterson in the quarterfinals for the third time this season. But she dropped a 6-4, 6-2 decision to Gilbert in the opening round.
Smith lost the first set to Jordan Ingram of Pleasant Valley, 7-5, in a first-round consolation match. The sophomore then defaulted due to a variety of health issues, ending her season with a 12-6 mark.
"It was a combination of things," said Ankeny coach Steve Smith, Kira's father. "Her shoulder is a problem, and she wasn't able to fully do what we wanted her to do. She also complained about dehydration."
Kira Smith said she's been a battling an illness for several weeks.
"Honestly, I've been sick so long that I'm not right," she said. "I was kind of like shaking really bad."
Centennial's Esther Guan also competed in singles. She opened the tournament with a 6-3, 6-1 loss to Lauren Masengarb of Pleasant Valley, who also defeated Guan at last year's tournament.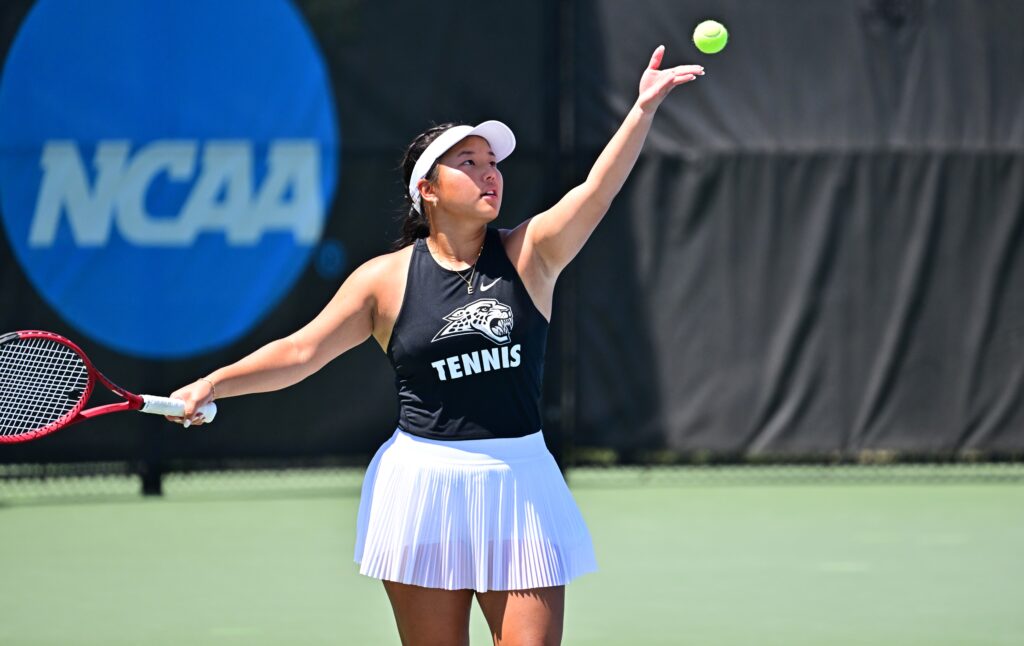 Guan rebounded with a 6-1, 6-1 victory over Mohana Sunkara of Iowa City West.
"It did feel good to win, especially after a loss," Guan said. "My goal definitely is to place."
Guan was eliminated, though, in her next match. She lost to Gilbert, 7-5, 6-0.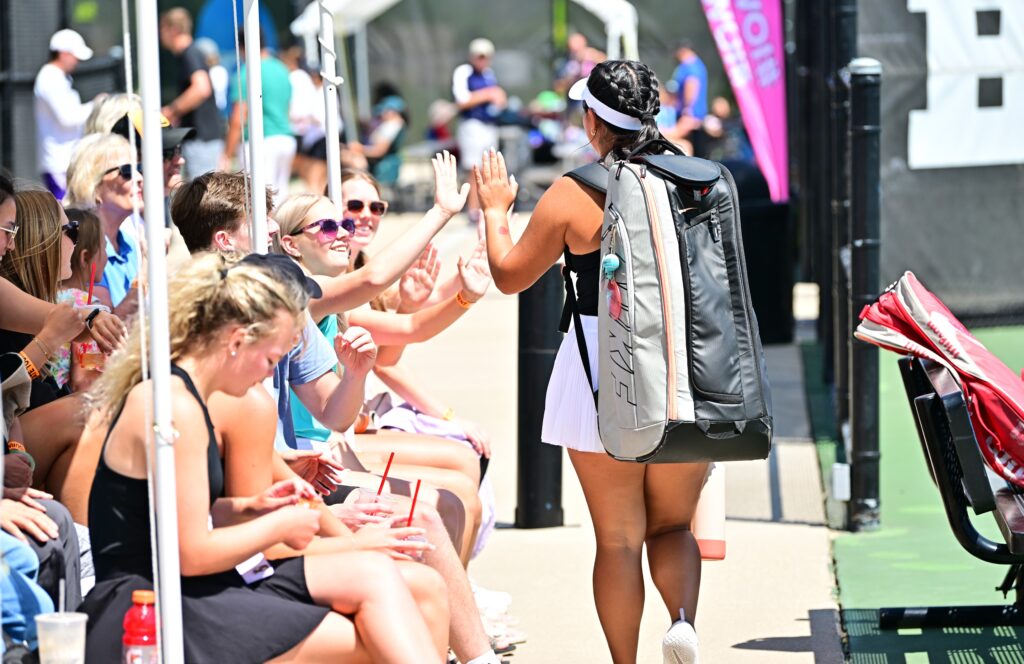 "I think that first match (against Masengarb) was tough for her. Lauren was very good," Gustafson said. "But getting that win against (Sunkara) was great for her. She was in control of the match and played her game. Esther has had a great career."
The senior will take a 15-3 record into the Class 2A state team tournament on Tuesday at Johnston.
"We are so excited for team because we have never made the final four," Guan said. "Honestly, it's a lot nicer competing for your team and not just for yourself on the court."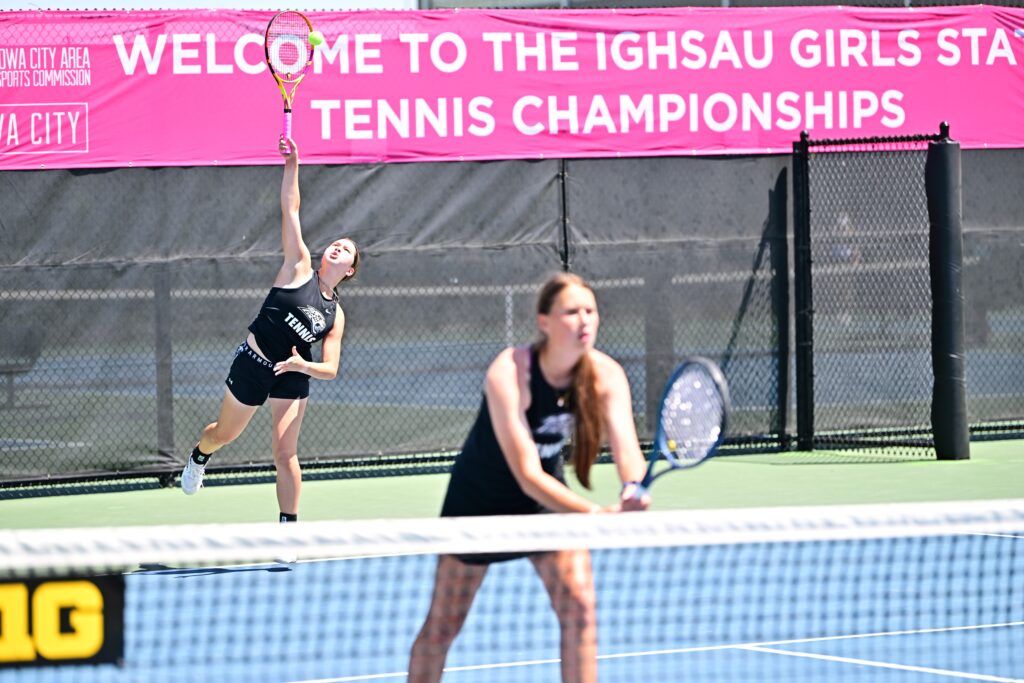 In doubles play, the Centennial duo of Samara Peterson and Megan Yuan advanced to the quarterfinals before losing their next two matches. They rallied for a 4-6, 6-2, 6-2 win over Dowling's Victoria Bakros and Presila Edward in the opening round.
"We just had to play consistent, trust our shots and be aggressive," Peterson said.
Yuan often punctuated a winning point with a celebratory scream and a high five with Peterson.
"We're just really connected, and we love to pull it out with our energy," Yuan said. "I think we just stayed confident the entire time. We knew that we had it. We just had to pull it together. We had to be confident at the net–that was the biggest thing. We had to put away shots."
Peterson said the chemistry between her and Yuan is a big reason for their success.
"We both get excited," she said. "It's just really fun because we're friends and we love hanging out and playing."
In the quarterfinals, Peterson and Yuan dropped a 6-0, 6-0 decision to second-seeded Katelynn Kock and Kathryn Zylstra of Cedar Rapids Washington. They then fell to Lily Dykstra and Kate Hinkhouse of Urbandale, 6-3, 6-2, in a second-round consolation match.
Peterson and Yuan are now 14-3 on the season.
"Both my doubles teams had that comeback in that second set," Gustafson said. "Megan and Samara pulled it out in the third set. They came out with the momentum and just dominated. I was super proud of them."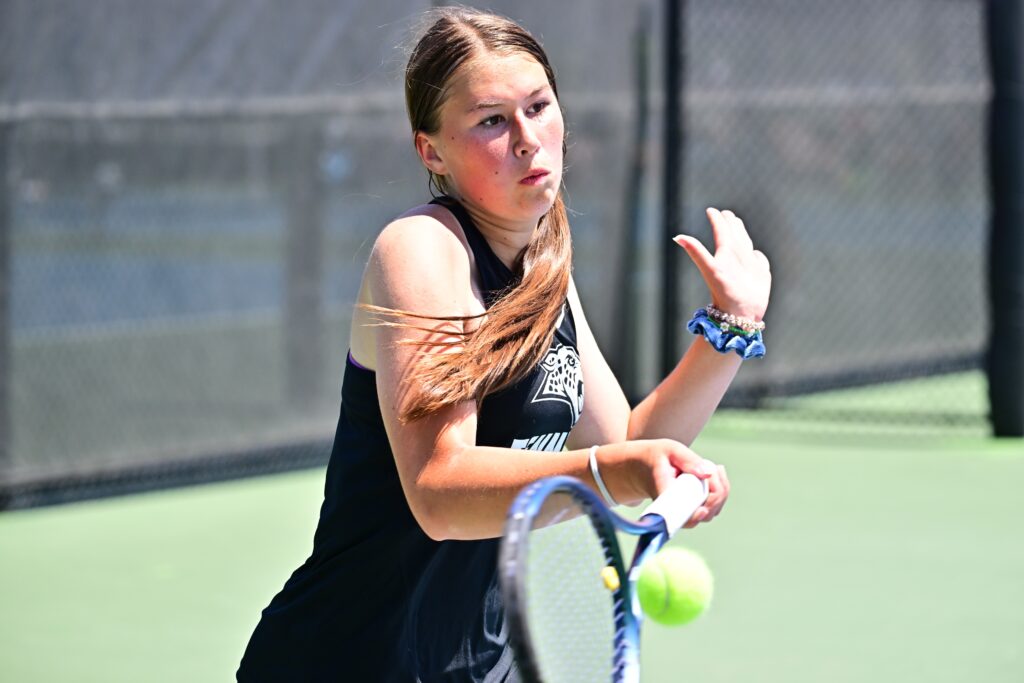 The other Centennial duo of Jenna Benkufsky and Ara Lofgren opened the tournament with a 6-2, 6-0 loss to fourth-seeded Anna Current and Sescie Haan of Clinton.
"We got paired up with a tough team in the first round," said Lofgren. "We played the best that we could knowing we were playing the 4 seed."
Benkufsky and Lofgren then lost to a team from Cedar Rapids Jefferson, 6-4, 5-7, 10-2, in a first-round consolation match. Their record dropped to 12-7.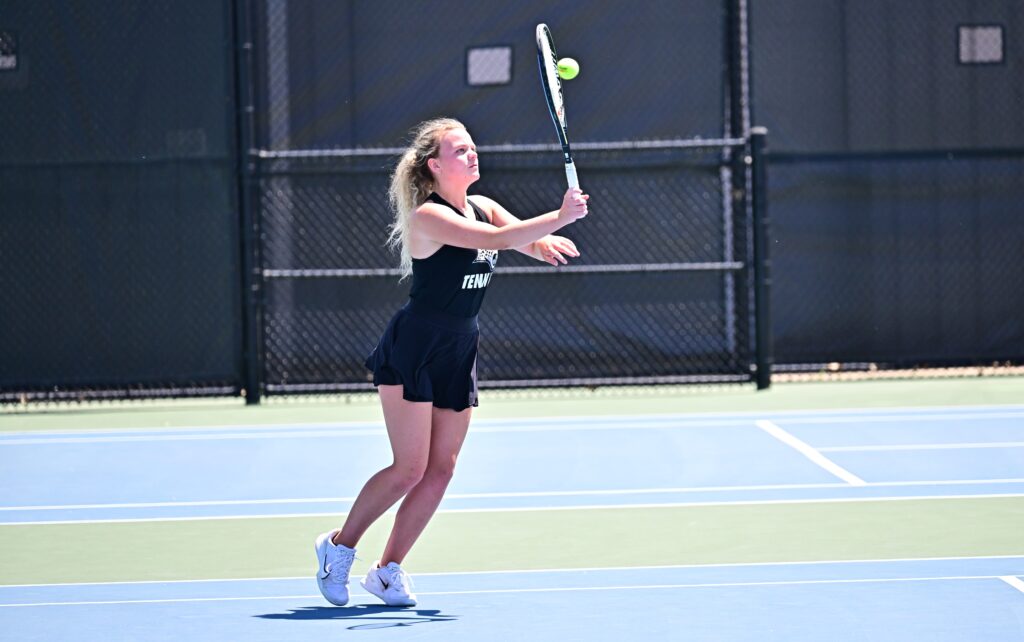 "The second match we were in there the whole time. We fought hard," Lofgren said. "The tiebreaker didn't go the way we wanted, but I'm really proud of how we played."
Although Abbie Peterson still has more work to do in Iowa City, the rest of the Centennial squad can now prepare for the state team tournament. The third-ranked Jaguars (12-1) will meet No. 2 Dowling in the semifinals, with the winner to face No. 1 Cedar Rapids Washington or No. 4 Valley for the Class 2A crown.
"I really think we can win it," Lofgren said. "We're paired up with Dowling, and they're the only team we've lost to. But we're ready to fight. We're excited."