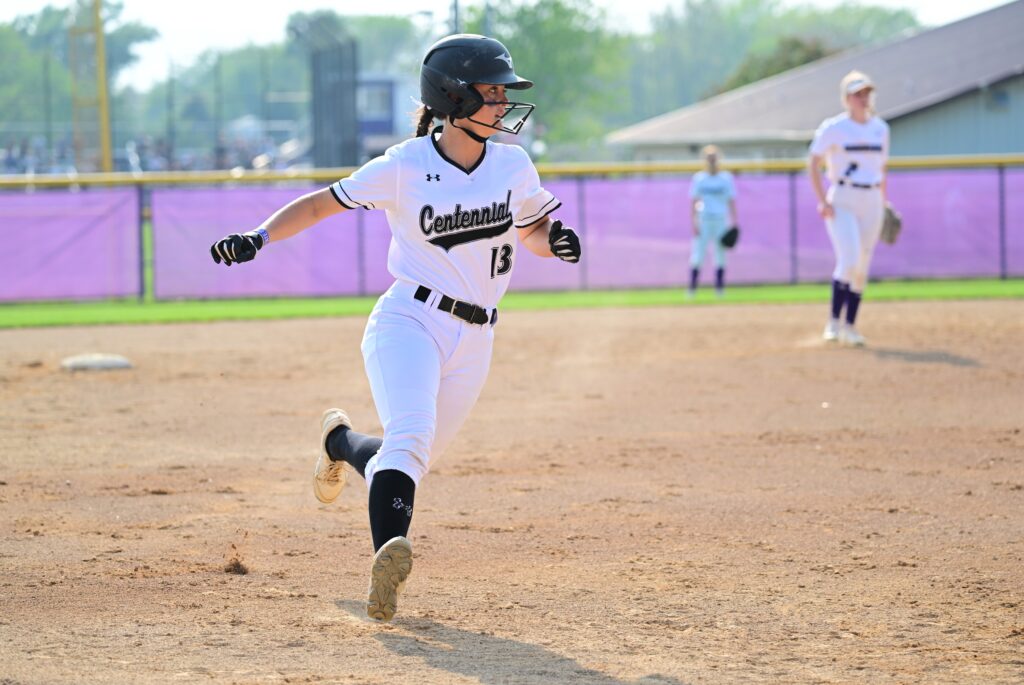 Perhaps it is time to give the Ankeny Centennial softball team a nickname.
How about "The Bomb Squad"?
The seventh-ranked Jaguars hit three more home runs on Monday and rolled to an 11-1 victory over visiting Southeast Warren in six innings in a non-conference game. The Warhawks (10-3) are ranked No. 1 in Class 1A.
"Southeast Warren is a really good squad, and that's one reason we put them on the schedule," said Centennial coach Brett Delaney, whose team improved to 8-1. "We want to play quality opponents anytime that we can. We were very fortunate that they came up with their good pitcher, and our girls had to face a little adversity at first. But that's why we play these games–to get us ready for the postseason run later in the year."
The Warhawks took a 1-0 lead in the top of the second inning before Centennial tied it in the bottom of the frame on a solo homer by Mariah Belzer. It was her first home run of the year.
The Jaguars added another run in the fourth, then used a six-run outburst in the fifth to break the game open. Sydney Morris blasted a three-run homer to make it 5-1, and Mady Ott later connected for another three-run blast–her first of the season.
The homer by Morris was her team-leading fifth in the last six games. Centennial has already hit 13 homers in nine games, which is tied for fourth in the entire state with Dallas Center-Grimes behind Indianola (16), Pleasant Valley (15) and Southeast Polk (14).
A year ago, the Jaguars hit just 10 homers in 38 games.
"I think it's just the work the girls have put in in the offseason, both in the weight room and then anytime they get an opportunity to hit they're up there and they're focused," Delaney said. "They come to the park every day looking to get better and finding ways we can continue to make adjustments. They're just seeing the ball well right now."
Ott went 2-for-3 and also had a double, while Morris went 2-for-4. They both drove in four runs.
Payton Drefke went 3-for-4 and scored a pair of runs. Jordyn Kennedy went 2-for-3 with a double and one RBI, while Mackenzie James went 2-for-4 and scored a run.
Lauren Sandholm (3-0) was the winning pitcher. She allowed just one unearned run on two hits over the first 5 1/3 innings before Lauren Gustofson got the final two outs.
The Jaguars will host another non-conference game on Tuesday against Saydel (7-0), the No. 3 team in Class 3A.