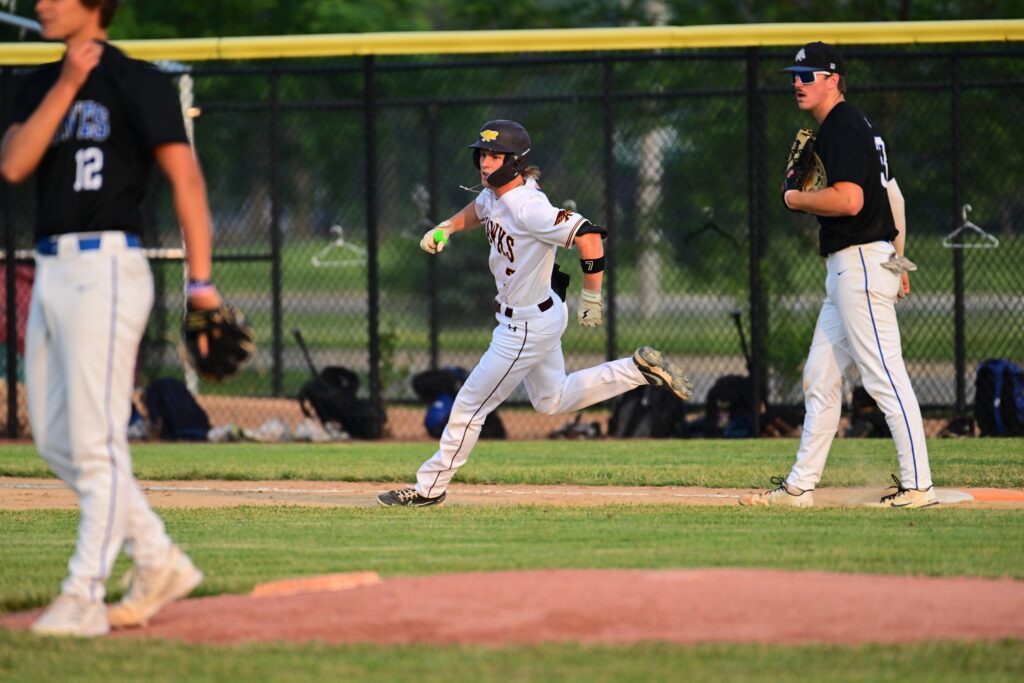 Senior Ben Sandvig is more than willing to wear a pitch for the Ankeny baseball team.
Sandvig was hit by a pair of pitches and scored two runs to help the Hawks to a 5-3 victory at Linn-Mar (Marion) in the second game of a non-conference doubleheader on Tuesday. He has now been plunked 17 times this season, breaking the school record of 15 that was previously held by Cody Kever.
"From a young age, my dad has always taught me to have a gritty mindset–to do whatever is best for the team," said Sandvig. "In baseball specifically, that meant not being scared to wear a few to give my teammates opportunities to hit with runners on base. Having (coach Joe) Balvanz put me in the leadoff spot in the order this year, I have really embraced getting on by all means necessary."
The win allowed Ankeny to salvage a split of the twinbill after Linn-Mar won the opener, 11-1, in five innings. The Hawks are now 13-15 on the season.
"After the (first) game, I talked to the team," Balvanz said. "And then I held the seniors back and talked to them about leadership. I told them, 'We've got some young guys around, and (the leadership) starts and ends with you.' I thought they had a tremendous response."
Ankeny jumped out to a 3-0 lead in the first inning. Linn-Mar (14-12) eventually closed to within 4-3 in the bottom of the sixth before the Hawks added an insurance run in the seventh.
"We did a nice job of situational hitting," Balvanz said. "We talk about the race to five runs. You'd be surprised how many games you can win if you get to five runs and just play some good solid defense, and that's what we did. Linn-Mar threatened–they've got some good guys at the top of the lineup. But I was glad we could go over there and get at least one (win).
"It's something to build on," he added.
Kinnick Vos went 1-for-3 with a walk and had two RBIs in the win. Max Watson and Evan Irlmeier each drove in a run, while Ryan Maire went 2-for-3 to raise his average to .357.
Sophomore Travis Gerstel (1-0) allowed three earned runs on six hits over the first 5 2/3 innings to earn his first varsity victory. He walked three and had three strikeouts.
Freshman Will Davies (2-3), who took the loss in the first game, got the final four outs for the Hawks.
"Gerstel made his first start and did his job–he gave us a chance to win," Balvanz said. "I got Davies off the mound in the first game because we didn't look like we were ready to play, and at this time of the year you can't burn dudes. So I had him out under 40 (pitches), and he came back and got the save in Game 2. Kudos to those two young guys for being resilient."
Linn-Mar took advantage of seven walks and three hit batters to win the first game. The Lions also had nine hits off three Ankeny pitchers, including a double by Matthew Buse.
Linn-Mar's Jackson Mishler and Jaxon Kramer each had two RBIs.
"We were a little rushed in warmups," Balvanz said. "We got there a little late, but that's no excuse. We gave up five runs in the third (inning) on no hits and no errors. It was just poor execution on the mound. It's been a while since I've seen something like that."
Watson, Reid Johnson and Drew Taylor each had a hit for Ankeny. Maire drove in Taylor for the Hawks' lone run in the fifth inning.
Ankeny will play a CIML Conference game at fourth-ranked Southeast Polk (21-8) on Thursday. The Hawks swept an earlier doubleheader on June 2.