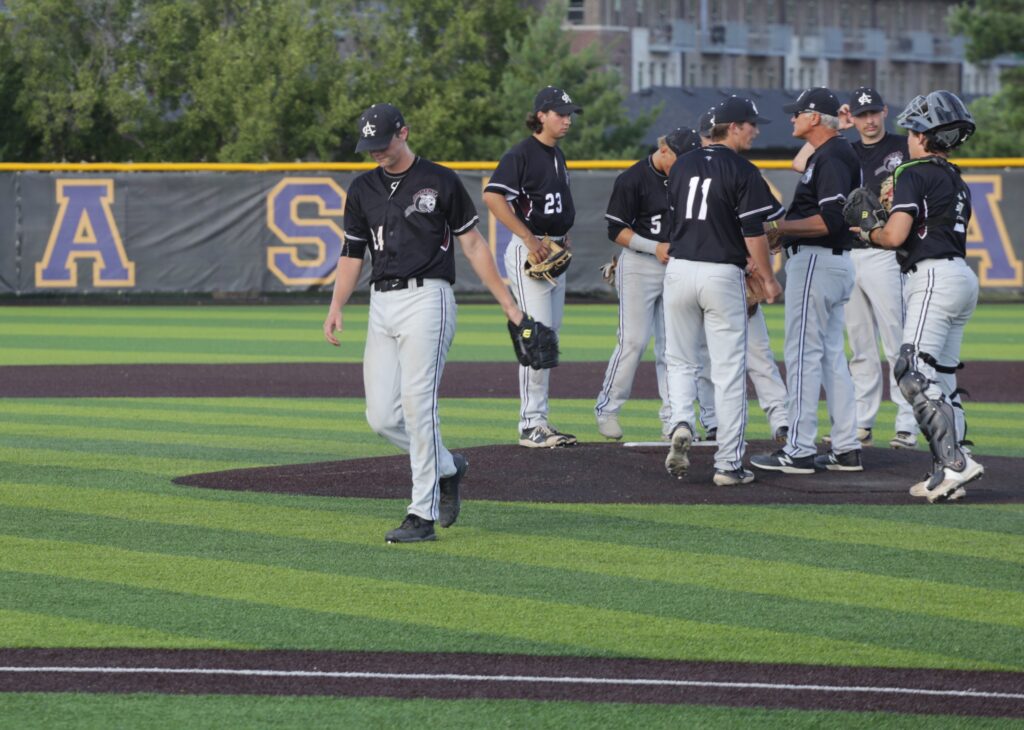 The Ankeny Centennial baseball team entered Saturday's non-conference doubleheader at Sioux City North with a chance to break the school record for most victories in a season.
The top-ranked Jaguars will now have to wait until at least Monday to set a new mark.
After Centennial dropped a 4-1 decision in the opener of the twinbill, the Jaguars jumped out to a 2-0 lead in the first inning of the nightcap before the game was delayed briefly by rain and then cancelled.
"We didn't think it was supposed to rain, but (the sky) just opened up and it poured," said Centennial coach Mark Hey, whose team is now 28-6 on the season. "The field would have been unplayable. There was standing water all over the dirt when they called it."
Sioux City North (26-11) took advantage of Centennial starter Joey Oakie's control problems to win the first game. The Stars scored two runs in the first inning without putting a ball in play to take the lead for good.
Oakie (6-2) walked three batters and hit three others with pitches. He was then replaced by Carter Bland, who allowed two earned runs on three hits over the next 4 1/3 innings.
"Joey had a little muscle issue with his hip, but I think he'll be ok," Hey said. "He's getting some treatment (Sunday), and we'll see how he is on Monday. But I think he was feeling a little better as the day went on."
Oakie's ERA rose from 0.52 to 0.84. The junior has allowed more base runners this season on walks (17) and hit batters (17) than he has via hits (15).
"We were going to limit his pitch count anyway, but obviously there was something bothering him in that first inning," Hey said. "So it was time to get him out and get him some treatment."
The Jaguars scored their only run in the sixth inning. Easton Miller led off with a walk, advanced to second on a single by Isaac Bruhl, moved to third on a flyout by Nick Severson, and then came home on a sacrifice fly by Damin Churchman.
"It was a rough day, but we just have to regroup and move on," Hey said.
Centennial will play its CIML Conference finale on Monday at Waukee Northwest (18-20). The Jaguars can clinch the outright league title with a win, or a loss by No. 3 Johnston at No. 5 Southeast Polk.
Centennial is slated to host Des Moines North in a Class 4A substate quarterfinal on Friday. Oakie will likely start on the mound if he's healthy.
"I don't think this changes anything that we have planned, but we'll monitor things this week," Hey said. "Our pitching staff has been solid all year, and we'll have confidence in whoever gets the ball."