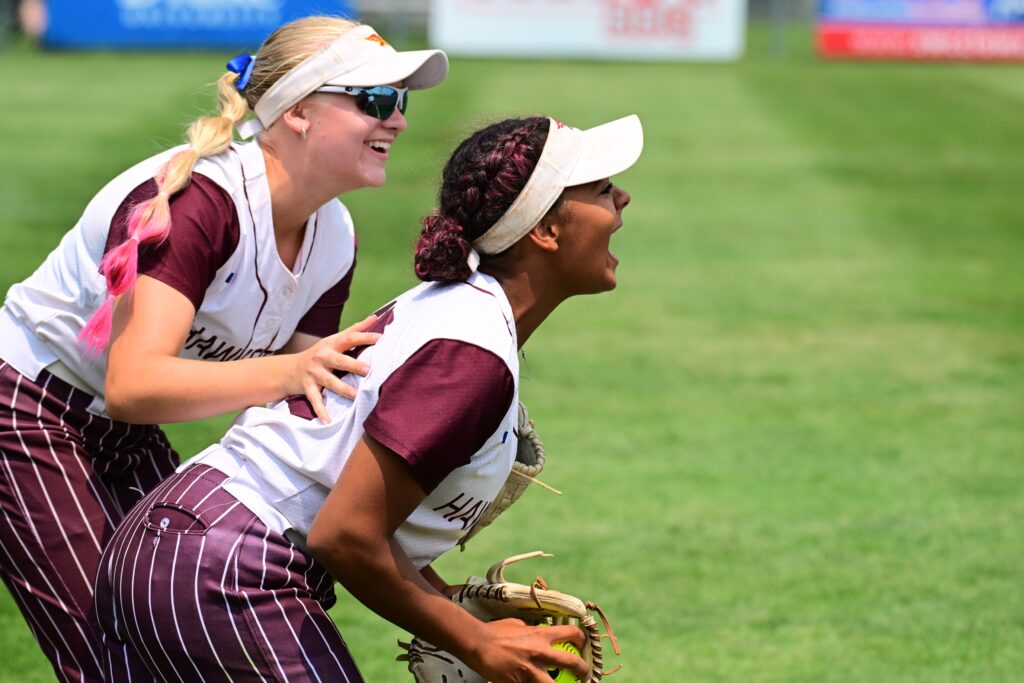 Cassie Johnson and her Ankeny softball teammates walked away from the Class 5A state tournament with their heads held high.
"Of course we came into state wanting to win, but I couldn't be more proud of this team," said Johnson. "They are my best friends, and I wouldn't have wanted to go through the ups and downs with anyone else!"
The second-ranked Hawkettes closed out their season on Tuesday with a 6-4 loss to No. 3 Waukee Northwest in a Class 5A consolation game at Harlan Rogers Park in Fort Dodge. They finished with a 31-8 record and tied for seventh place in Class 5A.
Northwest (32-12), the defending champion, tied for fifth place.
"When your external goal is to win a championship, these games are interesting," said Ankeny coach Dave Bingham. "You just go back to playing."
The Wolves broke a 4-4 tie with two runs in the sixth inning. Winning pitcher Maddie Oetzmann (18-8) went 2-for-3 and had two RBIs while tossing a nine-hitter.
After Northwest took a 3-0 lead in the top of the first inning, the Hawkettes answered with three runs in the bottom of the frame. Johnson led off with her 14th home run of the season.
"We definitely didn't start out the game like we wanted to," Bingham said. "But then Cassie hit the first pitch out."
Johnson now ranks third on the school's single-season home run list. She is fifth on the career list.
"I definitely think Oetzmann was trying to attack the zone, and she is a great pitcher so I totally understand that," Johnson said. "However, I went into that at-bat knowing I was going to swing hard at anything close to the zone, and it went my way!"
Ankeny added two more runs in the inning to tie the game. Kendra Winfrey drove in one of them.
Winfrey also started in the pitcher's circle, but she lasted just 1 2/3 innings. She was replaced by Aubrey Lensmeyer (1-3), who allowed three earned runs on six hits over the final 5 1/3 innings.
Lensmeyer had pitched the second game of Ankeny's doubleheader sweep at Northwest on June 26.
"She pretty much shut them out in that game," Bingham said. "She's a really good matchup for them, and she pitched really well (on Tuesday). We just threw a few balls away. It wasn't on her."
The Hawkettes took their only lead in the second inning. Avery Nelson doubled and came home on a hit by Larissa Miller to make it 4-3.
Northwest then tied the game in the third before taking the lead three innings later. Ankeny, meanwhile, left eight runners on base and went scoreless over the last five innings.
"We had runners on in the third and fourth, and we had the bases loaded in the sixth," Bingham said. "Kendra Lewis led off the seventh with a single, but we couldn't get her in."
Lewis went 2-for-4, stole a base and scored a run. Nelson went 2-for-3, while Miller stole a pair of bases to finish the season with 39 steals.
"We had a great season," Bingham said. "The culture was extraordinary, and the community really supported us. It was a privilege and an honor to be their coach."