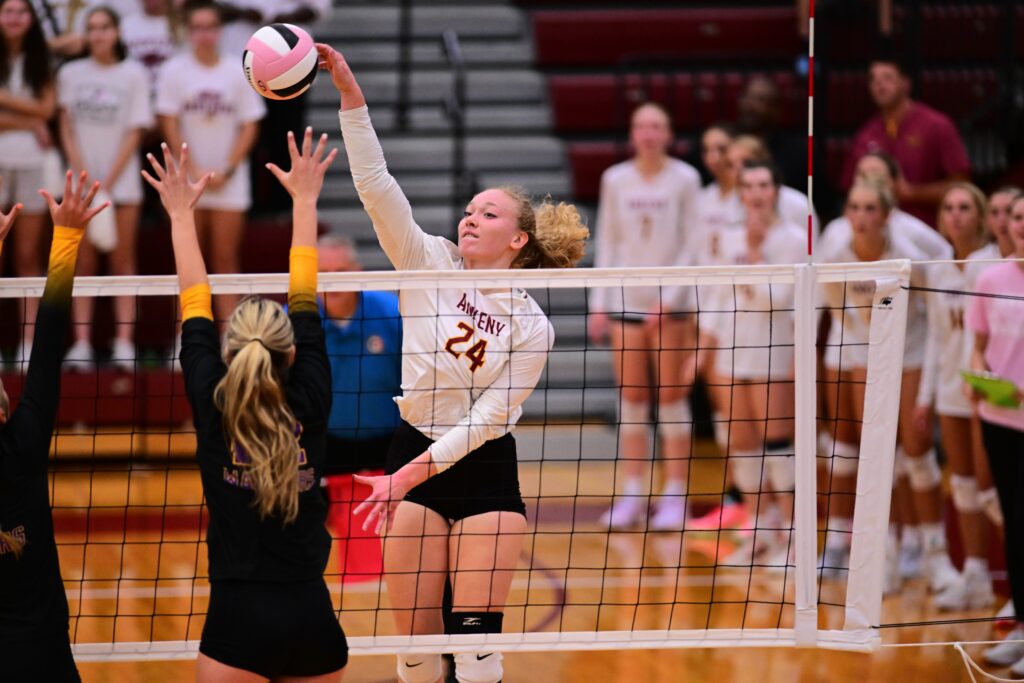 There's a reason why the top five teams in the Class 5A volleyball rankings are from the CIML Conference.
On any given night, a squad that is unprepared for its CIML opponent can easily suffer a defeat.
"Honestly, it's hard to call any match an upset because if you are just slightly off with any pieces of your 'A' game, you're going to lose," said Ankeny coach Liz Baethke.
On Tuesday, the third-ranked Hawkettes traveled to No. 5 Johnston for an early-season showdown. Both teams had already been dealt a loss in conference play, giving the match even more importance.
In the end, Ankeny outlasted the Dragons for a 22-25, 25-23, 25-19, 24-26, 15-12 victory. The match finally ended on a kill by Aowyn Schrader, her 17th of the night.
"It was a great match on both sides," Baethke said. "It was awesome."
The Hawkettes improved their records to 2-1 in the conference and 9-4 overall. Johnston, which had swept all six of its opponents at the Cedar Rapids Washington Invitational on Saturday, dropped to 1-2 and 10-2.
Schrader hit .302 for the match, even though the Dragons outhit Ankeny overall by a .210 to .171 margin. Kamryn Scheib had 16 kills for the Hawkettes, while Reagan Hanfelt added seven kills and five blocks.
Lauren Dockendorff dished out 28 assists in the win. Cloey Wiederin had 18 more.
"They were blocking and waiting for us," Baethke said of the Dragons. "We were being a little too predictable, and we came back with a couple things they weren't expecting and just capitalized on the energy."
Ava Wille made a huge kill and a big block to give Ankeny an 11-10 lead in Set 5. She finished with five blocks.
"That was pretty incredible," Baethke said. "We just knew we had to make plays."
Shortly thereafter, Schrader pounded the match-ending kill.
"I think we just looked really confident, and we had people step up and make some big plays," Baethke said. "Early on, we had a little bit of trouble getting into a rhythm and I think the kids found what they were doing well and built on that. It was just a complete team effort. The kids stepped up big."
Baileigh Carlsen racked up 23 digs to lead the Hawkettes' defensive effort. Megan Rembert chipped in 12.
Ava Helming led Johnston with 21 kills, while Josie Pundt contributed 18. Jadeyn Pundt had 57 assists.
In a match where Ankeny scored just six more total points than the Dragons, the serving line proved to be a crucial factor. The Hawkettes completed 97.3 percent of their serves (108-of-111) while Johnston connected on just 87.6 percent (92-of-105).
Hanfelt and Scheib combined to go a perfect 39-of-39 from behind the line. They each had a pair of aces.
"It was absolutely the kind of match that I expected," Baethke said.
Ankeny will compete in the Caroline Found Invitational on Saturday at Iowa City West.
"I'm pretty excited for (the tournament)," Baethke said. "We'll see some smaller class teams and some different styles of play–some of those schools that we never get to see on the east side of the state. It gives us an idea of what is out there beyond our league."