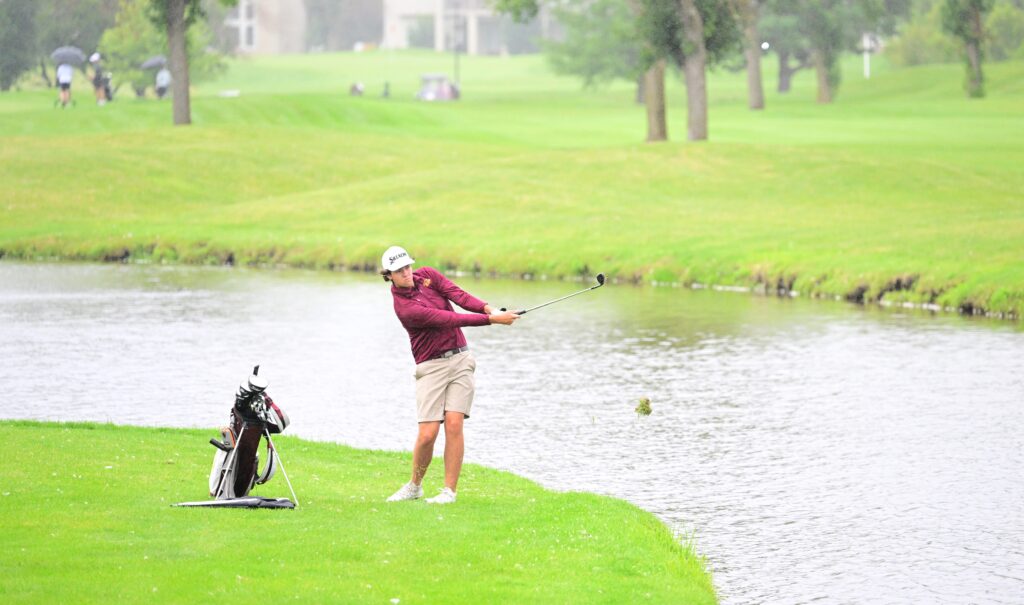 One of the state's toughest courses proved to be a formidable challenge for both the Ankeny and Ankeny Centennial boys' golf teams on Monday.
The seventh-ranked Hawks placed seventh among 18 teams in the Turk Bowman Invitational at Veenker Golf Course in Ames. They posted a score of 322, their highest of the season.
"It was not a very good day for us," said Ankeny coach Mike Weddingfeld. "We just had too many bad holes. Looking at everyone's cards, the entire team had several bad holes that were double bogey or higher, and we didn't make many birdies."
No. 12 Centennial, meanwhile, placed ninth after finishing in a tie with No. 13 Waukee. Both squads shot a 325, but the Jaguars won the tiebreaker based on a better fifth score.
"Veenker is a tough course, one that some of our guys had either never played or not played much," said Centennial coach Andrew Reedy, whose team also posted its highest score of the season. "It's not a course you can fake your way around, and we had some guys hitting it poorly."
The meet featured nine of the top 15 teams in Class 4A. No. 4 Southeast Polk claimed the team title with a 299, while No. 1 Johnston–the defending champion–was second with a 309.
Braeden Nelson of Valley carded an even-par 72 to earn medalist honors. Aaron Estell of Southeast Polk was the runner-up with a 73 after winning a cardoff against Blake Cronin of Waukee Northwest.
Centennial's Nathan Boehlert fired a 5-over-par 77 to place ninth, matching his lowest score of the year. He made two birdies on the front nine and four more on the back nine.
"Nathan continued his trend of being one of our best and most consistent players," Reedy said. "He's right on the verge of putting it all together and having a really low round. Like I keep saying, hopefully it happens in early October!"
Ankeny's Drew Hensen also shot a 77 and finished 13th in a field of 106 players. He made three birdies and had a 2-under 34 on the front nine, but struggled to a 43 on the back nine, which included a double bogey on the par-5, No. 16 hole and a triple bogey on the par-5, No. 18 hole.
"Drew's driver face broke mid-round, and he thought his driver was reacting weird on a couple drives that he thought he hit well but were not good shots so it took him a couple holes to realize the face on his Stealth driver was broken, which is common on that club," Weddingfeld said. "He told me after the round that he wasn't mad about his bad holes on 16 and 18 as he couldn't figure out what was going on until he discovered the broken face. I guess it was just that kind of day."
Kyler Crimmins carded a 79 for the Hawks. Jacob Adams and Duncan Beelner each shot an 83, Gunnar Breding had an 87 in his first varsity meet of the season, and Caden Weddingfeld added a 96.
"Veenker is a course that can produce big numbers if you are not playing your best, and it did that to us on several holes today," Weddingfeld said. "I thought all the team scores were a bit higher than usual so maybe the course was just playing tough. We will just keep working to improve and maybe forget about today's rounds."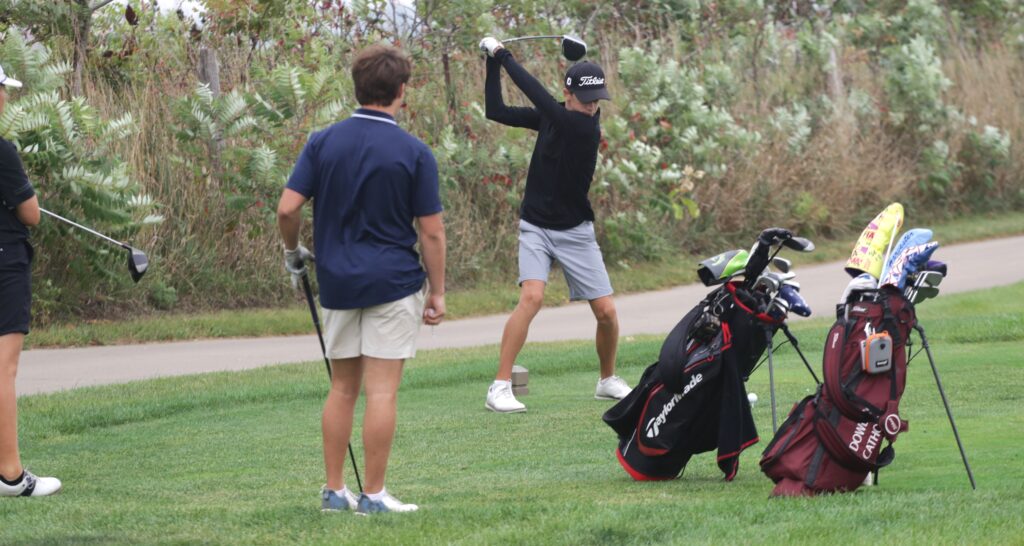 Tate Logan shot an 81 for the Jaguars. Charlie Morrissey had an 83, Zach Hoffman fired an 84, Jackson Lewis carded an 85, and Tiernan Logan finished with a 92.
"Tate had 14 really good holes and then four bad holes," Reedy said. "Again, when he gets it all to click–which I know is coming–it is going to be really good."
Centennial will host a CIML Conference triangular meet against Urbandale and No. 7 Valley on Wednesday at Briarwood Golf Club. Ankeny will host a conference triangular against Waukee and No. 3 Waukee Northwest on Thursday at Otter Creek.
District assignments
Both teams also learned their postseason assignments from the Iowa High School Athletic Association on Monday.
The Jaguars will host a Class 4A district meet on Monday, Oct. 2 at Briarwood. Southeast Polk, No. 5 Dowling Catholic and Waukee will be among the teams in the field.
"We are hosting with what we feel is a draw that allows us to advance to the state tournament if we can keep getting better and continue to focus on the things we can control," Reedy said. "Like how hard we work to reach the goals we set."
The Hawks were not assigned to the Briarwood district. They will compete in a meet at the Fort Dodge Country Club, where Johnston and Valley will be among the teams in the field.
"That's what I expected," Weddingfeld said.