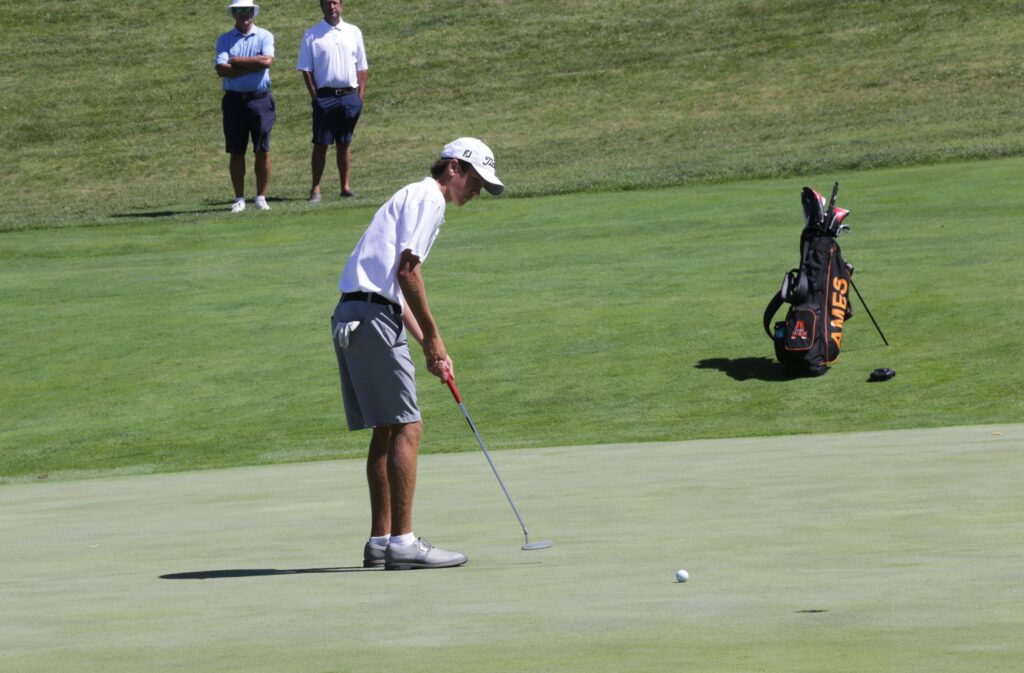 For the second day in a row, the Ankeny Centennial boys' golf team took a big step forward.
After shooting a season-best score on their home course Wednesday, the 12th-ranked Jaguars followed up with a second-place finish among 14 teams in the Joe August Invitational on Thursday at Elmwood Country Club in Marshalltown.
The host Bobcats won the tournament with a 305 total. Centennial posted a score of 307, finishing two strokes ahead of No. 4 Southeast Polk.
The Jaguars had lost all four previous meetings against Southeast Polk this season.
"We had a great day today!" said Centennial coach Andrew Reedy. "We placed second and beat some good teams. The course was set up really tough with some hole locations that were in tricky spots. The course is much different than our guys are used to playing on with quite a bit of slope to the greens, false fronts and closely mown areas around the greens that feed to collection areas. It is a great track, but our guys struggled with it some as they are not used to that."
Ryan Schmit of Marshalltown carded a 1-under-par 69 to earn medalist honors. Aaron Estell of Southeast Polk was the runner-up with a 71.
Centennial's Tate Logan placed third with a 72. He had three birdies on the day.
"Tate played great again," Reedy said. "He is playing like our senior leader and has even found his voice as a vocal leader some. I am really proud of him."
Charlie Morrissey shot a 76 and placed fifth for the Jaguars. He overcame a triple bogey on the par-3, No. 3 hole.
"Charlie continues to just plug away and play really nice golf," Reedy said. "I have seen him grow as a player tremendously this season as he has gotten experience at the varsity level."
Centennial's Tiernan Logan placed 15th with a 79. Nathan Boehlert and Jackson Lewis each fired an 80, and Zach Hoffman added an 85.
"We have been looking for a 5 and 6 player to contribute all season and today we had both Tiernan and Jackson do just that," Reedy said. "I was really happy to see them both right there to help the team today. We will be back at practice (Friday) and try to build on the momentum we have from our last two events. These guys have been working really hard and are starting to believe in the vision we talked about at our first meeting in the spring."
The Jaguars will compete in the Southeast Polk Invitational on Wednesday at Copper Creek.
"I am a broken record, and that is just fine," Reedy said. "Our whole focus has been to continue to get better throughout the season, hoping to peak for the postseason. I really like the trajectory we are on."