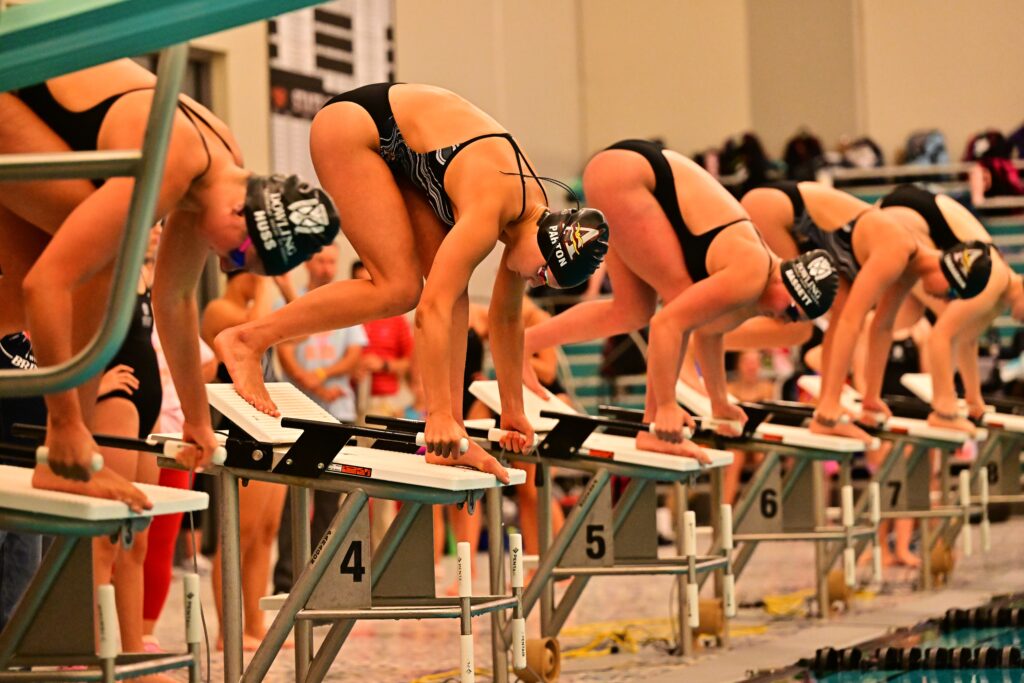 The Ankeny girls' swimming team won two events and placed second overall in the Little Hawk Invitational on Saturday at Mercer Park Aquatic Center in Iowa City.
Iowa City West won the team title with 435.5 points. Ankeny finished with 349.5 points, edging Pleasant Valley (348) and Waukee (341) for the runner-up spot in the six-team field.
"We had a successful meet," said Ankeny coach Dustin Rhoads. "It was great for our team to face some different teams from the eastern side of the state in a historic pool. We put together a pretty strong lineup, but most of our swimmers were able to swim at least one different event to get more racing experience in other events! I was excited to place second at the meet even without Sophie (Loeffler), who is one of our top contributors."
Ankeny opened the meet with a victory in the 200 medley relay. The foursome of Josie Parton, Anja Peck, Alexis Hergenreter and Gracie Lindaman posted a time of 1:53.98.
Peck, who committed to swim for Iowa State on Friday, later won the 100 breaststroke in a time of 1:09.59. She also took second in the 100 butterfly in 1:01.05.
Parton contributed a pair of top-four finishes. She placed third in the 50 freestyle in 25.83 seconds, then finished fourth in the 100 freestyle in 55.71.
Lindaman also competed in those two events. She was fifth in the 50 freestyle in 26.16 and tied for sixth in the 100 freestyle in 57.12.
Hergenreter placed fifth in the butterfly in a time of 1:04.17. She took seventh in the 500 freestyle in 5:32.56.
Leah Schafer finished fifth in the 100 backstroke in 1:05.44. Maddie Trosper was seventh in the same event in 1:07.50.
Kyra Zinn placed eighth in the 200 IM in a time of 2:28.09. She later took ninth in the breaststroke in 1:15.53.
Zinn also teamed up with Parton, Hergenreter and Lindaman for a second-place finish in the 200 freestyle relay. Ankeny was clocked in 1:44.17.
Zinn later combined with Trosper, Peck and Schafer for a fourth-place finish in the final event, the 400 freestyle relay. The team posted a time of 3:58.89.
"I believe this team is continuing to improve and learning how to swim well when they are sore and tired through hard training," Rhoads said. "We've just got to keep working and improving! This is a big week for us with two away meets Tuesday at No. 4 Valley and Thursday at No. 9 Cedar Falls.
"Our girls are currently ranked seventh, and I'm excited for this challenge for them. I think if we believe together amongst our group we can do really well and have a chance to win both meets! I wanted to keep challenging them. The tough competition keeps coming. It's good for us and will help at the end of the season!" he added.