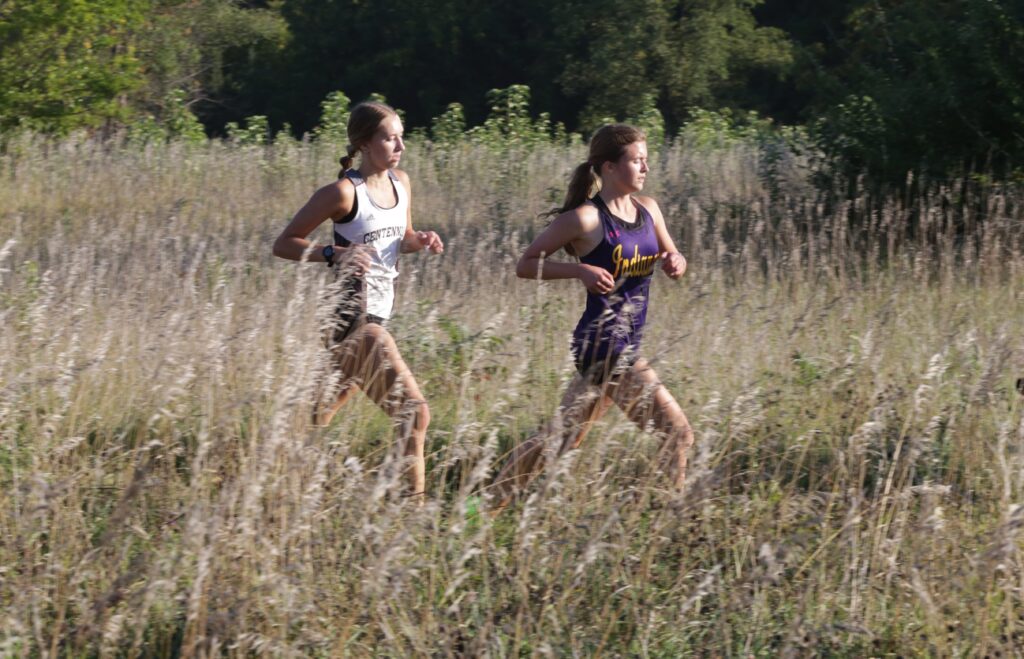 Despite competing at less than full strength, the Ankeny Centennial cross country teams turned in some strong performances in the Indianola Invitational on Thursday at Pickard Park.
The sixth-ranked Jaguars placed second among 10 girls' teams with 68 points. No. 14 Indianola won the team title with 36 points.
"I think we're doing really well," said Centennial junior Bella Hodges, who was the Jaguars' top finisher. "We definitely have really good depth and a lot of options for who could be in our top seven. I think we're moving in the right direction for sure."
Defending champion Centennial entered only five girls in the race, including just two of its regular varsity runners.
"One of our team goals this season is to run our best at the end of the year, and that requires monitoring fatigue and keeping injuries away," said Centennial girls' coach Eric Cogdill. "We sat out the Indianola meet three years ago, and our girls peaked at state that fall. With that in mind, we held out several of our top competitors for the meet knowing their season would be almost three weeks longer than the bulk of the team."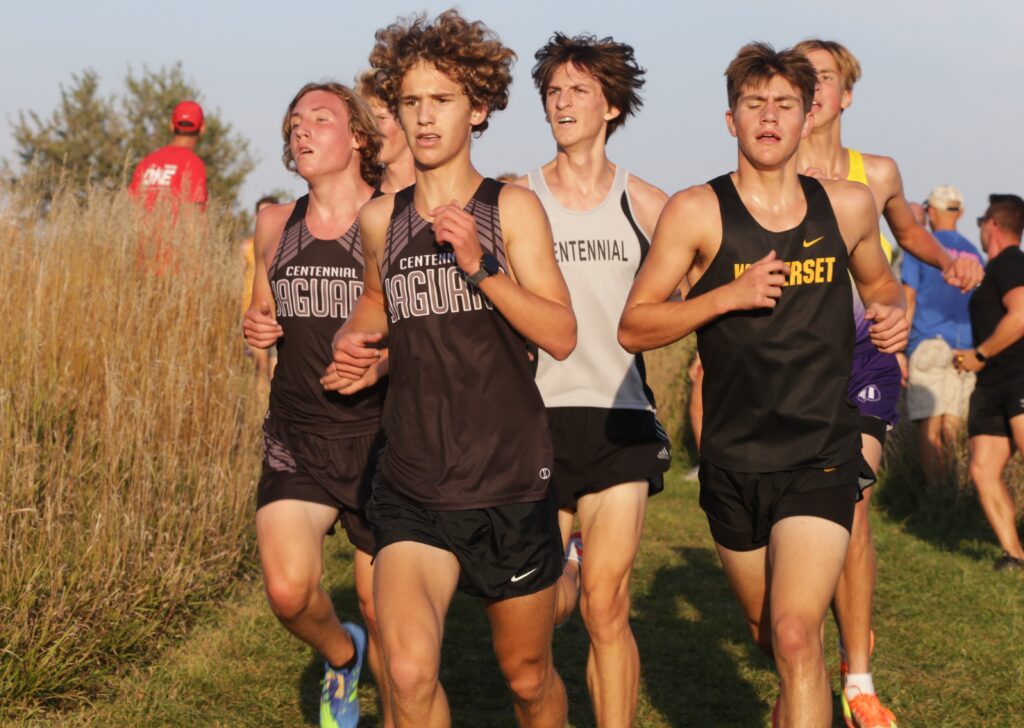 In the boys' division, Centennial placed third in the 13-team field with 93 points. No. 14 Waukee won the crown with 68 points, while Carlisle–the No. 5 team in Class 3A–took second with 77.
The Jaguars competed without senior AJ Schermerhorn, the No. 2 runner in the latest Class 4A individual rankings.
"We rested AJ," said Centennial boys' coach Chad Fickbohm. "He is now geared up for the rest of the season."
Brendan Owens and Brayden Vander Wilt helped pick up the slack. They both earned top-10 finishes for the Jaguars.
"I was told that I was supposed to be up toward the top," said Owens. "I kind of went out expecting to be up there in the front pack and trying to race for the win."
Joseph Lawry of Waukee won the boys' 5k race in a time of 16 minutes 32 seconds. Collin Houg of Des Moines Christian was the runner-up in 16:39.
Owens placed eighth in a time of 16:57. Vander Wilt was 10th in 17:08.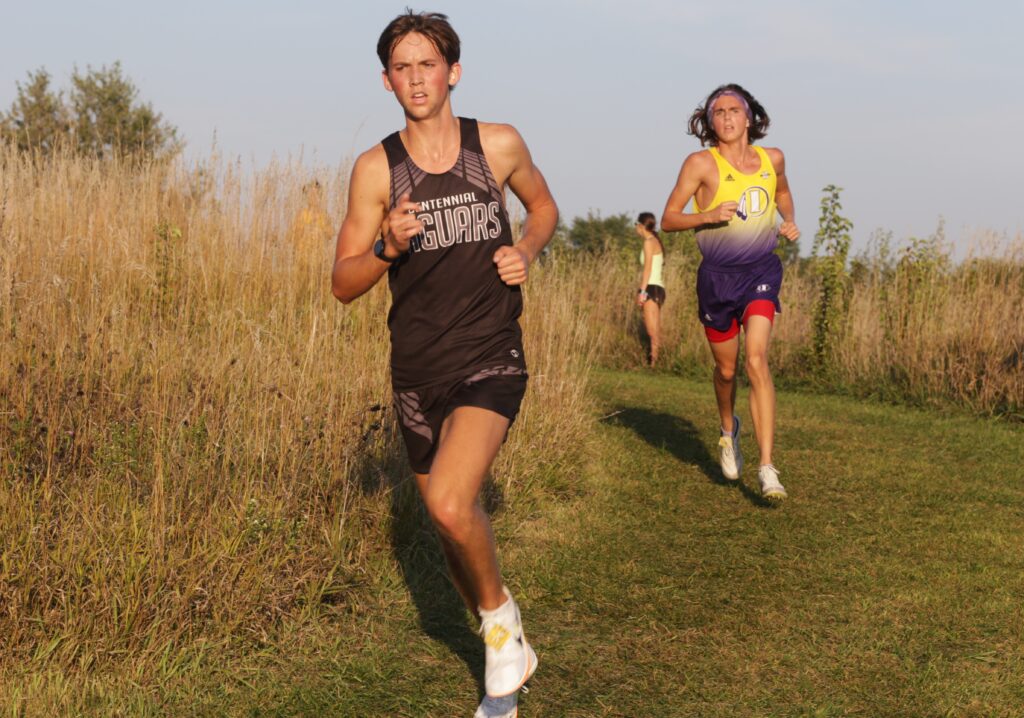 "I was pretty happy with my race," Owens said. "It's definitely a more difficult course (with the hills). It's a little rough on the ankles, and it gets rough toward the end and you start feeling it if you went out hard (early in the race)."
Cohen Moll placed 17th for the Jaguars in 17:21.
"We did have some pretty good performances," Cogdill said. "Brendan, Brayden and Cohen all ran great!"
Centennial's Mark Nelson took 28th in 17:41. Sean Thomas was 30th in 17:49, Jack Behrens placed 34th in 17:54, and Aammin Hassan finished 37th in 17:59.
"We're definitely improving," Owens said. "We have a pretty good pack that is running around 16:50, and we're hoping to push that toward 16:20 by the end of the year and compete for a state title."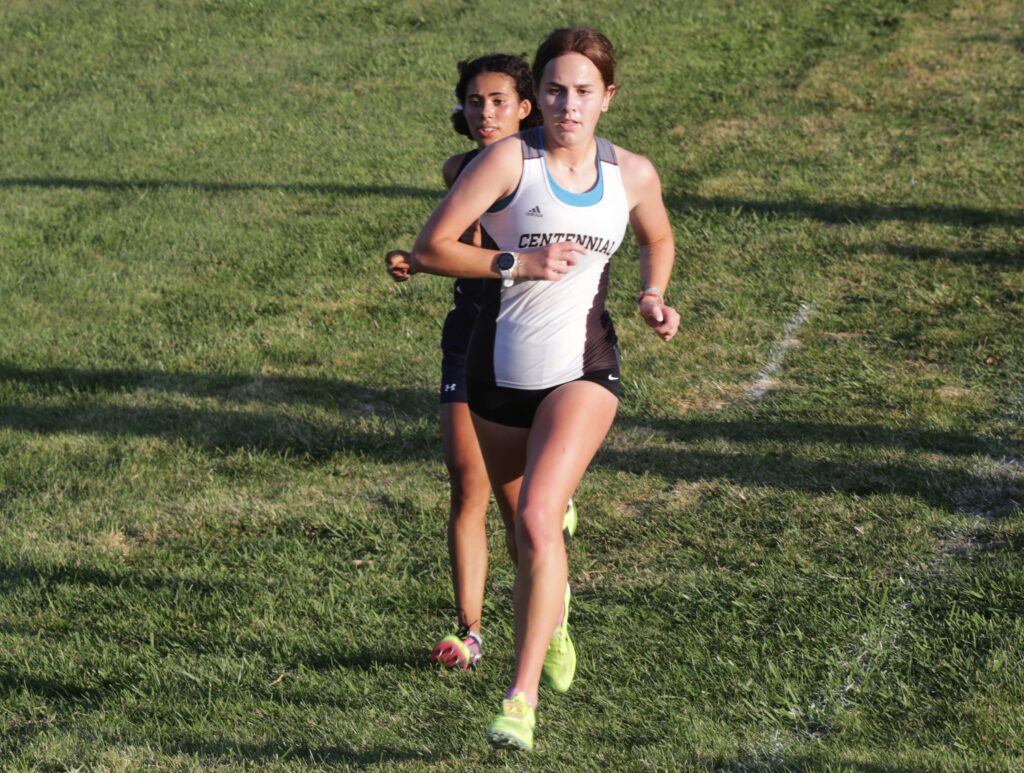 McKenna Montgomery of Albia, the No. 5 runner in Class 2A, pulled away from the field to win the girls' race in 19:13. She finished 36 seconds ahead of runner-up Gracie Foster of Indianola.
Hodges placed sixth in a time of 20:24.
"There was a good pack right in front of me that I tried to stay with, but they were a little fast," Hodges said.
Haley Hveem also earned a top-10 finish for the Jaguars, placing 10th in 20:48. Ellie Blevins took 15th in 21:14, Kylee Patterson was 17th in 21:17, and Piper Zeman finished 20th in 21:25.
Anika Mohrhauser, the No. 5 runner in Class 4A, was among the Centennial varsity regulars who rested. She placed third at last year's meet to lead the Jaguars to the title.
"But then Anika had to sit out the next meet, and we'd rather have her run next week in Iowa City," Cogdill said.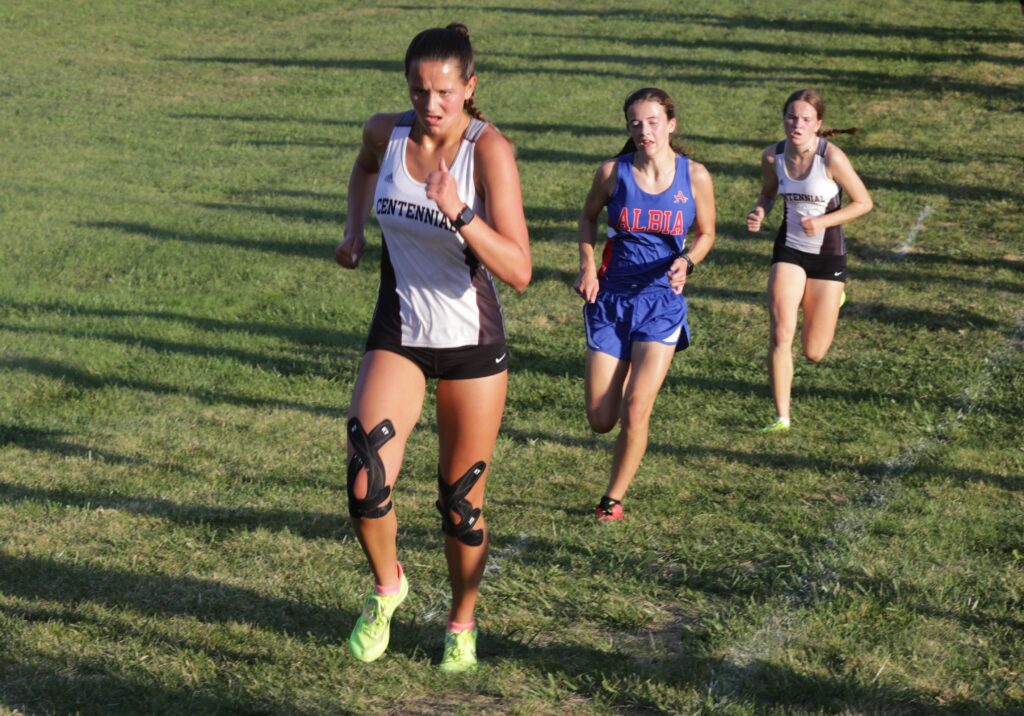 Cogdill let his varsity runners decide which of them would compete at Indianola. Hodges and Hveem accepted the challenge.
"I just wanted to race because it's an extra opportunity to get better, and I just really like racing," Hodges said. "But this is definitely not my favorite course. It's a challenging one."
Cogdill said the competition for the seven varsity spots will continue.
"Bella was excited for the opportunity to race in the front pack, while Haley looked to bounce back from her Valley race where she was under the weather," he said. "Both took on those challenges and competed hard. Ellie, Kylee and Piper are all racing at their best thus far this season. We are incredibly fortunate to have that great depth continuing to work hard as it pushes the whole team forward in the hunt for those final varsity spots.
"Now that we've weathered the most challenging stretch of the season, the girls are very excited for Iowa City and Fort Dodge in the coming two weeks," he added.
Both Centennial teams will travel to Iowa City on Thursday to run in the Bud Williams Invitational at the University of Iowa Ashton Cross Country Course.
"We are improving and just need to put it all together in the upcoming meets," Fickbohm said.