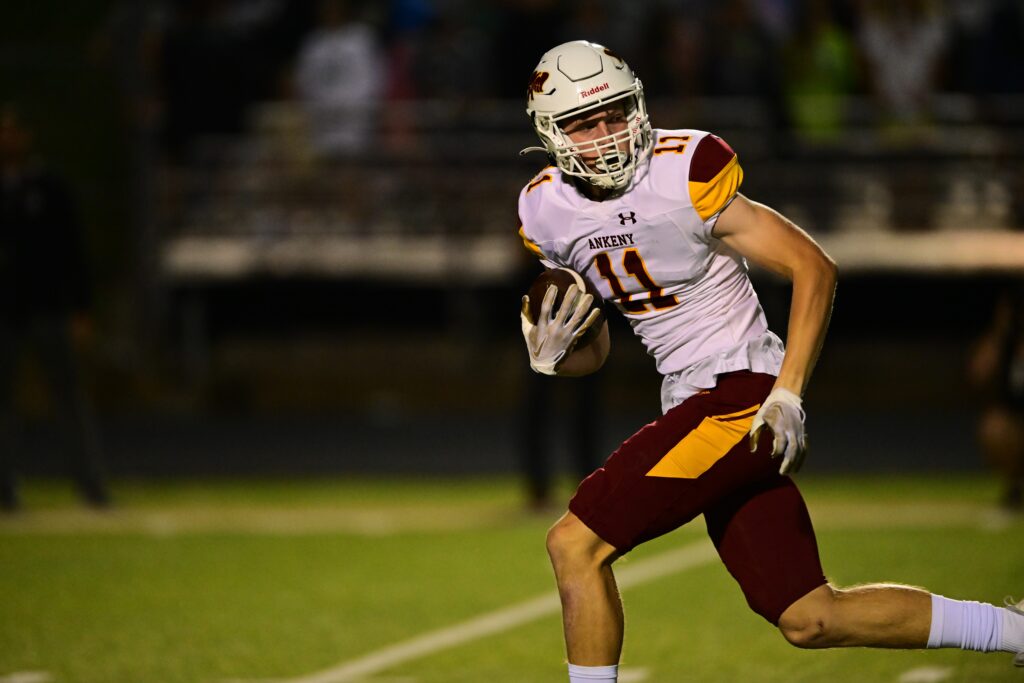 The Ankeny football team racked up more than 500 yards of total offense and rolled to a 48-21 victory at Iowa City West on Friday.
Quarterback Luke Anderson completed 17-of-22 passes for 268 yards and three touchdowns, while Daniel Larmie and Caden Henkes each rushed for more than 100 yards and combined for four scores.
"We were balanced. We were able to run, and we were able to throw," said Ankeny coach Jeff Bauer, whose team improved to 3-2 on the season. "Luke made some nice throws, and (Iowa City West) didn't have an answer for defending (Devon) Akers–not many people do."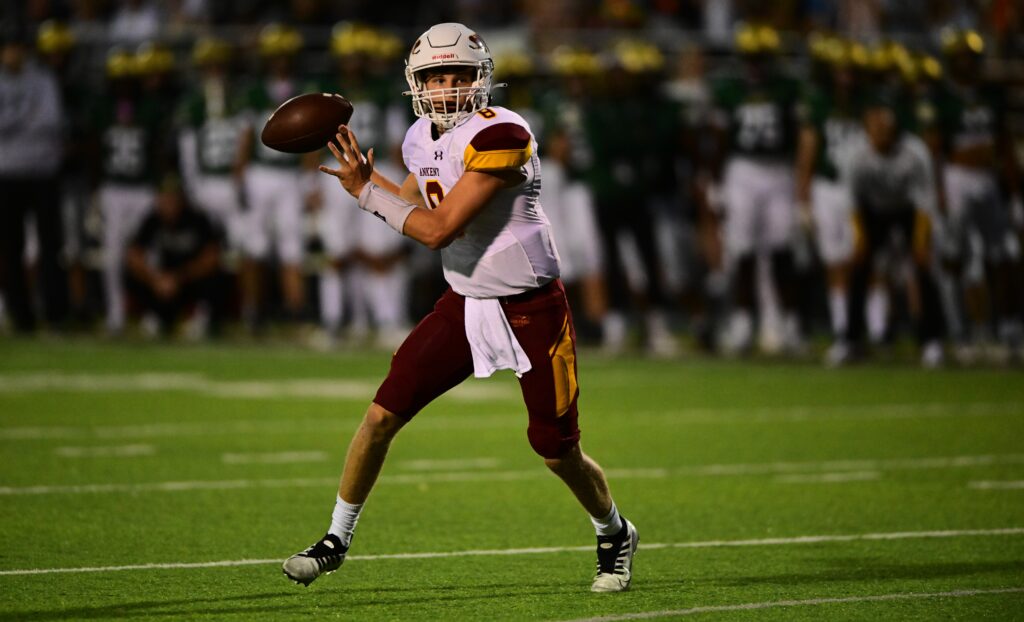 Akers caught eight passes for 159 yards, including one for a 52-yard touchdown. Andrew Brandhorst added two catches for 13 yards–both of them for scores.
The game was tied at 7-7 before an interception by Nolan Dalton set up the Hawks' go-ahead touchdown late in the first quarter. Henkes, who ran 18 times for 103 yards, found the end zone for the first of his three scores.
Ankeny then dominated the second quarter to build a 28-7 halftime lead.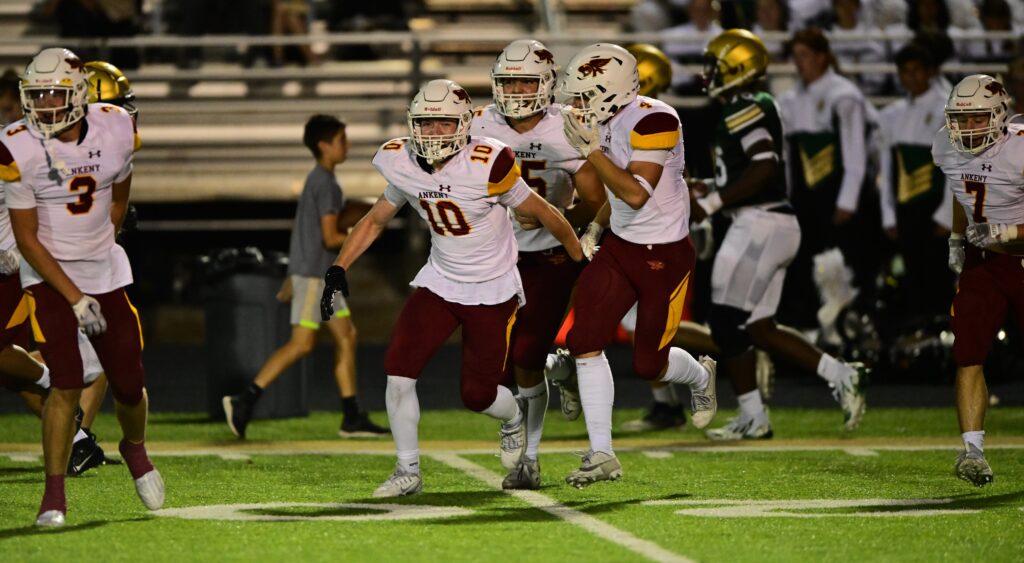 "I keep preaching that we need to take the next step, and I thought both offensively and defensively we made some mistakes early, but we kept plugging away," Bauer said. "We got four turnovers on defense again, and that was huge."
The Hawks held a 35-14 advantage after three quarters. They later extended the margin to 48-14 on a 1-yard touchdown run by Larmie, who rushed for 134 yards on 22 carries.
Iowa City West got its final touchdown with 1 minute 59 seconds left, but it wasn't nearly enough. The Trojans' record dropped to 2-3.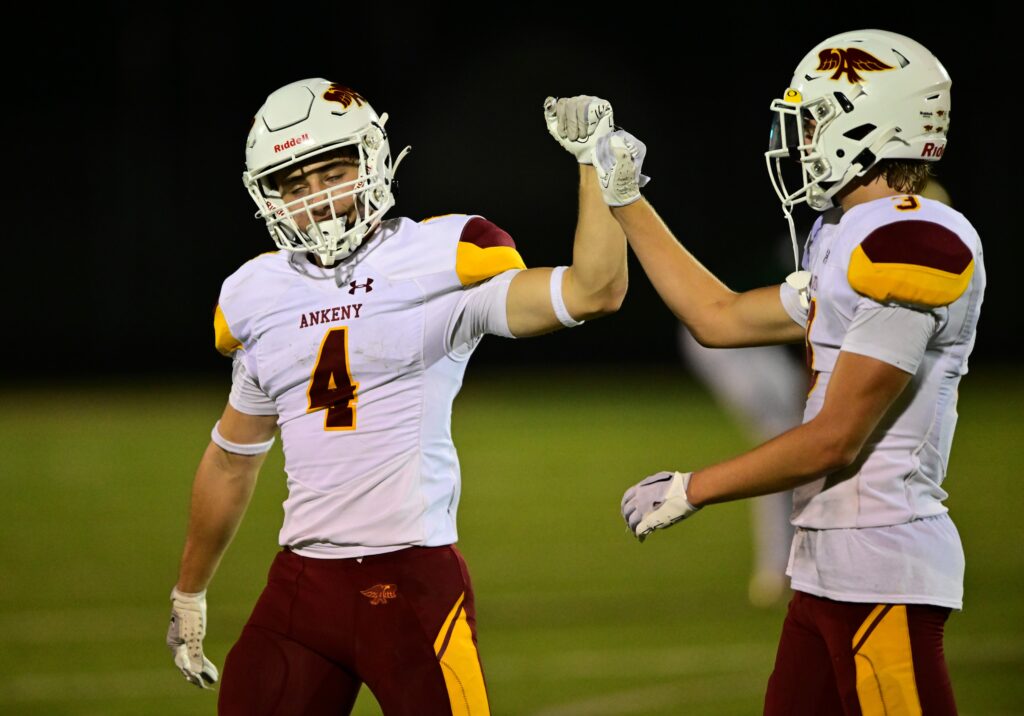 "They have a couple of receivers and running backs who are pretty good," Bauer said. "And the quarterback isn't bad, but we put a lot of pressure on him and forced him into some mistakes."
Bauer said his team still needs to clean up a few things.
"We'll have to keep getting better and try to correct some of our mistakes," he said. "The first touchdown that Iowa City West scored was just a blown coverage. No one was there. We shot ourselves in the foot a little bit, but hopefully we can learn from it."
Ankeny will hit the road again on Friday for a game at Cedar Rapids Prairie (3-2). Prairie is coming off a 38-30 win over Iowa City Liberty, which will be the Hawks' opponent the following week.
"Prairie is good," Bauer said. "I compare them a little bit to Johnston. They've got a good quarterback and good receivers. The defense is pretty stout up front. They got crushed by Southeast Polk (in a 42-7 loss on Sept. 8), but most people do.
"We know it'll be a tough game," he added.