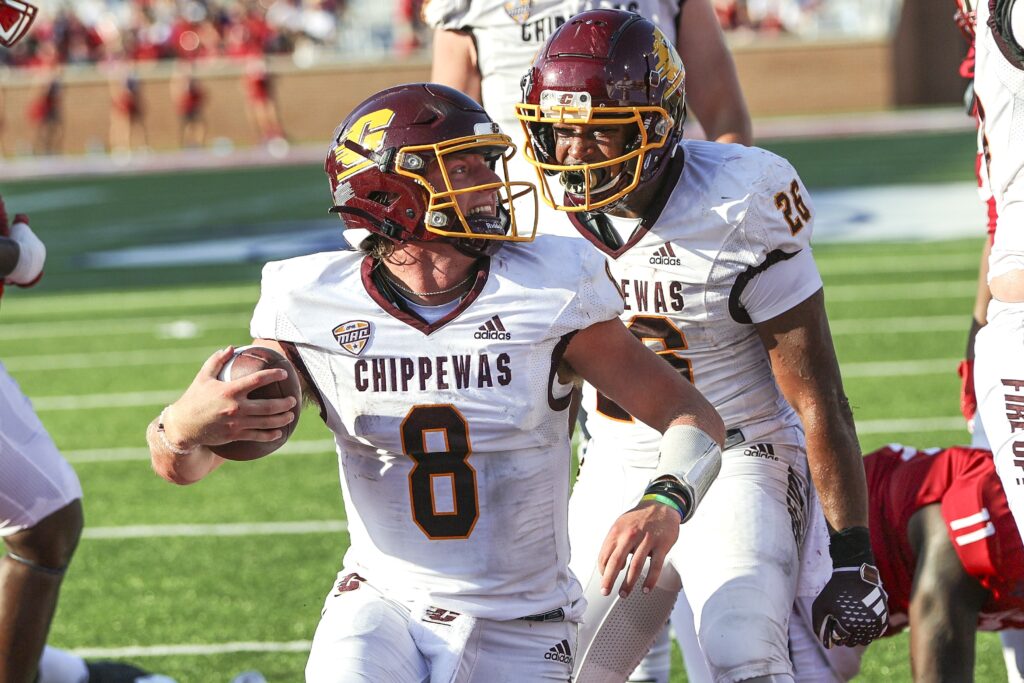 Jase Bauer has always been able to make plays with his feet.
The former Ankeny star proved it again on Saturday.
Bauer, a redshirt sophomore quarterback, ran for four touchdowns and passed for another to lift the Central Michigan football team to a thrilling 34-30 victory at South Alabama. He scored the winning touchdown on a 4-yard run with 13 seconds remaining, capping an 11-play, 75-yard drive.
"The offensive line gave me great protection the whole drive," Bauer said. "I never doubted it for a second. That's what we practice every Thursday.
"I love that, it's just playing football, win or go home and that's my favorite time. I love having my guys out there, my teammates had my back the whole way," he added.
Central Michigan fell behind in the first quarter, 14-0, before Bauer relieved starter Bert Emanuel Jr. and ignited the Chippewas to their first non-conference road win since a 45-27 victory at Kansas on Sept. 9, 2017. Bauer completed 19-of-30 passes for 224 yards and ran 15 times for 55 yards.
"That was a hell of a football team they just beat," CMU coach Jim McElwain said of his players. "At the end of the day, I'm just proud of these guys."
Bauer threw a 70-yard touchdown pass to Jesse Prewitt III on the first play of the fourth quarter to give the Chippewas a 27-17 lead. On the play, Bauer nearly lost his balance in the backfield, then eluded a rush before firing a perfect strike to Prewitt down the middle of the field.
South Alabama answered almost immediately with a 72-yard touchdown pass to cut it to 27-23 and then, after forcing a punt, scored on a 3-yard run by La'Damian Webb to take a 30-27 lead with 2 minutes 42 seconds left. That set the stage for the dramatic finish.
"We didn't want to leave any time on the clock," McElwain said. "Sure enough we did what we had to do. (Bauer) was on it. Credit the front too. They did a great job of giving him some time.
"I don't know what (this win) says about the program, but it's going to make that airplane flight a lot better going back," he added.
Central Michigan (2-2) avenged last year's 38-24 loss to South Alabama, which was coming off a 33-7 win at Oklahoma State. The Chippewas will host Eastern Michigan in their Mid-American Conference opener on Saturday.