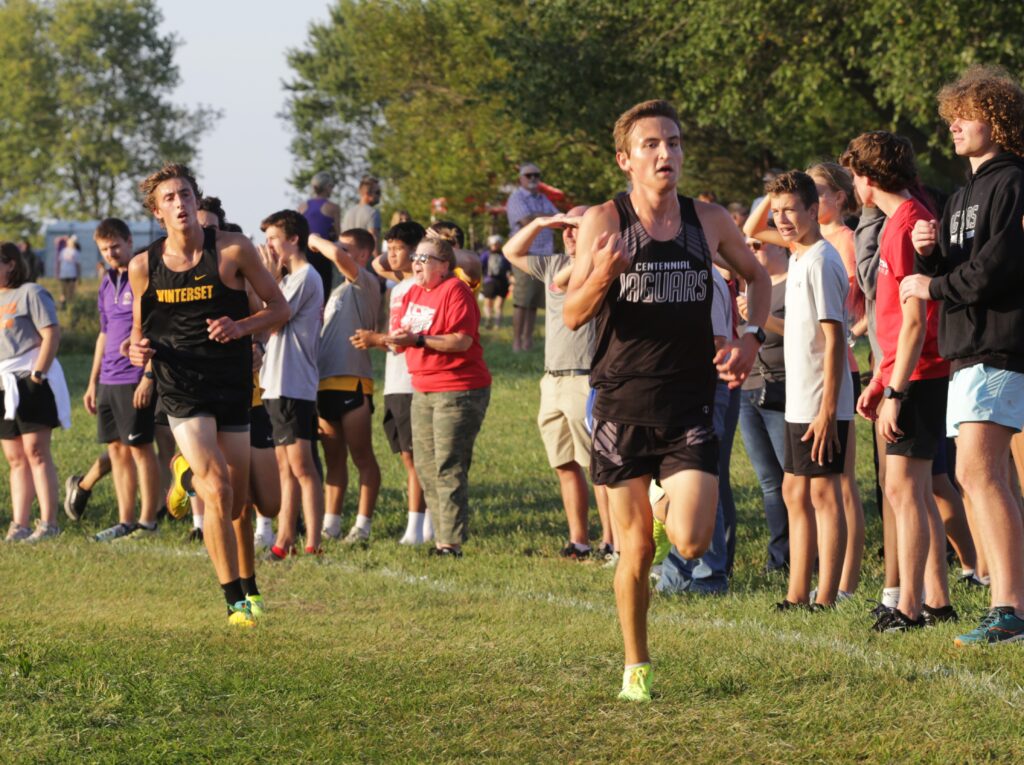 The Ankeny Centennial cross country teams both earned third-place finishes in the Bud Williams Invitational on Thursday at the University of Iowa's Ashton Cross Country Course.
In the girls' division, second-ranked Dubuque Senior won the team title for the third straight year, finishing with 45 points. No. 4 Pleasant Valley was second in the 10-team field with 50 points, followed by No. 6 Centennial with 87.
"We had a solid night of racing overall," said Centennial girls' coach Eric Cogdill. "Our varsity girls put in two weeks of heavy loaded training and also had to knock off the rust from not racing a week ago, so they weren't racing at 100 percent. In fact, our varsity racers only had one girl run a lifetime best. And yet, we finished third in the meet behind (two of the state's top four teams) and ahead of No. 9 Iowa City High, which falls in line with our ranking."
Only seven points separated the top three teams in the boys' division. No. 14 Iowa City High scored 62 points to claim its third consecutive crown.
No. 18 Dubuque Senior took second among 12 teams with 64 points. No. 19 Centennial finished with 69 points.
"We competed well," said Centennial boys' coach Chad Fickbohm. "We are excited to see how the group really raced together. If someone isn't having their best night, we are seeing guys step up."
Centennial's AJ Schermerhorn easily won the boys' 5k race for his second victory in a row. He had not raced since winning the Cedar Rapids Kennedy Invitational on Sept. 7.
Schermerhorn crossed the finish line in a time of 15 minutes 35 seconds. Pleasant Valley's Jack Perry was second in 16:19.
"I took the lead after about 1k because a Cedar Rapids Prairie kid took it out pretty hot," said Schermerhorn. "After that, I pulled away and was on my own."
Brayden Vander Wilt and Cohen Moll both posted a time of 16:52 for the Jaguars, placing 13th and 15th, respectively. Brendan Owens took 18th in 16:53, Jack Behrens was 22nd in 16:56, Davis Johnson placed 24th in 17:01, and Corbin Vander Weerdt finished 27th in 17:06.
"Cohen, Davis and Corbin all had big PRs with the other guys near their best," Fickbohm said. "This is where we want to be as we move into the October taper."
Schermerhorn is fourth in the latest Class 4A individual rankings behind Ethan Zuber of Ankeny, Jaden Merrick of Cedar Falls and Natnael Kifle of Sioux City North.
"Overall, I'm pretty thrilled with how I'm doing this season so far," Schermerhorn said. "However, I'm even more proud of how far everyone has come these past couple weeks, especially Cohen Moll who has shaved 2 minutes off of his PR from last year."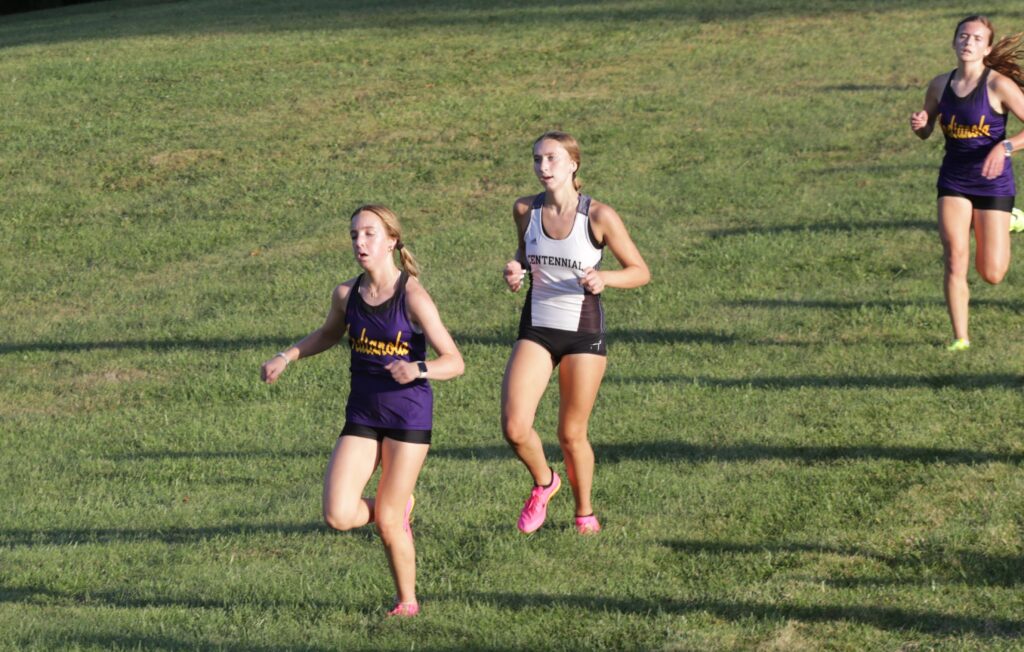 In the girls' race, Leah Klapatauskas of Dubuque Senior edged Centennial's Anika Mohrhauser to earn the win in 18:34. Mohrhauser was second in 18:35.
"Anika was in a four-person battle for first with Ani Wedemeyer (of Iowa City High) and Grace Boleyn (of Pleasant Valley) dropping off midway through the race, and then it was a blow-for-blow battle with Leah," Cogdill said. "Just like the bee that stung her before the race, Anika expressed the sting of taking second surprised her. It's great to see her confidence and drive continue to grow."
Bella Hodges placed 13th for the Jaguars in 19:39.
"Bella raced hard and finished in line with her result from Cedar Rapids three weeks earlier, right with the Pleasant Valley pack," Cogdill said.
Centennial's Haley Hveem took 22nd in 20:14, Cora DenHartog was 24th in 20:21, and Tillie Smith placed 27th in 20:28. Tallie Plueger and Anja Peck both posted a time of 20:37, finishing 28th and 29th, respectively.
"Tillie was terrific to close out our varsity scoring, just as she did two weeks ago at Valley," Cogdill said. "She's been having a great season of consistent performances."
Centennial easily won the girls' JV division with 18 points. The Jaguars swept the top four places and nearly had a perfect score.
"I had the girls look toward the performance of our JV squad whose season ends in 12 days to build confidence," Cogdill said. "The top five JV girls as well as eight of the top 10 ran lifetime bests. That's where we want the varsity to be in two to three weeks."
Kyra Zinn easily won the JV race in 20:23.
"Kyra led from the half-mile onward in a dominating effort, and that was our fifth-best time of the night," Cogdill said. "She's a junior and is out for cross country for the first year, and this was just her second race as she has been splitting time swimming varsity like Anja. Earlier in the week, I asked Kyra if she wanted to run varsity as I saw this coming, or if she thought she should build confidence with a JV race. She made a great choice; next week she will be running varsity though."
Both teams will compete in the Fort Dodge Invitational on Thursday.