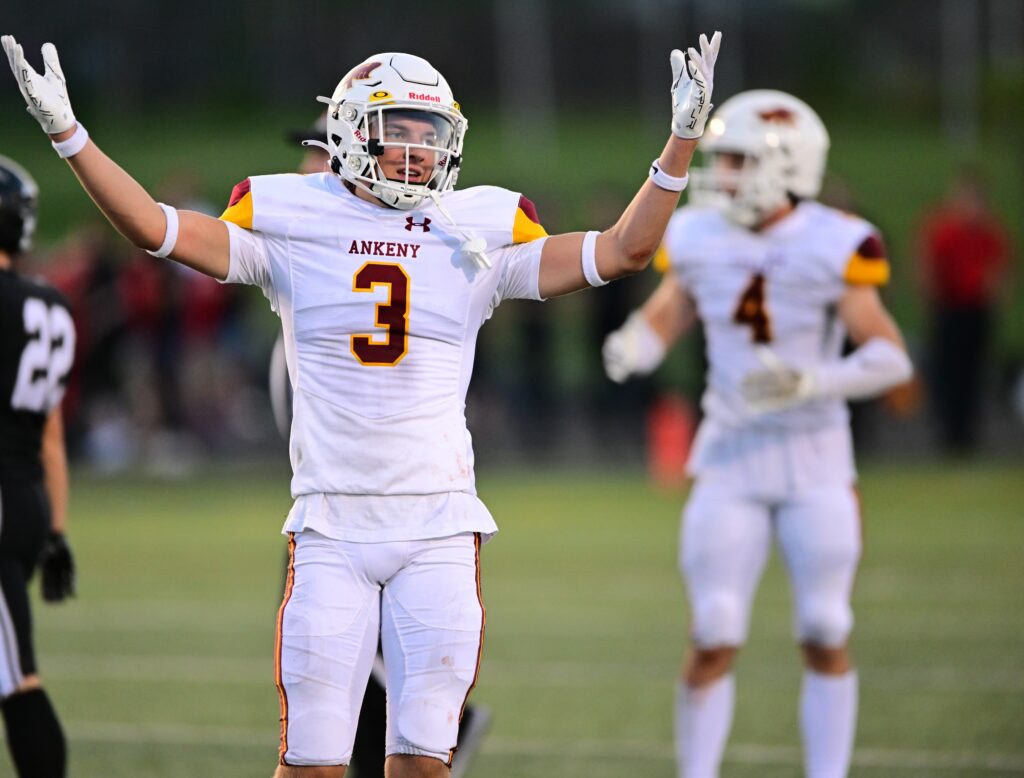 Ankeny football coach Jeff Bauer breathed a sigh of relief on Friday as he boarded the bus for the trip home from eastern Iowa.
The eighth-ranked Hawks survived a dramatic finish to hold on for a 17-14 victory over Cedar Rapids Prairie in a matchup of 3-2 teams battling for playoff position in Class 5A.
"It shouldn't have been that close, but it was," said Bauer. "They scored late on an 80-yard pass and then got the ball back, but we hung in there. We had a heck of a goal-line stand. We kept them out of the end zone."
Ankeny (4-2) appeared to be in control when Luke Anderson tossed a 5-yard scoring pass to Caden Henkes on fourth down to make it 17-7 with 4 minutes 22 seconds left. Anderson completed 13-of-26 passes for 116 yards.
After Prairie (3-3) scored with the long pass on the next play from scrimmage, Anderson was picked off on the ensuing possession, setting up a thrilling finish.
Prairie then drove inside the Hawks' 10-yard line before turning the ball over on downs at the 3 with 56 seconds to go. Prairie went for a first down on fourth-and-1 rather than try for a tying field goal.
"It was like fourth-and-a foot and they tried a quarterback sneak and somehow we stuffed it," Bauer said.
The two teams combined for five interceptions. Ankeny picked off three passes in the first half alone.
An interception by Dylan Dougherty set up a 1-yard touchdown run by Daniel Larmie that gave the Hawks a 7-0 lead in the first quarter. Larmie rushed for 43 yards on 10 carries.
Jacob Mohrfeld picked off a pass in the second quarter. That led to a 20-yard field goal by Ryan Harrington that extended Ankeny's margin to 10-0 at halftime.
"I felt like we pretty much dominated the first half, but we were only up by 10," Bauer said. "We had a field goal blocked on the first drive of the game."
In the third quarter, Ankeny had trouble moving the ball. Prairie then scored early in the final period to close the gap to 10-7.
"The wind was pretty strong out of the south the whole game," Bauer said. "The third quarter we were going into the wind, and we could never get field position."
Henkes eventually scored what proved to be the winning touchdown on the pass from Anderson. He also ran for 100 yards on 18 carries.
Evan Irlmeier caught six passes for 108 yards. Devon Akers added four receptions for 47 yards and also threw a 63-yard completion to Irlmeier on a trick play.
"Prairie's defense played really well," Bauer said. "They're tough against the run, and our defense probably played its best game of the year if you take away that one play. We tackled as good as we have all year. We worked on that all week in practice, and it showed."
Bauer called it a huge win for the Hawks.
"The winner probably controls its own destiny as far as getting a top-five seed or better in the playoffs," he said. "Now we just need to take care of business each week."
Ankeny will host Iowa City Liberty (2-4) on Friday at Ankeny Stadium. The Lightning ended a three-game losing skid with a 60-10 win over Cedar Rapids Washington on Friday.