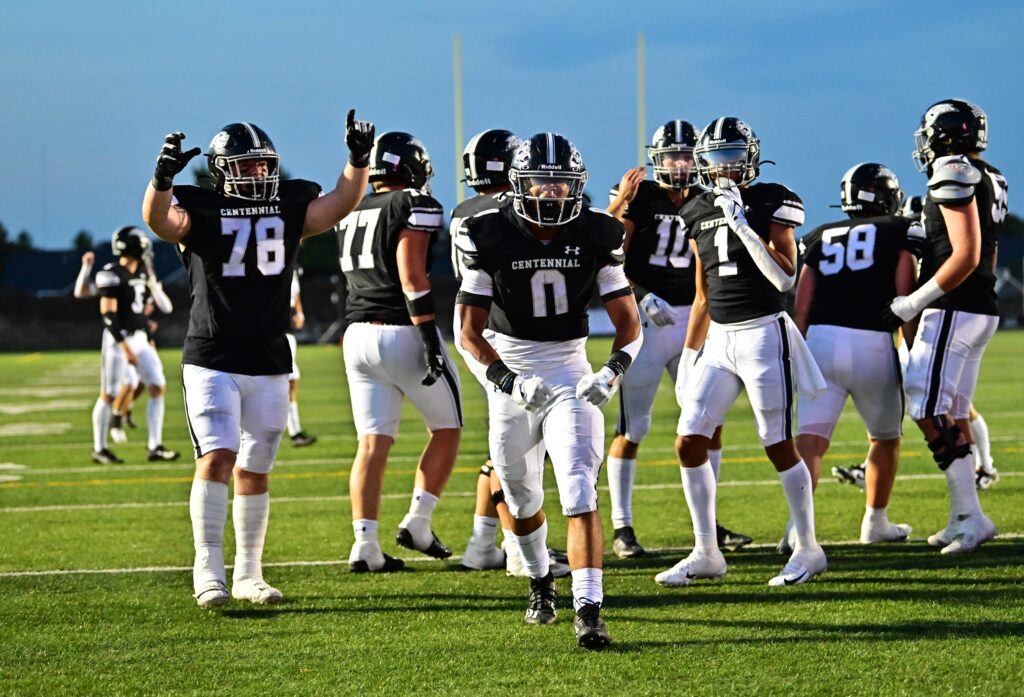 The Ankeny Centennial football team twice converted on fourth down to keep its final drive alive during Friday's game against visiting Dowling Catholic.
The Jaguars couldn't do it a third time.
Dowling's Kenyi James picked off a pass on the game's final play and returned it 99 yards for a touchdown to seal the second-ranked Maroons' 30-17 victory over No. 6 Centennial.
"We had a couple procedure penalties and a couple other mistakes that at the end could have been (the difference)," said Centennial co-head coach Ryan Pezzetti, whose team dropped to 3-3 on the season. "We played good enough to win, but Dowling's a quality team–no question about it. And they played well the second half to get the victory."
Dowling (6-0) rallied from a 17-10 halftime deficit and took a 24-17 lead on a 3-yard touchdown run by Ra'Shawd Davis with 6 minutes 23 seconds left. Davis, who ran 32 times for 197 yards and three scores, had 11 carries on the 13-play, 80-yard drive.
"We fought hard, but they did a good job of running the ball," Centennial linebacker Jack Cahill said of the Maroons. "That No. 24 (Davis) is pretty shifty."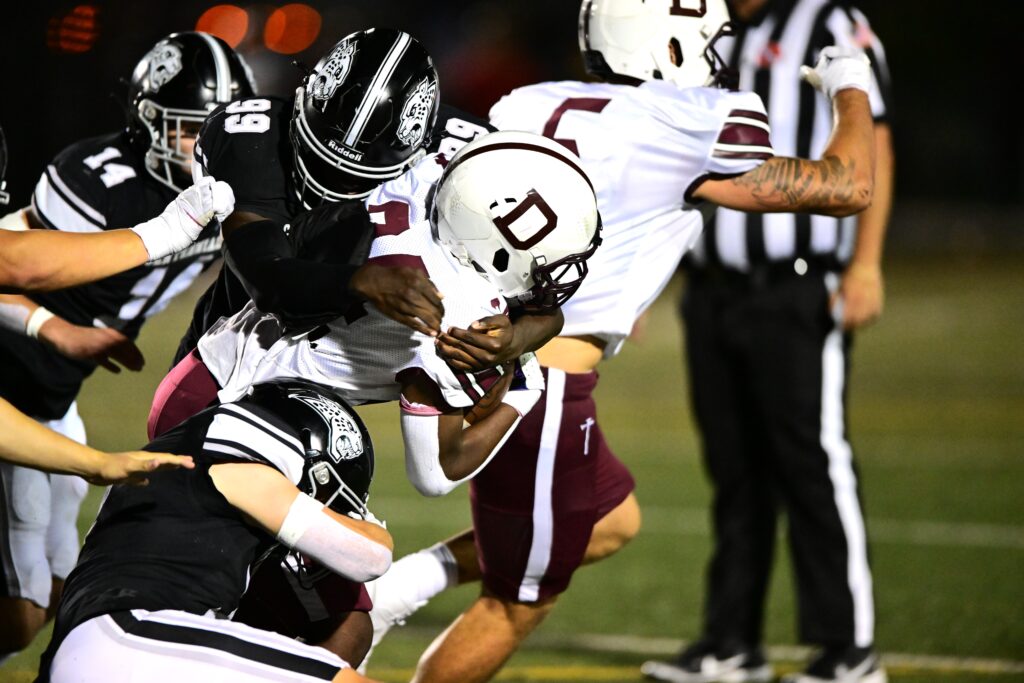 Centennial then responded with an 18-play drive that nearly tied the game. Quarterback Trenton Smith tossed a 20-yard pass to Braeden Jackson to begin the possession, then later found Lawson Langford for 16 yards to pick up a first down on fourth-and-9.
Three plays later, Smith threw a 12-yard completion to Max Snyder to give the Jaguars first-and-goal at Dowling's 5-yard line.
"We knew going in it was probably going to be a six-possession game, and I think that's what it was," Pezzetti said.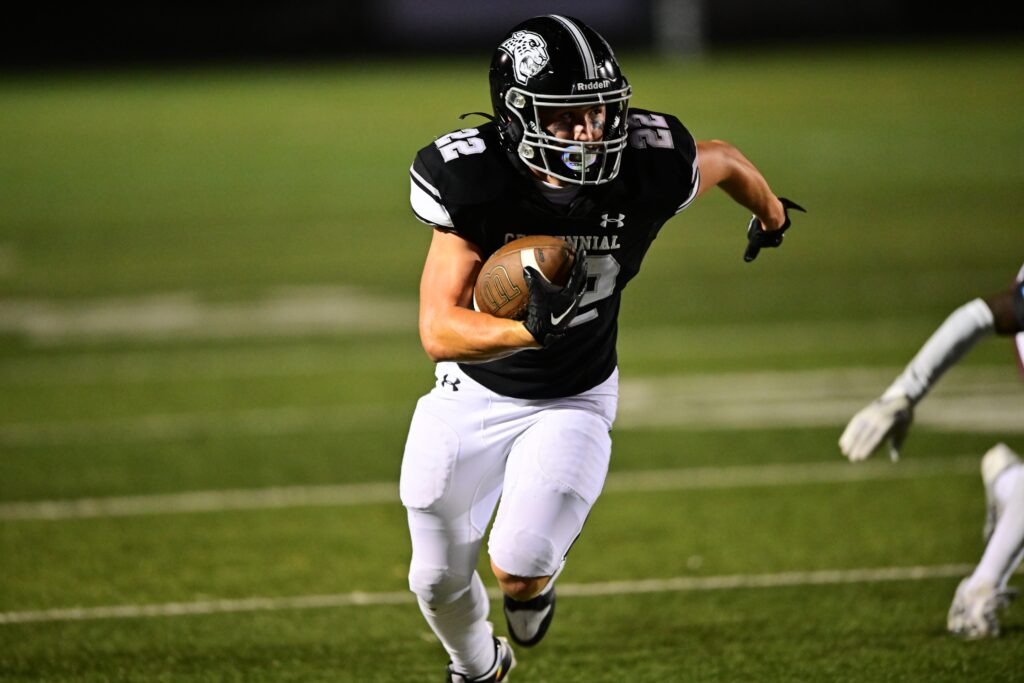 Elijah Porter, who rushed for 140 yards and two touchdowns on 25 carries, ran 3 yards to the Dowling 2 before Smith was stopped for no gain on a quarterback sneak. Porter then gained a yard on third down to set the stage for the final play.
After a timeout, Smith tried to pass the ball to Jackson in the right flat, but James jumped the route and had a pick-six to end the game.
Porter ran for 113 yards on 14 attempts in the first half alone. He scored on a 3-yard run on the game's first possession, then dashed 23 yards to the end zone to give Centennial a 14-0 lead with 1:50 left in the opening quarter.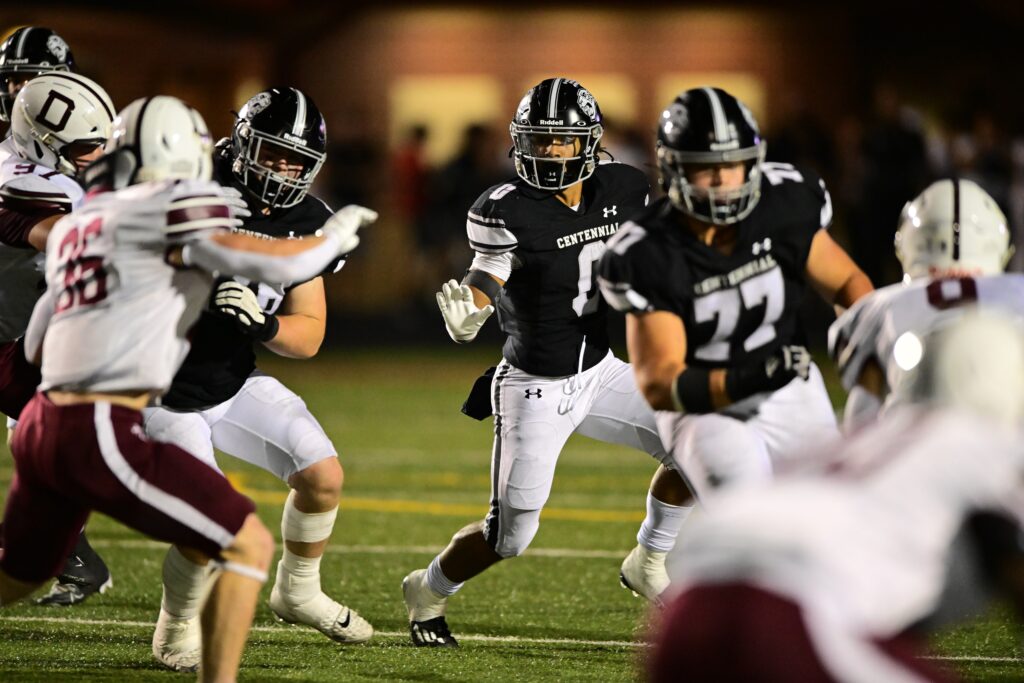 "We knew that we could run the ball on them," Porter said. "They fixed up on that the second half, that's good on them. Our game plan, we didn't execute it as good as we can. We know we didn't play the best football that we can. And we know if we do, that's when we come out with the victory."
After Davis scored on a 6-yard run with 7:33 left until halftime, the Jaguars answered with a 38-yard field goal by Ryan Bendezu to take a 17-7 lead with 2:48 remaining. Dowling then drove 87 yards in 11 plays, capped off by a 36-yard pass from Dante Cataldo to Trey Wilson, to set up a 25-yard field goal by Andrew Schumacher on the final play of the half.
The Maroons opened the third quarter with another time-consuming possession, but the drive ended when Centennial's Zechariah Howe tipped a pass from Cataldo and Cahill intercepted it at the Jaguars' 4-yard line.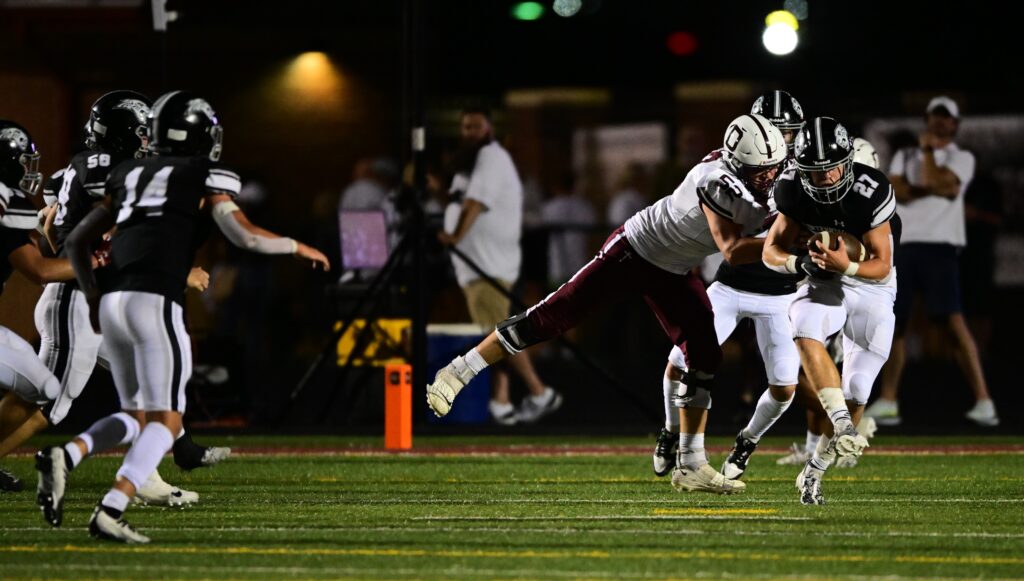 "Big thanks to Zech for tipping that thing up for me," Cahill said. "I was just sitting right there for that. I was just kind of lucky."
However, Dowling's Zach Smid recovered a fumble by Porter shortly thereafter, giving the Maroons a first down at Centennial's 27. Davis then carried the ball on four consecutive plays and scored on a 2-yard run to tie it up with 4:20 left in the period.
The Jaguars were forced to punt on their next possession, one of just two punts in the game. Dowling then drove for the go-ahead touchdown to take the lead for the first time.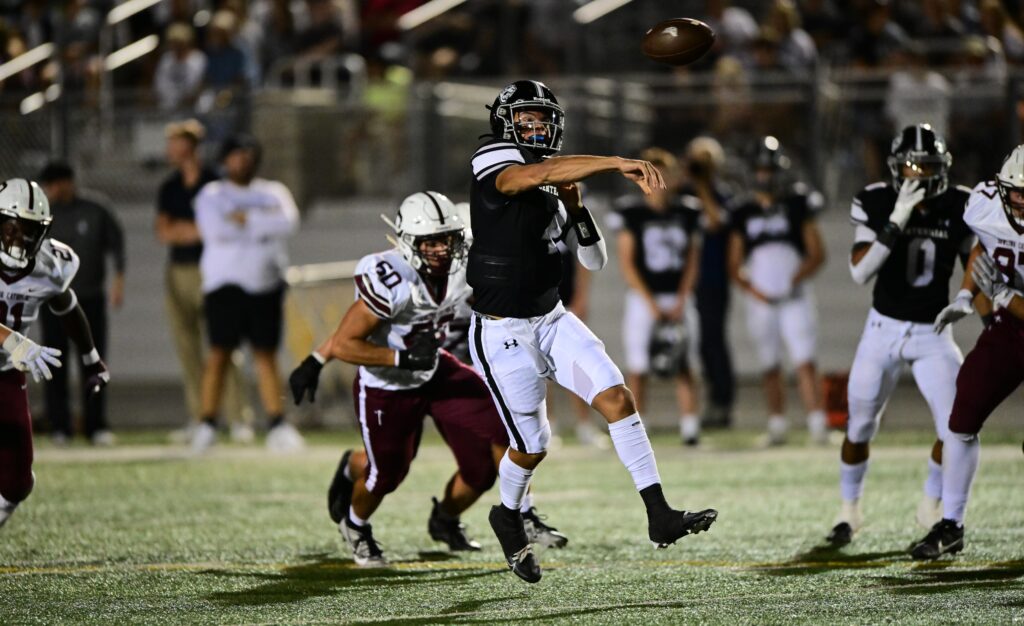 "They definitely (made some changes on defense)," Porter said of the Maroons. "They stacked the box more because they knew we were going to run the ball against them. It was just simple adjustments."
Cataldo passed for 92 yards and ran for 40 before leaving the game in the fourth quarter with an injury. He ran twice for 22 yards on the drive that put his team ahead.
"We've still got to make some adjustments," Cahill said. "Hopefully, we'll see them again."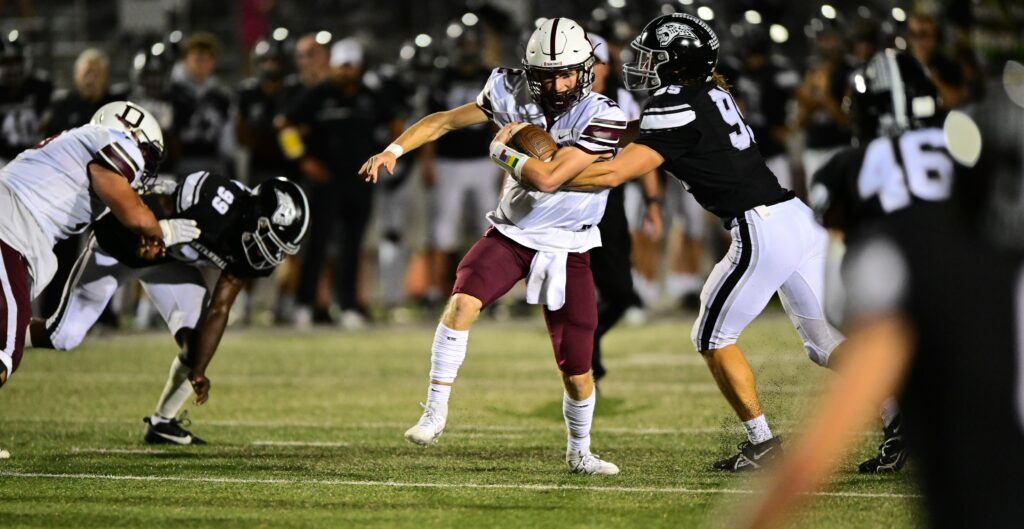 Smith completed 11-of-16 passes for 115 yards, while Snyder had five catches for 58 yards. Drake Dittmar and Cole Pieper each had 6.5 tackles to lead the Jaguars' defense.
Centennial will play Des Moines Roosevelt (3-3) on Friday at Drake Stadium. The Jaguars will then close out the regular season with games against No. 9 Waukee Northwest and Urbandale–who are both currently 4-2.
"We want to put ourselves in good position (for the playoffs), and we feel we have the team to do it," Pezzetti said. "We're right there with some of the best teams like Dowling and Southeast Polk. We've got nothing to be ashamed of. Our kids are fighting hard and doing a lot of good things. We just need to sharpen up a few things, and we feel come November we'll be in it."