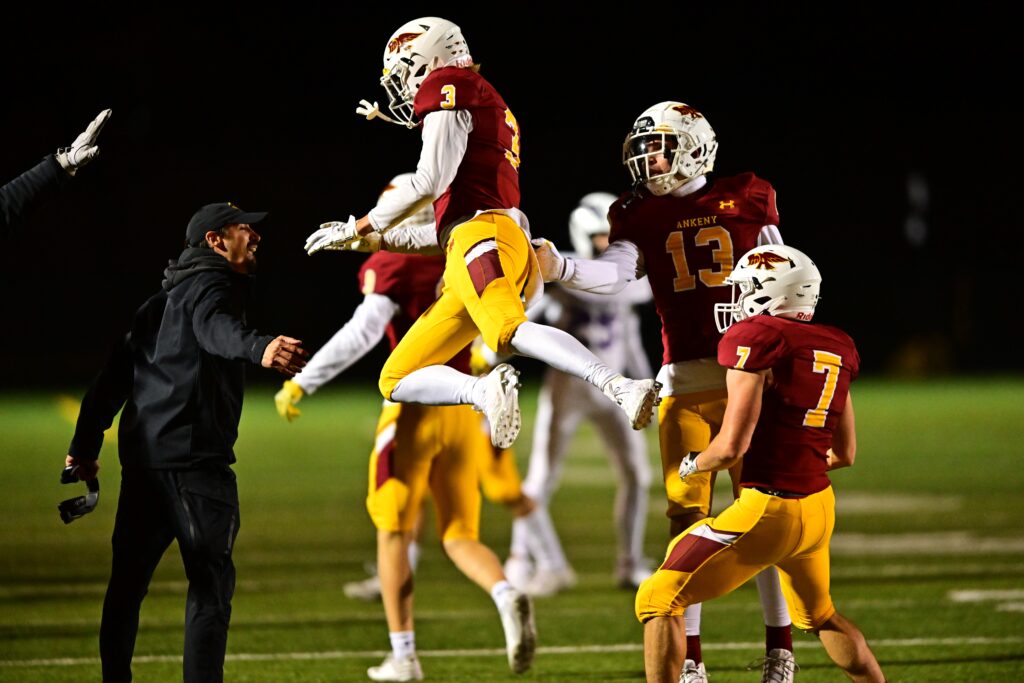 There weren't a lot of expectations surrounding the Ankeny football team this season.
It might be time, however, to raise the bar.
The Hawks used a dominant fourth quarter to pull away for a 40-21 victory over visiting Iowa City Liberty on Friday. They raised their record to 5-2 and have all but clinched a Class 5A playoff berth.
"It feels great," said Ankeny defensive back Jacob Mohrfeld, who contributed a key interception and a huge sack for the Hawks' defense. "That's what? Four wins in a row coming off two tough losses."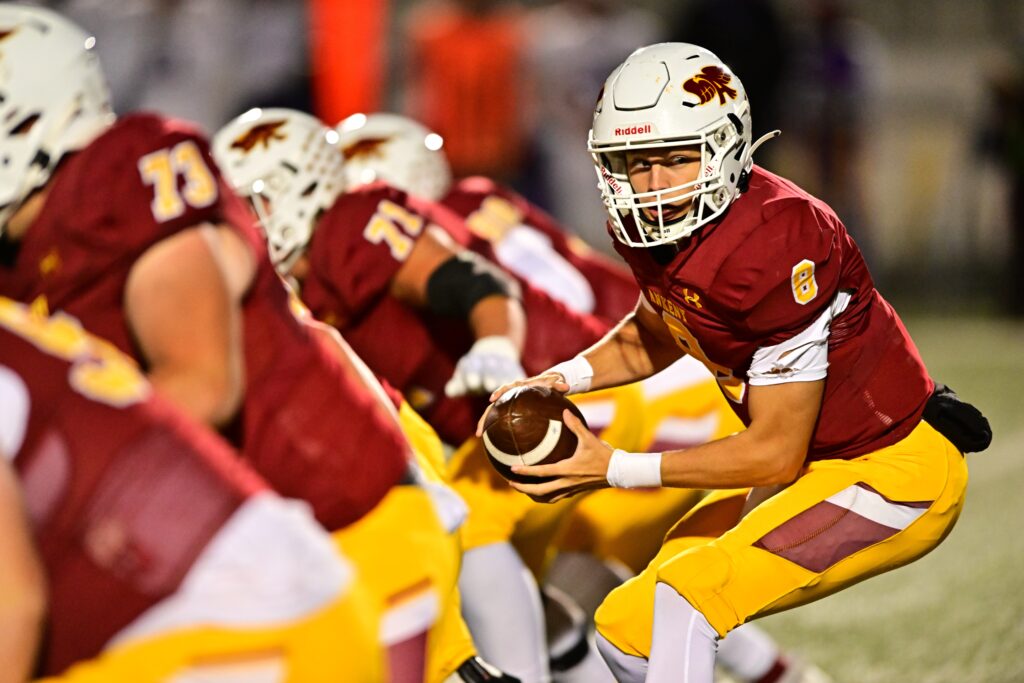 Ankeny was seventh in the Class 5A RPI rankings entering Friday's game. The Hawks won despite being outgained by Liberty by a 463-406 margin.
The Lightning (2-5) racked up 317 total yards in the first half alone, but could only manage a 14-14 tie.
"Every week it's a tough opponent," said Ankeny coach Jeff Bauer. "That's a good team. They've got a really good quarterback and really good running backs. They took it to us for a large portion of the game. I thought the first half they were more physical than us, but I was proud of the defense. They stepped up the second half, and they were out on the field a long time. Even when we scored, they were quick drives. I don't know what the time of possession was, but our defense was out there a long time. They bent, but they didn't break."
Ankeny scored the game's final 20 points after Liberty took a 21-20 lead on a 6-yard run by Owen Drapeaux with 2 minutes 32 seconds left in the third quarter. The Hawks got a 42-yard run from Caden Henkes on the ensuing possession, setting up a go-ahead 32-yard field goal by Ryan Harrington with 10:43 remaining in the game.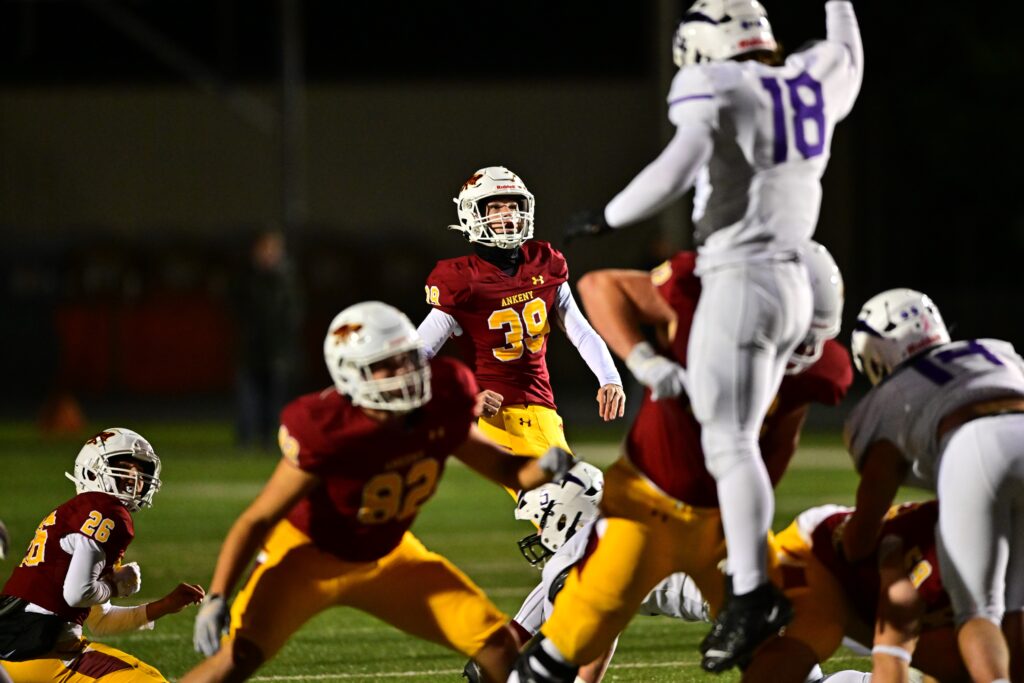 After Ankeny forced a turnover on downs, Henkes carried the ball on four consecutive plays for 38 yards to extend the Hawks' lead. His 12-yard scoring run with 6:24 to go increased the margin to 30-21.
"We knew the run game was going to be big tonight," said Henkes, who rushed for 243 yards and three touchdowns on 21 carries. "If we ran the ball, then we knew we could stampede on them. And we got it going late in the second half, and we just kept rolling from there."
Mohrfeld forced another turnover on downs when he sacked Liberty quarterback Graham Beckman on fourth down on the next possession. That led to a 37-yard field goal by Harrington with 4:28 left.
Henkes later punctuated the victory when he broke through the line of scrimmage, cut to his left and dashed 71 yards to the end zone with 1:09 to go.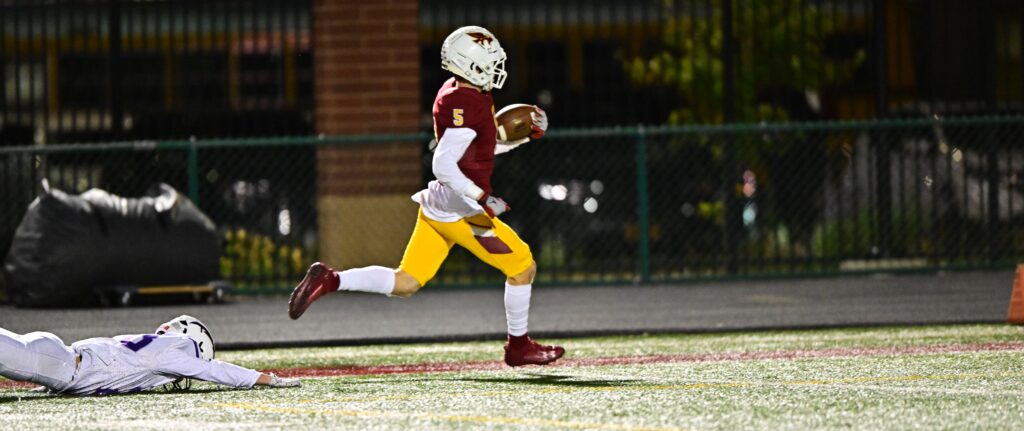 "Henkes has that explosive speed," Bauer said. "He has great vision, and he made that cut. And you saw, he can run away from most secondary guys."
Liberty got off to a fast start. The Lightning took a 7-0 lead on a 25-yard pass from Beckman to Dallas Miller, then threatened to score again before Mohrfeld intercepted an overthrown ball and nearly returned it for a pick-six.
"It came right to me," Mohrfeld said. "I didn't have to do too much for it."
Henkes scored on a 33-yard run on the next play, but Liberty later regained a 14-7 lead when Beckman tossed a 6-yard scoring pass while nearly being sacked on a horse-collar tackle.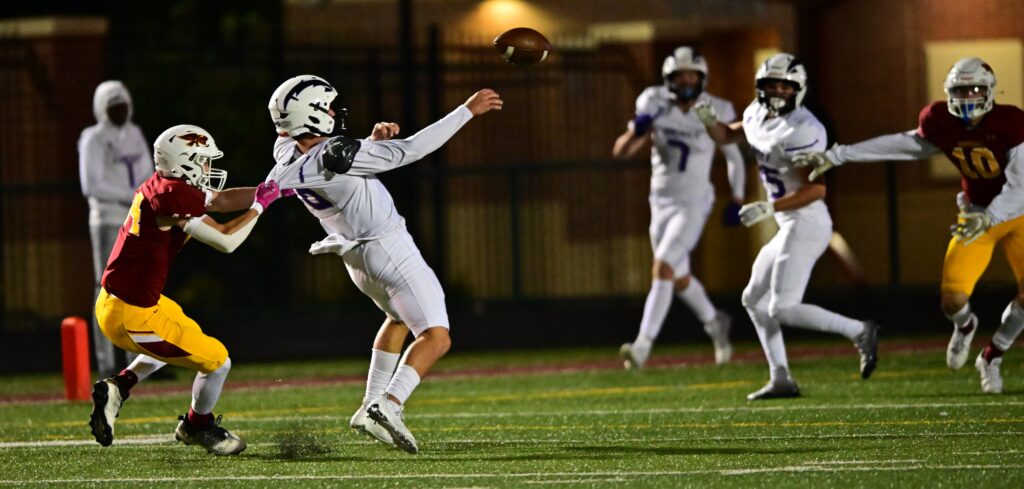 Ankeny responded, though, with a scoring drive right before halftime to tie it up. Luke Anderson lofted a pass down the middle to Evan Irlmeier, who then zig-zagged his way 53 yards to the end zone.
"I had this guy (Henkes) blocking for me, so that helped," said Irlmeier. "Luke made a perfect throw–a little seam ball–and I just followed Caden."
The Hawks opened the second half with a 63-yard drive to take the lead for the first time. On fourth-and-3, Anderson found Irlmeier for a 16-yard strike to the end zone.
"Everyone obviously always wants the ball, but that was just the play," Irlmeier said. "If Mason (Randolph) had been open, he would have gotten it. But the safety came down and left me open, and it was a good ball by Luke."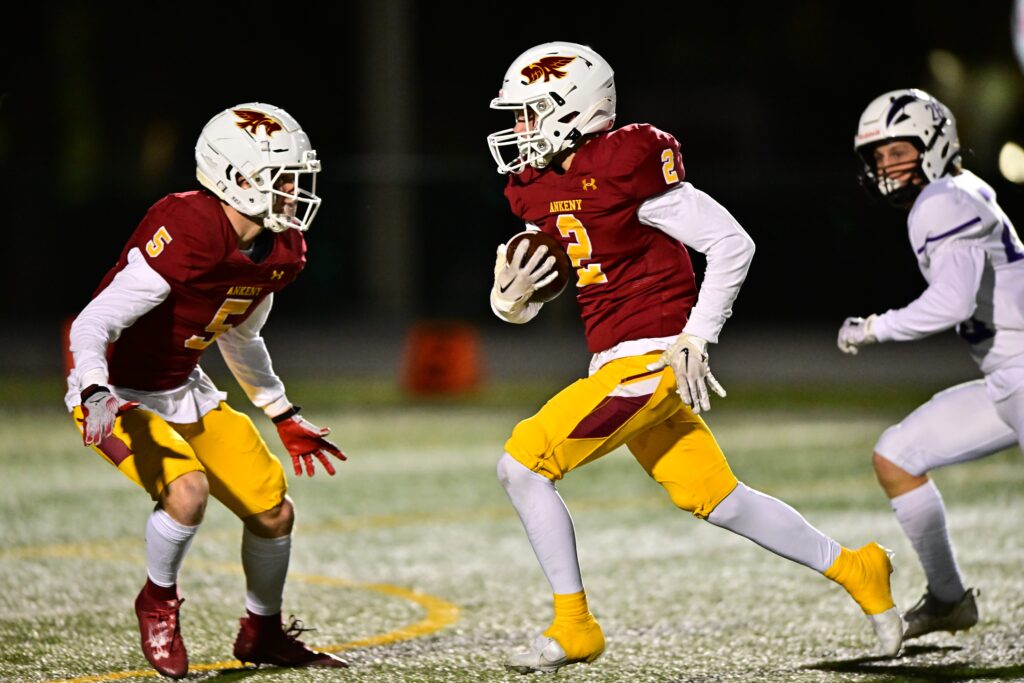 Anderson completed 8-of-13 passes for 109 yards. Irlmeier had six catches for 96 yards and the two scores.
Ankeny played without standout receiver Devon Akers, who suffered a torn labrum during last week's win at Cedar Rapids Prairie. Akers leads the team with 557 receiving yards and five touchdowns.
"I'll see a doctor on Monday to see if there's any chance I could play again this year," Akers said.
According to Irlmeier, there is pressure on the whole team to pick up the slack.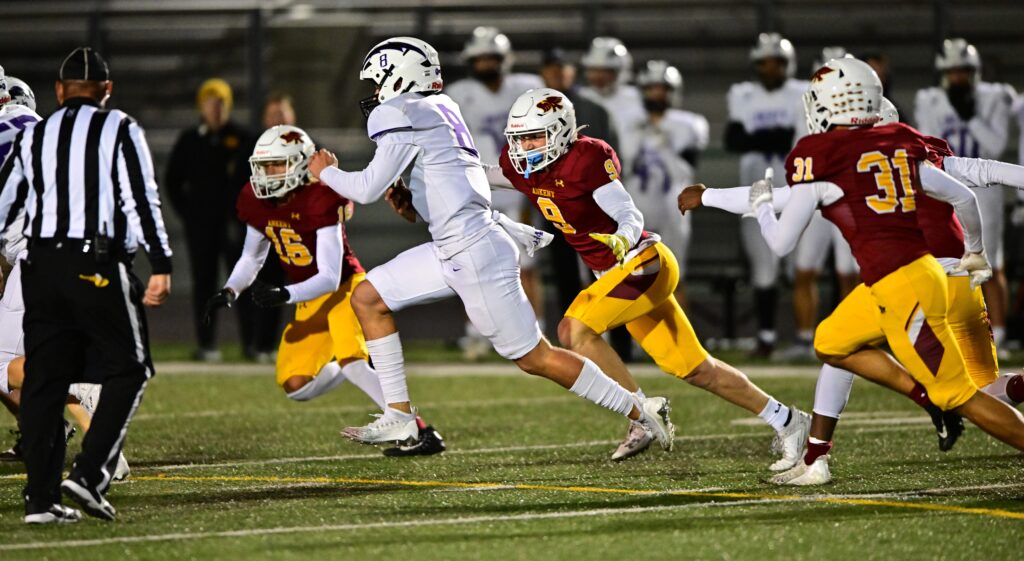 "Everyone knows Akers is Akers," he said. "Everyone has to step up in their own way, and we'll get it done."
On Friday, the Hawks' defense stepped up in the second half after Liberty moved the ball up and down the field in the first two quarters.
"In the locker room we talked about how the D-line had to step it up, and they did just that," Mohrfeld said. "The coaches had a great game plan. All around, the defense played great."
Ankeny will play at Valley (2-5) on Friday. The Tigers have been decimated by injuries, but are coming off a 49-0 win over Waterloo West.