The Ankeny football team's four-game winning streak came to an end in stunning fashion on Friday night.
A desperate Valley squad scored 10 points in the final 6 minutes 41 seconds and got a 31-yard field goal from Rico Alvarenga-Servellon as time expired to beat visiting Ankeny, 24-23, and keep its playoff hopes alive.
"We did a lot of good things tonight, but we had some costly mistakes," said Ankeny coach Jeff Bauer. "Like I told the guys, everyone had a little piece of it. The offense messed up some, the defense messed up some, and the special teams messed up some. There were a lot of good things on all sides, but losing by one point is tough."
Valley (3-5) was 20th in the Class 5A RPI rankings entering the game and would have been eliminated from playoff contention with a loss. No. 6 Ankeny (5-3) appears to be safely in the playoff field, but will likely drop in the next rankings.
That could force the Hawks to play on the road in the opening round on Oct. 27.
"We've got to regroup and take care of business next week and see where we fall," said Bauer, whose team will host Cedar Rapids Washington (1-7) in its regular-season finale on Friday. "We'll be a dangerous team (in the playoffs). I feel like we can play with anybody, but as we've shown a lot of teams can play with us, too."
Ankeny seemed to be in control after Caden Henkes scored on a 4-yard run with 7:55 remaining to extend its lead to 23-14. A 41-yard pass from Luke Anderson to Evan Irlmeier on third-and-7 set up the score.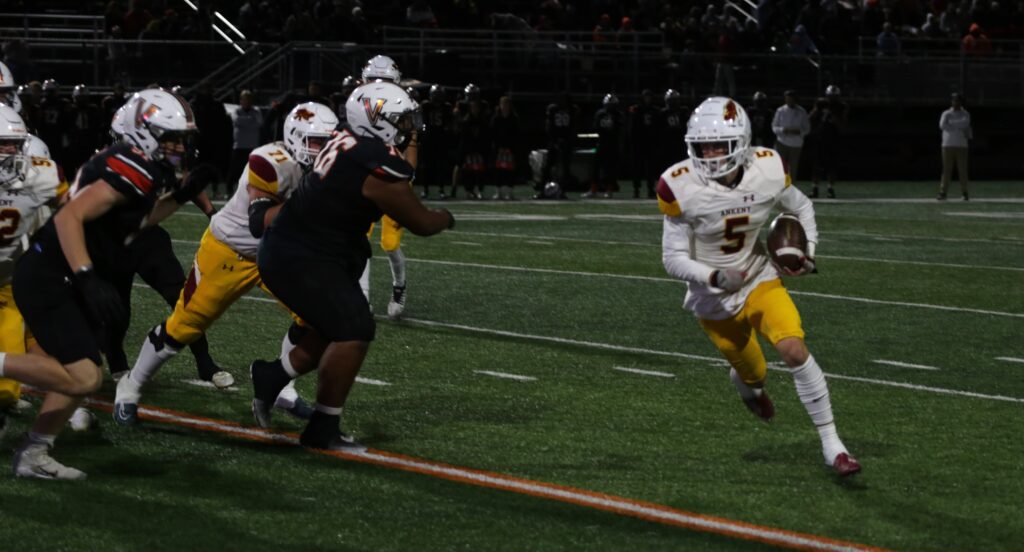 However, the Hawks missed the PAT attempt–and that proved to be costly.
Valley got back in the game when quarterback Drake DeGroote eluded a heavy rush and fired an 87-yard touchdown strike to Jayden Brown just 74 seconds later, cutting its deficit to 23-21. That one play accounted for most of DeGroote's 105 yards through the air on 4-of-11 passing.
Ankeny picked up two first downs on its final possession, but was eventually forced to punt. The Tigers took over at their 35-yard line with 2:19 to go, setting the stage for their game-winning drive.
The two teams combined for 44 points in the second half after neither squad found the end zone in the first two quarters. The only points of the first half came on a 20-yard field goal by Ankeny's Ryan Harrington with 10:13 left in the second quarter.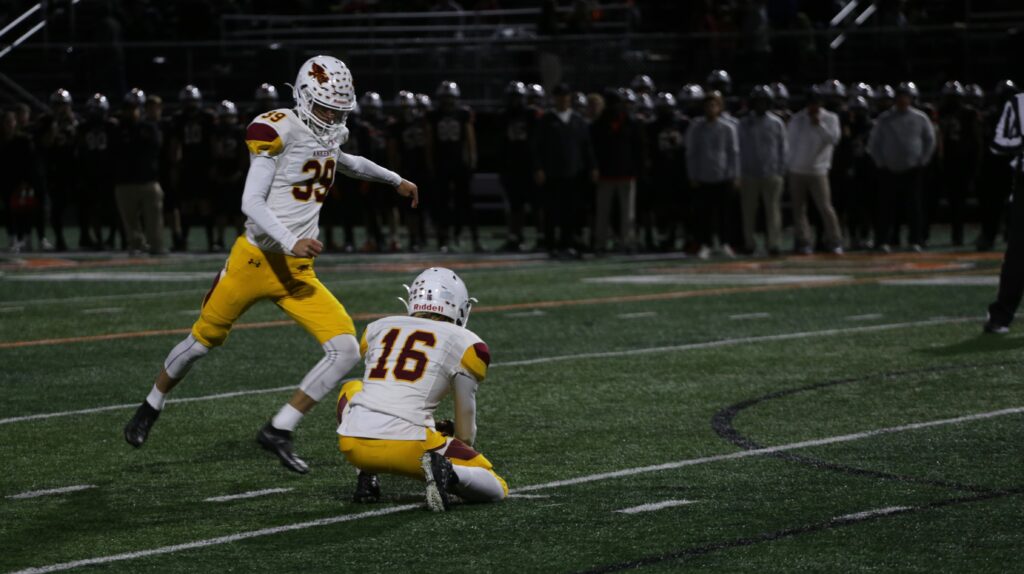 "It was crazy," Bauer said. "I don't know if we felt each other out or maybe we saw what (the defenses) were doing."
Valley didn't pick up its initial first down until midway through the second quarter, but the Tigers opened the second half with a six-play, 80-yard drive and took a 7-3 lead on a 5-yard run by Damon Head with 9:36 left in the third quarter. Head rushed for 217 yards on 22 carries.
Ankeny responded with a seven-play, 64-yard drive and regained the lead, 10-7, when Henkes took a handoff from Anderson and threw a 3-yard jump pass to Devon Akers in the end zone about 3 minutes later. The big play on that drive was a 39-yard pass to Akers on third-and-7 that moved the ball to the Valley 10.
Akers finished with six catches for 105 yards. He sat out last week's game against Iowa City Liberty after suffering a torn labrum during a win at Cedar Rapids Prairie on Sept. 29.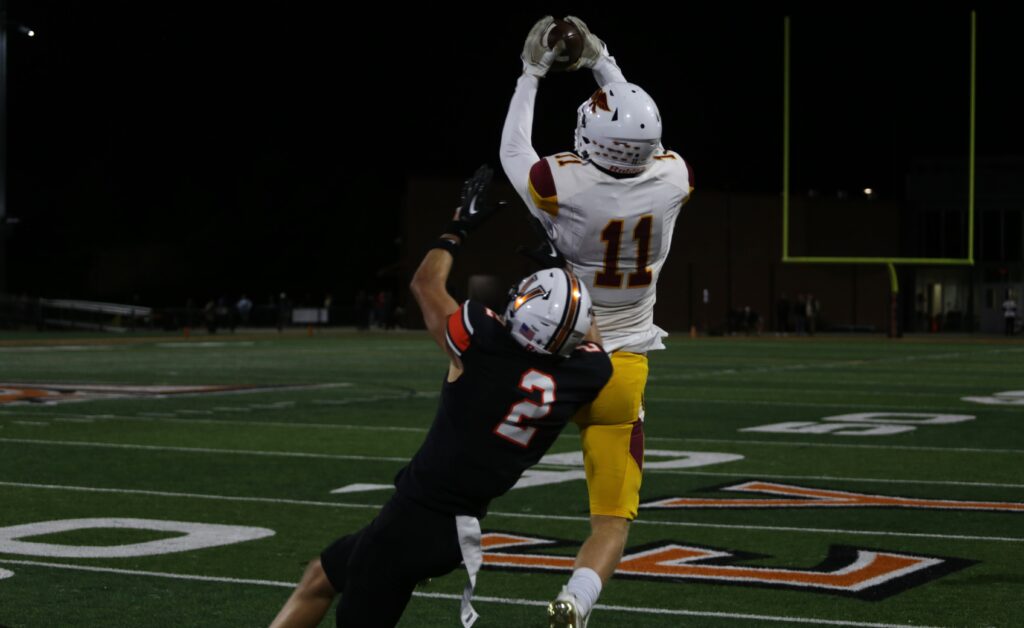 Bauer was pleasantly surprised when he found out that Akers could return to the Hawks' lineup.
"The doctor couldn't believe that Devon had no pain," Bauer said. "So he's playing with it. He's a tough kid."
Two plays later, Head raced 71 yards to the Ankeny 9 before Nolan Dalton made a touchdown-saving tackle. However, Darius Mason then scored on a 6-yard run on third-and-goal to put the Tigers ahead, 14-10, with 4:13 left in the period.
The Hawks answered again with an 11-play, 58-yard drive and took the lead, 17-14, on a 1-yard run by Henkes on the first play of the fourth quarter. He rushed for 100 yards and two touchdowns on 21 carries.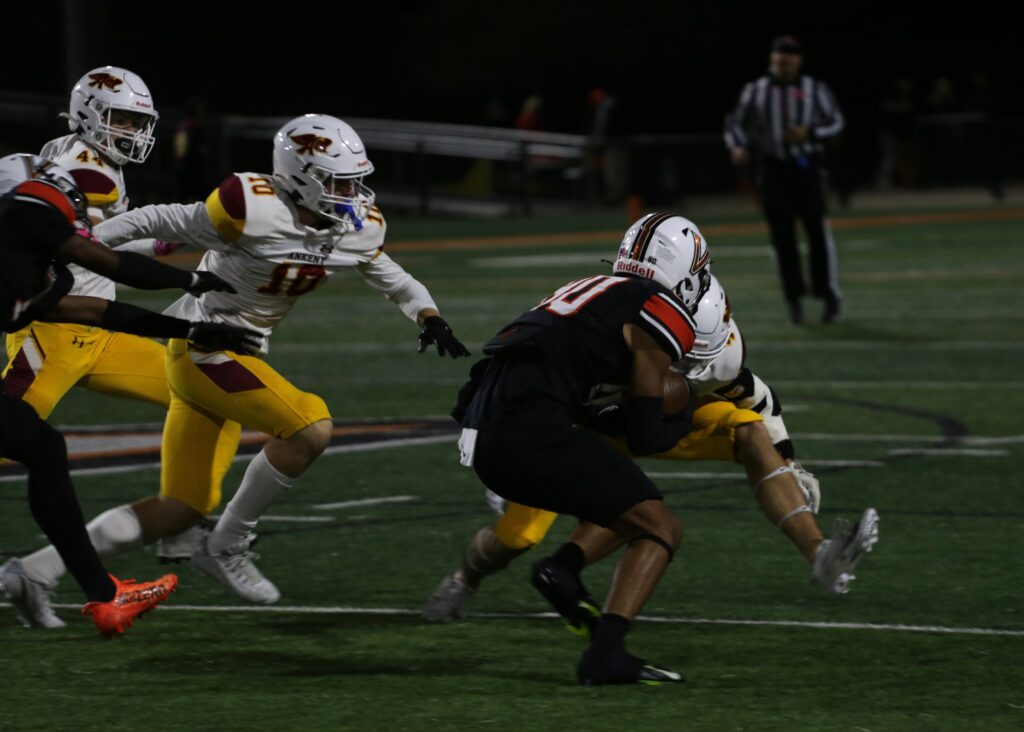 That set the stage for the frantic final period, which included numerous big plays by both teams.
Anderson completed 17-of-27 passes for 252 yards and one interception. Irlmeier caught six passes for 95 yards, and Daniel Larmie added 65 yards on the ground on 13 carries.
Jacob Mohrfeld had an interception for the Hawks' defense, which limited Valley to just 98 total yards in the first half.