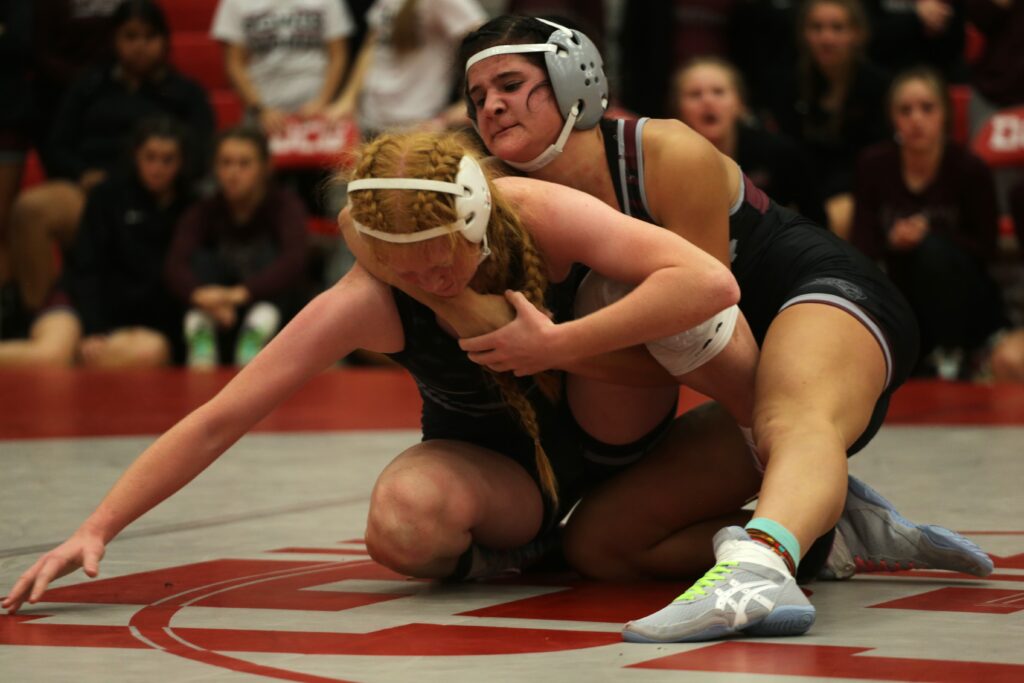 After winning the Central Iowa Kickoff on Saturday at Nevada, the Ankeny girls' wrestling team has earned a little bit of a break.
Ankeny won't compete again until Nov. 28, when it faces Valley in its CIML Conference opener at Johnston.
"We have a number of girls banged up already this season so we are excited to have some recovery time over the Thanksgiving holiday to get feeling better before we open the CIML dual season," said Ankeny coach Dustin Roland.
Ankeny won the 32-team tournament with 246 points, edging conference rival Raccoon River-Northwest by three points. Ames was a distant third with 148 points.
"It was a back and forth battle for the team race all day," Roland said. "In the end, we came out on top."
Ankeny's Dana Cleveland at 145 pounds and Haylee McGrew at 155 each won an individual title by pinning five consecutive opponents. They both raised their records to 7-0 on the season.
Cleveland pinned Lauren Rodgers of Woodward-Granger in 2 minutes 48 seconds in the finals. Earlier, she had pinned her first three foes in a combined 2:12.
McGrew was just as impressive, pinning her first four opponents in a combined 2:27. She then pinned Haley Glade of Earlham in 5:01 in the finals.
"Dana and Haylee just dominated," Roland said. "They both pinned ranked wrestlers in the finals."
Four other Ankeny wrestlers placed second at their respective weights. Lauren Watson at 100, Trudy Haag at 120, Lily Hans at 135 and Hayden Bratland at 140 each won four matches before losing in the finals.
Watson (8-1) suffered her first loss in the championship round. She was pinned by Katie Biscoglia of Raccoon River-Northwest in 2:54.
"Lauren knocked off another ranked wrestler (Lily Webster of Colfax-Mingo) before losing in the finals to the defending state champion," Roland said.
Haag (6-1) opened the tournament with a pair of falls, including one over Mehar Sidhu of Raccoon River-Northwest in the opening round in just 11 seconds. She eventually lost by a technical fall in the finals, 16-0, to Ceanna White of BCLUW-SH.
"Trudy continues to wrestle well," Roland said.
Hans (7-4) recorded three consecutive pins to open the tournament. She later was pinned by Cieanna Ficken of West Marshall in 7:21 in the finals.
"Lily made the finals for the second time this week and is really starting to gain confidence," Roland said.
Bratland (5-2) also notched three falls en route to the finals, where she dropped a close 2-0 decision to Maeley Elsbury of South Tama.
"That was the second returning state champion that Hayden has seen in her first week of high school competition," Roland said.
Ankeny's Nora Bockes placed third at 115. Bockes (6-1) pinned Devan Chadwick of Colfax-Mingo in 4:34 in the third-place match.
Emma Daggett (3-3) took fourth at 130. Elyse Engebretson (5-2) finished fifth at 125.
"We took 23 girls to the tournament," Roland said. "We had a number of younger girls wrestle well, which is extremely promising for our future. Every girl has a number of small things to clean up that will make a big difference in some results."