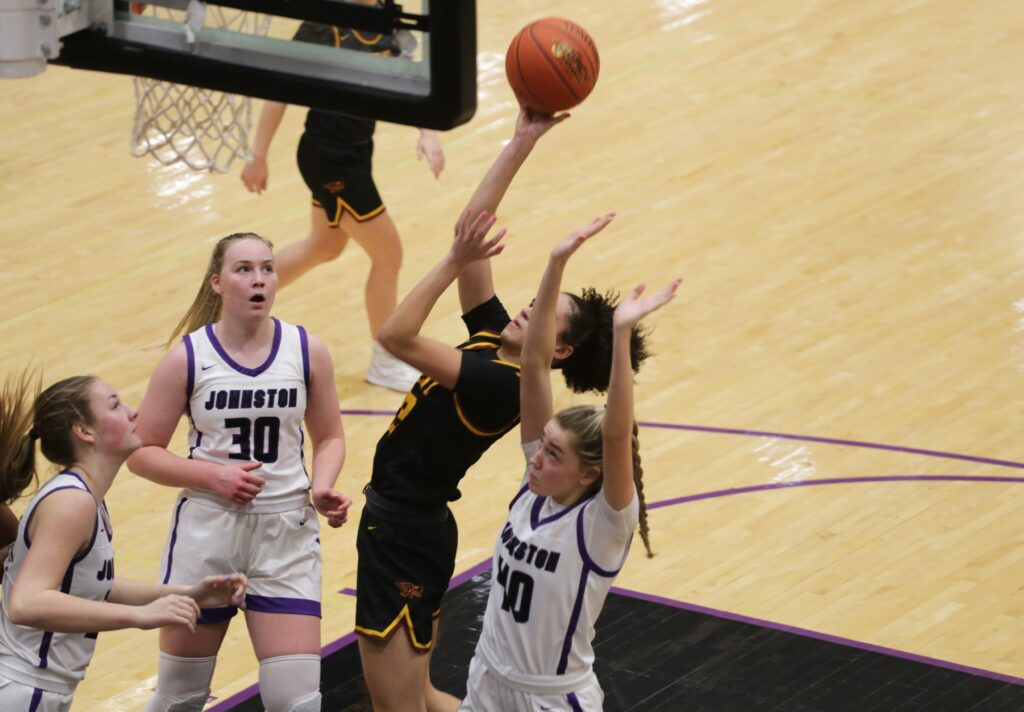 A long road trip to Spencer resulted in a season-opening victory for the Ankeny girls' basketball team.
The 13th-ranked Hawkettes forced 27 turnovers and rolled to a 73-22 win in a non-conference game on Saturday afternoon.
"It was just a great opportunity for us to compete and spend some time together. It worked out well," said first-year Ankeny coach Nate Tobey. "This is really our only long road trip this year. The girls enjoyed their time together, and I thought we got better at some things regardless of the score."
Jayla Williams scored a career-high 28 points on 11-of-16 shooting to lead the way. She also grabbed seven rebounds.
Ainsley Kiene had a career-high 16 points and also contributed seven steals.
"Ainsley has been awesome since the first time I saw her play in the spring," Tobey said. "She has really worked on her game, and she's been an effective player for us."
Libby Loftus and Kyla Schaapveld each added a career-high 12 points–all of them from behind the arc. Loftus went 4-of-4 from 3-point range in just 10 minutes of action, while Schaapveld went 4-of-8.
Karsen Jacks dished out eight assists for the Hawkettes.
"I was especially happy with the ball movement–we had over 20 assists as a team," Tobey said. "Defensively, we're trying some new things out, and I felt the girls implemented them pretty well for the most part."
Ali Graettinger scored six points to lead Spencer, which shot just 26.7 percent from the field (8-of-30).
Ankeny will host No. 6 Cedar Falls in a non-conference game on Tuesday at 7:30 p.m. The Tigers are off to a 2-0 start with wins over Waterloo East (60-33) and Iowa City West (58-39).
Cedar Falls is led by senior guard Grace Knutson, who has signed with Drake. She averaged 21.0 points and 6.0 rebounds as a junior, when she helped the Tigers to a 15-7 record.
"They're really good," Tobey said. "They have Knutson, and they have a lot of cohesion because most of their players are back from last year. They're off to a good start already."