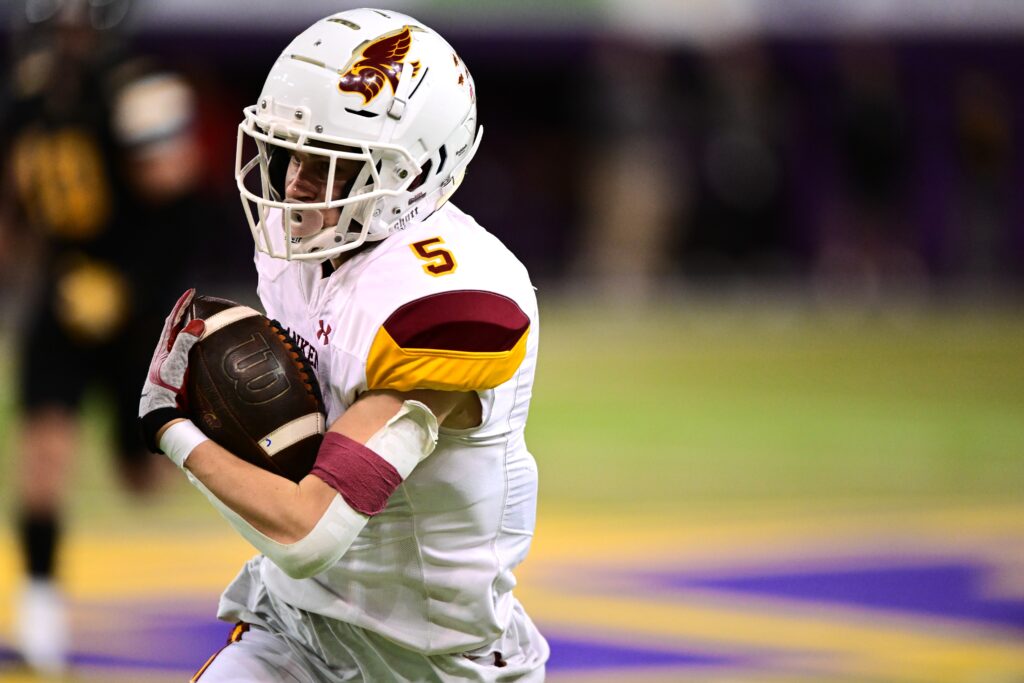 Junior running back Caden Henkes accounted for 105 total yards and two touchdowns in the Ankeny football team's 49-21 loss to top-ranked Southeast Polk in the Class 5A championship game on Friday at the UNI-Dome in Cedar Falls. He ran eight times for 28 yards, including an 8-yard score late in the third quarter, and also caught four passes for 77 yards.
For the season, Henkes led the Hawks in rushing with 1,126 yards and 13 touchdowns on 208 carries. He also caught 29 passes for 258 yards and two more scores–one of them in Friday's game.
Here is some inside info on Henkes:
Congratulations on an outstanding season. Was there one specific play, or one specific moment, that stands out in your mind?
A huge moment in the season for me was against Dowling Catholic in the quarterfinals. You could really see our team firing on all cylinders straight from the first offensive drive, and when something goes that well, you can just tell for the rest of the game that it affects the defense, special teams, etc.
Obviously, Friday's game didn't go the way you wanted it to. How proud are you, though, of what your team was able to accomplish this season?
I'm so incredibly proud to be a part of a team that has come this far. Since the start of the year, nobody outside of our group who worked hard together all summer believed in what we could accomplish.
Your team had dropped a 58-21 decision to Southeast Polk on Sept. 1. Going into the rematch, what did you think was the key to keeping the game close and giving yourselves a chance to avenge that loss?
We knew coming into the championship game it was going to be a shootout on the offensive side. We had to minimize our negative plays/turnovers, which I thought we had done well on besides a few unlucky or close plays.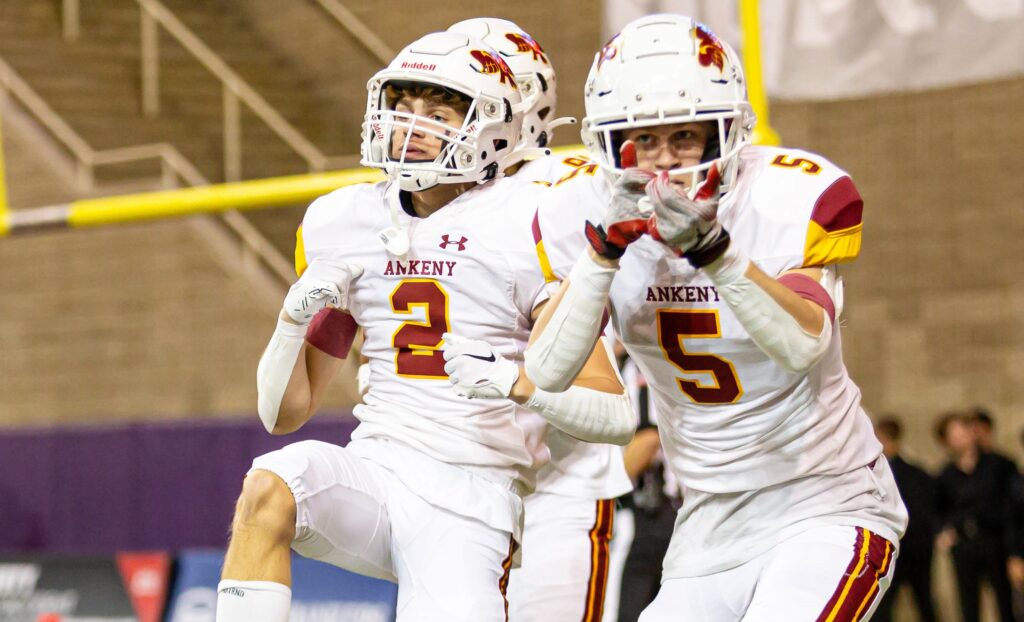 Your team got off to a great start when Evan Irlmeier returned the opening kickoff 90 yards for a touchdown, and you helped escort him into the end zone along with Samuel Sandvig. How were you able to break that play for a score? Was it the fact that Evan initially dropped the ball?
Evan is obviously a crazy good athlete, and we had made changes coming into this game on the kickoff return unit. From there, it was just a matter of doing our assignments.
You scored your first touchdown in Friday's game on a 63-yard pass from Luke Anderson that tied the game early in the second quarter. How were you able to get behind the defense on that play?
That play was designed to use my speed off of a play fake, which got the secondary and linebackers to bite and drop back into coverage, and Luke threw a perfect ball that I couldn't have dropped if I tried.
Your team trailed at halftime by a 21-14 margin. What was the mood in the locker room like at the break, and was the team's confidence level still pretty high?
Going into halftime we were super confident and knew we were still right in the game, but had to make a few changes.
Your team finished with 364 total yards, but just 62 of them came on the ground. Did it seem like Southeast Polk's defense was focused on stopping the run?
I think the ground game was effective enough to open up the pass game, and when you have guys like Devon Akers, Evan Irlmeier and Mason Randolph at receiver, you can't cover all of them at once.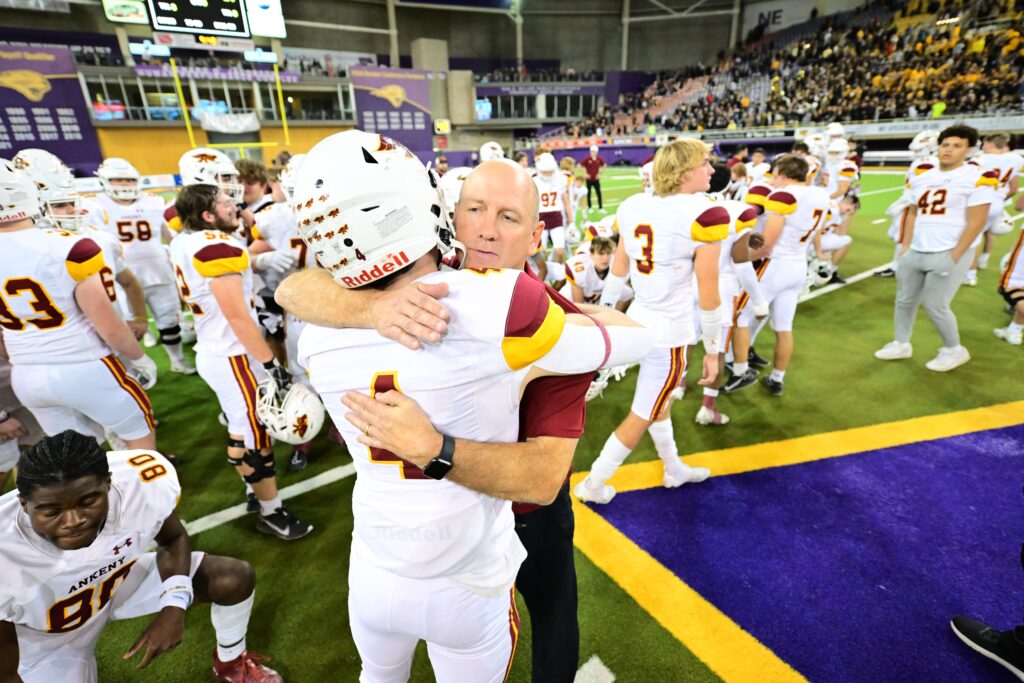 Your team posted a 9-4 record in its first season under coach Jeff Bauer. What did he bring to the program, and why do you think he was so successful with an inexperienced squad?
Jeff Bauer is definitely an elite coach, and has really been a huge role model and leader for our team. His main goal is for all of us to be men of character.
Your team will have to replace some talented seniors, but many of the starters will be back next season. Do you think the team will again be able to contend for a title?
Coming back next year we are still holding our heads high and super excited. We know the people who have to fill in for the missing seniors next year will be able to take the challenge, just like this year with our few returners.
Will you be running track in the spring, and if so, what are your goals for the track season?
I'm so excited for track this year. We have some of the fastest guys in the state returning for another year, and I can't wait to compete and top our runner-up trophy from last year.
Are you planning to play a sport in college? What are you going to study?
My goal has been to play college football, and I have always been working toward reaching an elite level. I've been thinking of studying to be an athletic trainer.