Although the community of Ankeny didn't win any state team championships during 2017, it was still another remarkable year for the city's high school athletes.
Ankeny High won a pair of individual titles and a relay crown. The Hawks also recorded their first-ever victories over crosstown rival Ankeny Centennial in three different sports.
The Jaguars, meanwhile, also produced many memorable highlights, including a huge victory on the football field and a relay championship on the track. Centennial made some big news off the field as well, hiring away one of Ankeny's varsity head coaches.
These are just some of the highlights, but there were many, many more over the last 12 months. Here, then, are AnkenyFanatic.com's top 17 Ankeny high school sports stories of '17: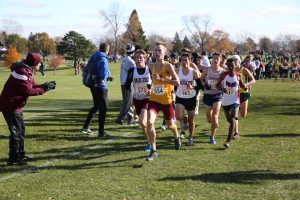 1. A SINDT(ILLATING) RACE. For the second year in a row, Ankeny junior Tim Sindt and Centennial senior Camden Cox were among the top contenders for the individual crown in the boys' Class 4A state cross country meet on Oct. 28 at Fort Dodge. After fading to an eighth-place finish a year ago, Sindt again took the lead in the 5k race at Kennedy Park, but this time he held on for the victory, posting a time of 15 minutes 23.7 seconds. He edged runner-up Matthew Carmody of Dowling by .9 seconds to win Ankeny's first state title since 1963 while leading the Hawks to a 12th-place finish overall. Cox, meanwhile, placed third in 15:36.7 to earn his second consecutive top-four finish.
2. JAGUARS TAKE DOWN GOLIATH. The Centennial football team posted a 22-19 victory over top-ranked Dowling Catholic on Oct. 13 at Valley Stadium, providing co-head coach Jerry Pezzetti with one of the biggest wins of his legendary career. The defeat snapped a 17-game winning streak for the Maroons, who lost to an opponent other than Valley for the first time since 2012–before Centennial even opened its doors. Jensen Gates ran for a pair of touchdowns as the Jaguars scored 22 unanswered points to erase a 12-0 halftime deficit, then held off Dowling's late rally to capture the District 2 title. The Maroons, who had won 30 straight district games and were ranked 11th in the nation by USA Today, missed a 42-yard field goal as time expired. Centennial eventually reached the UNI-Dome for the second straight year before losing a rematch against Dowling, 44-7, in the Class 4A semifinals. The Maroons went on to claim their fifth straight state title.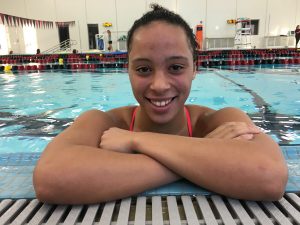 3. BREAKOUT SEASON FOR RUMLEY. Ankeny sophomore Jasmine Rumley enjoyed a fantastic fall in the pool, setting numerous records and leading the Hawkettes to a fourth-place finish in the state meet on Nov. 4 at Marshalltown, their highest finish ever under coach Michelle Stout. Rumley won the 50 freestyle in 22.93 seconds and then teamed up with Christina Ware, Nikki Ault and Erin Doruska to win the 200 freestyle relay in 1:35.19, earning automatic all-American honors in both events. One week earlier, Rumley set a new Iowa all-time best in the 50 freestyle with a clocking of 22.29, breaking the old mark of 22.51 by Maddie Gehrke of Waukee. She was a repeat selection as the regional swimmer of the year.
4. JAGUARS CAPTURE FIRST RELAY TITLE. The Centennial boys' track team claimed a state championship in the shuttle hurdle relay on May 20 at Drake Stadium. The foursome of Riley Moss, Adam Mudge, Jake Pinegar and Taylor Weil raced to a victory in the Class 4A final, posting a time of 56.23 seconds that set a school and city record. It was the first state title for the Jaguars in any event and the first relay crown for the city since 2004. The same quartet also won a Drake Relays title in April.
5. JAGUARS' DYNASTY ENDS. The third-ranked Centennial volleyball team advanced to the semifinals of the Class 5A state tournament before dropping a 25-23, 26-24, 25-22 decision to No. 2 Valley on Nov. 9 at the U.S. Cellular Center in Cedar Rapids, ending the Jaguars' bid for a fourth consecutive title. Nebraska recruit Madi Kubik pounded 31 of her team's 51 kills as the Tigers avenged a five-set loss to Centennial in the 2016 semifinals. Sophomore Devyn Robinson had 33 kills in two matches and was named to the all-tournament team for the Jaguars, who finished the season with a 30-8 record.
6. HAWKETTES RACE TO SECOND-PLACE FINISH. Ankeny's 4×100 relay team came from behind to earn a runner-up finish in the girls' Class 4A state track meet on May 20 at Drake Stadium. The foursome of Mikala Sidney, Peyton Daugherty, Kelsey Fischer and Jasmine Rumley broke a 20-year-old school record with a time of 48.62 seconds. Rumley, a freshman, passed three other runners on the anchor leg. She also placed sixth in the 100, helping Ankeny to a 15th-place finish overall.
7. FABULOUS FROSH EARNS RUNNER-UP FINISH. Centennial freshman Ben Monroe advanced to the finals of the Class 3A state wrestling tournament before dropping a 9-5 decision to top-ranked Cullen Schriever of Mason City in the championship match at 106 pounds on Feb. 18 at Wells Fargo Arena. Monroe posted a 41-4 record, with three of the losses coming to Schriever. It was the highest finish ever for the Jaguars, eclipsing John Ware's fifth-place finish at 182 in 2015.
8. SAMPSON JOINS HALL OF FAME. Former Ankeny pitcher Benj Sampson was inducted into the Iowa High School Baseball Coaches Association Hall of Fame on Jan. 21 in West Des Moines. Sampson was an all-stater who led the Hawks to a state title as a junior in 1992, compiling a 0.74 ERA and recording 134 strikeouts in just 76 innings. As a senior, he went 5-0 with a 0.48 ERA before leaving midway through the season to pursue a professional career with the Minnesota Twins, who selected Sampson in the sixth round of the 1993 amateur draft. The lefthander eventually played for the Twins in parts of the 1998 and 1999 seasons.
9. HISTORIC WINS FOR HAWKS. Ankeny recorded its first-ever dual-meet wins over Centennial in three different sports. On Jan. 19, the Hawk wrestlers held on for a 28-26 victory at Centennial, securing the win when 126-pounder Nick Menegay avoided being pinned in the final match. About three months later, the Ankeny boys' tennis team rolled to a 9-2 victory over the Jaguars. Senior Griffin Laib won both of his matches and went on to qualify for the Class 2A state tournament in singles. On Sept. 12, the Ankeny boys' golf team edged Centennial by one stroke, 152-153, at Otter Creek. Jacob Mulcahy carded a 36 to earn runner-up honors for the Hawks, who had lost the first four dual meets against the Jaguars by an average margin of 16.5 strokes.
10. GIRLS' SOCCER TEAMS ADVANCE TO STATE. For the second time in four years, both Ankeny and Centennial qualified for the girls' state soccer tournament in the same season. The Hawkettes punched their ticket to Cownie Soccer Park with a stunning 2-1 victory at top-ranked Waukee on June 5, while the Jaguars rolled to a 6-0 win over Sioux City East in another regional final. Ankeny ended its season with a 3-2 loss to No. 2 Valley in the Class 3A quarterfinals on June 8, and the Tigers then posted a 1-0 semifinal triumph over Centennial 24 hours later.
11. NEW SWIMMING POOL OPENS AT TRAIL POINT. For nearly three decades, the Ankeny YMCA pool served as the home venue for the Ankeny swimming teams. In 2017, the Hawkettes and Hawks moved into their new home at Trail Point Aquatics Center on the DMACC campus. The state-of-the-art pool was built through a partnership between Trail Point, DMACC and the Ankeny Community School District, which provided $2 million through a bond issue toward construction of the facility. The new pool allowed the Ankeny girls' team to compete in diving for the first time in school history, and Madison Gatzlaff became the Hawkettes' first diver to qualify for the state meet. Ankeny hosted its first-ever regional meet on Oct. 28.
12. PINEGAR COMMITS TO PENN STATE. Centennial place-kicker Jake Pinegar verbally committed to play for Penn State, one of the nation's top collegiate football programs, on July 16. Pinegar had earlier committed to Bowling Green, but he decommitted from the Falcons after Penn State and Indiana, another Big 10 school, began showing significant interest. Pinegar, the nation's No. 9 kicker in the Class of 2018 by Kohl's Kicking Camps, visited Happy Valley in mid-July and quickly committed after receiving a scholarship offer from the Nittany Lions.
13. MORETTI EARNS THIRD-PLACE FINISH. Centennial junior Tenley Moretti took the first-round lead in the girls' Class 5A state golf meet on May 30 at Coldwater Links in Ames, putting her in position to win a second consecutive individual crown. However, Maddie Hawkins of Dubuque Senior carded a 67 in the final round on May 31, allowing her to post a four-stroke victory. Moretti and Sydney Eaton of Mason City each finished with a 145 total, but Eaton earned runner-up honors on a tiebreaker. Moretti, who was named to The Des Moines Register's Elite all-state team, later committed to play for Iowa State.
14. JAGUARS HIRE ANKENY BOYS' SOCCER COACH. Brian Duax guided the Ankeny boys' soccer team to an 8-11 record last season, including a 2-1 victory at Centennial on May 2. He then left after the season to take over the Jaguars' program, becoming the first sitting head coach to switch sides in the crosstown rivalry. Duax cited family reasons for the move, because he lives on the north side of town and did not want to coach against his sons in the future. He replaces Aaron Ruff, who left to become an assistant principal at Ottumwa High School.
15. CENTENNIAL DUO PLACES EIGHTH AT STATE. The Centennial doubles team of Alyssa Lewton and Maddie Volk placed eighth in the girls' Class 2A state tennis tournament on June 1-2 at Ankeny, becoming the first placewinners in school history. Lewton and Volk defeated teammates Michelle Nitschke and Abby Smith in the regional final on May 18, then won two of their first three matches at the state tournament to assure themselves of a top-eight finish.
16. A MEMORABLE NIGHT FOR COWAN. Centennial pitcher Cameron Cowan relied on his arm and his bat to lead the Jaguars past Newton, 3-0, in a Class 4A substate baseball semifinal on July 14. Cowan tossed a no-hitter and had eight strikeouts to earn the victory, and the senior righthander also helped his own cause by blasting a two-run homer. Cowan finished the season with a 6-1 record and was named to the Class 4A all-state second team by the Iowa Newspaper Association.
17. STRONG FINISH FOR HAWK SWIMMERS. The Ankeny boys' swimming team racked up 144 points to earn a seventh-place finish in the state meet on Feb. 11 at Marshalltown, the Hawks' highest finish under coach Justin Crouch since 2012. Junior Connor Neils placed fourth in the 500 freestyle and fifth in the 200 individual medley, while senior John Breen took fourth in the 100 breaststroke and sixth in the 100 freestyle. Those two also teamed up with Max and Will Martin to place fourth in the 200 medley relay with a time of 1:35.87, which broke the school record.
Other top stories
* The Centennial volleyball team rallied from a 2-1 deficit to post a 25-21, 19-25, 16-25, 25-13, 15-13 victory at Ankeny on Sept. 26, avenging a five-set loss to the Hawkettes in 2016.
* Centennial sprinter Ryan VanBaale raced to a second-place finish in the 100 at the Class 4A state meet and was named to The Des Moines Register's Elite all-state team. He later committed to join Northern Iowa's track program.
* The Ankeny boys' basketball team avenged two earlier losses by a combined 43 points with a 75-64 victory at No. 2 Waukee in a Class 4A substate semifinal on Feb. 24.
* Junior shortstop Peyton Daugherty of Ankeny enjoyed a record-setting season on the softball field, racking up 53 stolen bases and 61 runs scored while leading the state with a .619 average.
* Centennial sophomore Kenna Sauer placed third in the long jump at the Class 4A state track meet, earning a top-three finish for the second straight year.
* Ankeny senior Ben Schiltz placed eighth at 182 pounds in the Class 3A state wrestling tournament, becoming the Hawks' first placewinner since the split into two high schools.
* The Centennial boys' golf team placed 11th in the Class 4A state meet after failing to qualify as a team in 2016.
* Centennial volleyball standouts Devyn Robinson and Kenna Sauer both made their college plans last summer. Robinson committed to play for Wisconsin, while Sauer is headed to Missouri.
* Senior guard Sydney Wycoff made a driving layup as time expired to give Centennial a 43-41 victory at Ankeny on Dec. 21, allowing the Jaguars to defeat their crosstown rival for the ninth consecutive time.