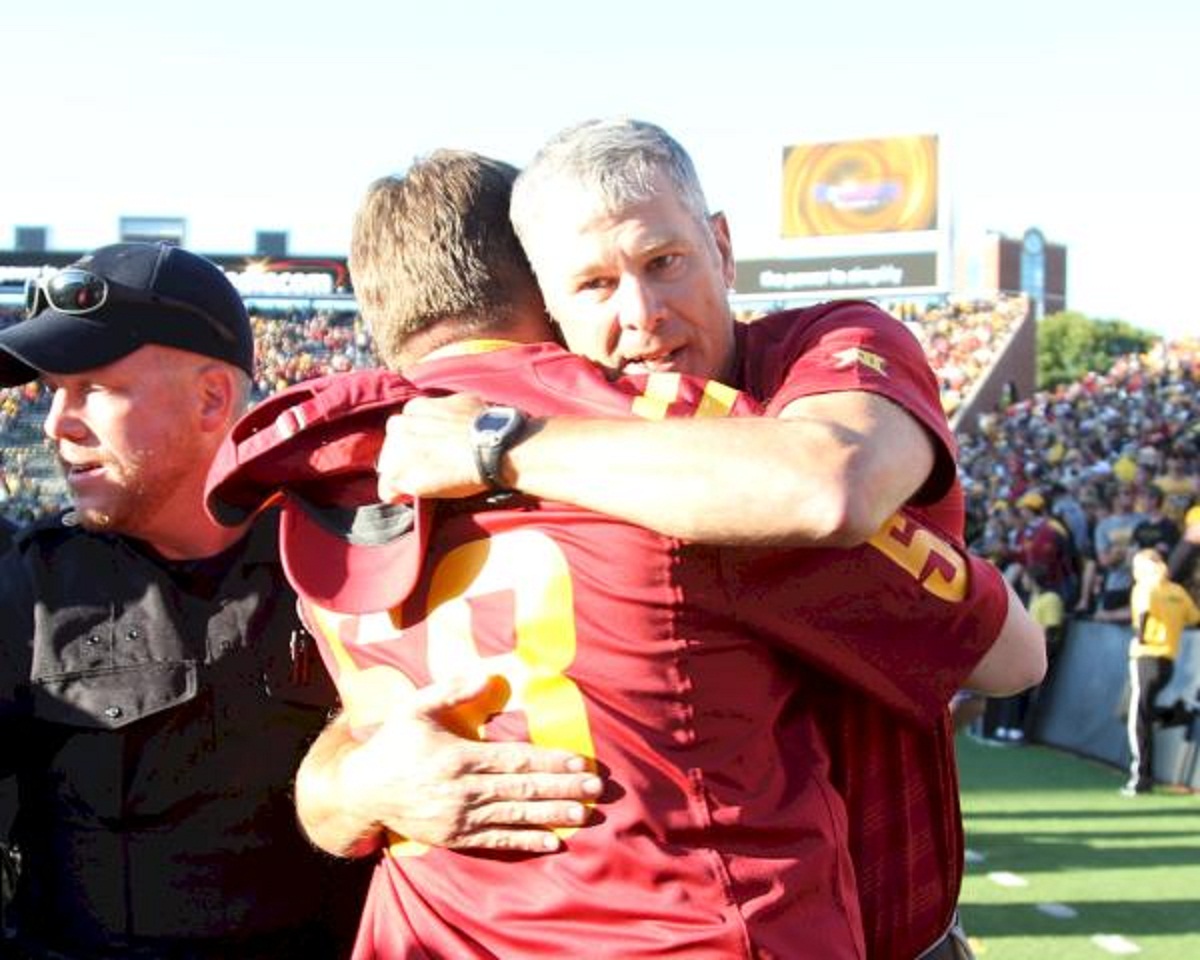 On the morning of Nov. 19, Tony Rhoads hopped in his SUV and made the 440-mile trek from Fayetteville, Arkansas to his home in Ankeny. He was accompanied by his 90-year-old father, Cecil, and a friend from Ankeny, who tagged along to watch the Arkansas football team's 28-21 loss to Mississippi State the day before.
Just four days later, after eating his Thanksgiving dinner, Tony was back on the road again for another seven-hour trip to Fayetteville. This time, he traveled to watch the Razorbacks' season finale against Missouri on Black Friday.
These are the things you do when your younger brother is a big-time college football coach.
Paul Rhoads, the former Iowa State head coach, spent the last two seasons on the staff of Arkansas coach Bret Bielema. Tony attended many of the Razorbacks' games.
"It's my choice," Tony said. "I don't have to go to these games, but I have an understanding wife and family and a lot of times I try to get them to go with me. It does take up a lot of weekends in the fall, but it's almost gotten to the point where I'd feel guilty not being there. I feel like I need to be down there supporting (Paul), or wherever he is at for that matter. Plus, these days I enjoy taking my dad with me, because otherwise he probably wouldn't be able to attend those games."
Tony drives a 2015 Mazda CX-9 with a vanity license plate that reads "GOARKFB". He previously owned an Iowa State plate that read "5 ALLIN" while Paul served as the Cyclones' head coach from 2009-15.
Now, Tony will have to change his plates again after Bielema was fired immediately following the Razorbacks' 48-45 loss to Missouri, capping off a disappointing 4-8 season. Paul Rhoads took over as interim head coach, but was not retained when Arkansas named Chad Morris as the program's new head coach.
"It was a tough season," Tony said. "The coaches had to deal with a lot of rumors, and I'm sure they were feeling (the pressure). But that's kind of what you sign up for when you coach at that level."
It didn't take Paul Rhoads long to find his next job. On Dec. 14, he was named the secondary coach by new UCLA head coach Chip Kelly.
The move to the west coast means that Tony will likely have to fly to the Bruins' games next season. In the past, he has only flown to a handful of games.
"Probably 90 percent of the time I've driven, so that's a lot of miles," Tony said.
This won't be the first time that Tony has found a new team to support. He grew up as an Iowa State fan while living in central Iowa, but then switched his colors to black and gold when he attended college at the University of Iowa in the 1980s.
"I had never been to an Iowa game before," said Tony, whose family lived in Nevada before moving to Ankeny in 1974. "But I think I went to every bowl game they played in when I was there, except for the Freedom Bowl. I went to the Peach Bowl, the Gator Bowl and the Rose Bowl. I've got a lot of great memories from those trips–each one has its own story because you went with different people. We took two cars to the Peach Bowl, and we took an RV to the Gator Bowl. And then three of us took turns driving to the Rose Bowl. We just rented a car and went."
Tony remained a devoted fan of the Hawkeyes for more than a decade. That all changed in 1995, when Paul joined the staff of Iowa State coach Dan McCarney as an assistant.
However, it wasn't easy for Tony to immediately renew his fandom for the Cyclones.
"I'm kind of embarrassed about it now when I think back about it," Tony said. "I couldn't completely let go of the Iowa loyalty yet, so I went to the (Cy-Hawk) game (in 1995) and kind of sat there and watched the game without cheering real hard for either team. I wore an Iowa State shirt and an Iowa hat. I don't know if I was a body divided or what, but after that once I started attending Iowa State practices once a week and getting to know the coaches and players somewhat, it became a lot easier transition."
Tony eventually stockpiled a large supply of cardinal-and-gold gear during Paul's first stint at Iowa State, where he coached the inside linebackers for one season before taking over as secondary coach. Paul then left Ames in 2000 to become the defensive coordinator at Pittsburgh, where he coached for eight seasons before taking the same post at Auburn in 2008.
Every time Paul moved on to a new school, Tony had to change his wardrobe.
"I probably have more Pittsburgh stuff than anything, just because he was there the longest," Tony said. "I have a little bit of Auburn stuff, but I got rid of most of my Iowa and Iowa State stuff. I have a little bit of everything still left, mostly some hats and some magnets. I accumulated quite a bit over the years."
Tony said he's attended games at about 50 different stadiums during his brother's coaching career. He has been there for many of Paul's biggest coaching victories, including Iowa State's historic double-overtime win against then-No. 2 Oklahoma State in 2011.
Tony has also been there for some of Paul's lowest moments, such as the Cyclones' 71-7 loss at Baylor in 2013.
"It can be very emotional," Tony said. "That beatdown they took at Baylor, that was one of the most difficult games I've ever been a part of. Just seeing the toll that it takes on him. I don't remember what the score was, but you don't have a simple answer to fix things at halftime during a game like that one."
Tony also recalls a conversation he had with Paul immediately following the Cyclones' 24-23 loss to Kansas State at Arrowhead Stadium in Kansas City in 2009.
"I usually don't have much to say after a loss, but I remember making the mistake after that game of asking him how he was doing," Tony said. "Iowa State probably deserved to win the game, but there was a blocked extra point at the end. He really didn't care for that question at that point. So I figured out that it's better to say nothing."
Paul Rhoads said he has appreciated the support of his family through good times and bad.
"It means the world to me," he said. "Nobody has supported what we've done more than Tony and my dad, but quite honestly dad couldn't do it without Tony's support. He's traveled all over the country to follow us, and that's been true at every stop that we've made. He came out to California when I was at Pacific (in 1992-94) and then all the way through both tours of duty at Iowa State, and out at Pitt, Auburn and Arkansas. It's always fun to have him around."
When Tony is unable to attend a game in person, he usually finds a way to watch it on TV or some other device. On Nov. 4, he missed Arkansas' closer-than-expected 39-38 victory over Coastal Carolina in order to attend a wedding.
"I was watching the game before the wedding, but I shut off my phone and put it away during the wedding so I wouldn't be sneaking any peeks," Tony said. "Then I watched it a little bit during the reception before the wedding party arrived. It's difficult to watch on your phone when you don't have the video, but I could still see the updates. I was pretty tense. But the defense got a four-and-out to end the game, so I was pleased about that."
As Tony knows all too well, any win is a good one at the Division I level. But that was the last one for the Razorbacks, who then ended the season with a three-game losing skid that cost Bielema his job.
Now, Tony is anxiously awaiting the next chapter in Paul's coaching career. He has already added some blue-and-gold colors to his wardrobe.
"I think he probably dropped some of his Christmas money on some UCLA gear," Paul said.