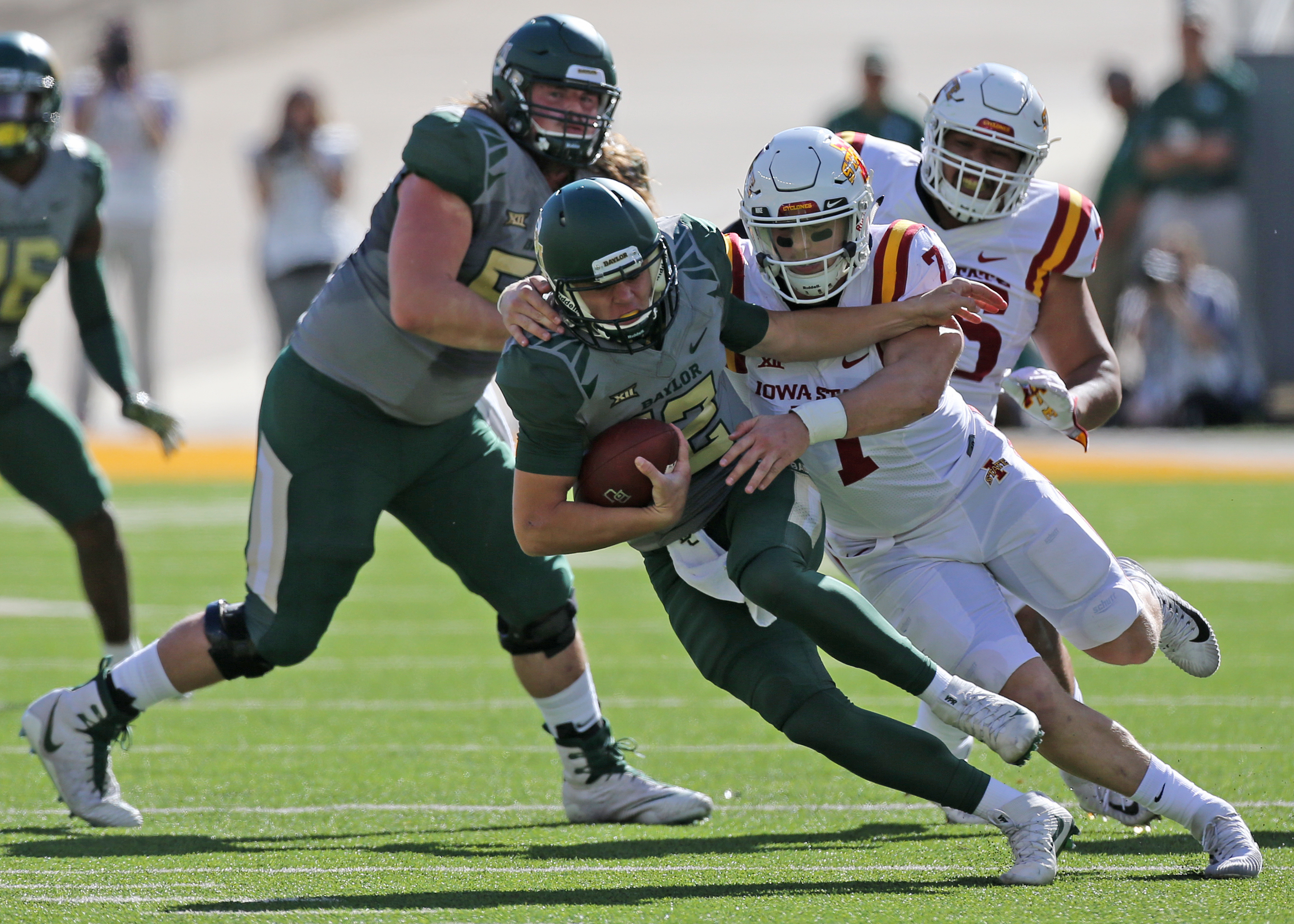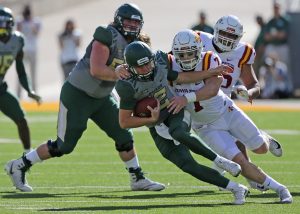 Senior linebacker Joel Lanning played a major role in Iowa State's turnaround on the football field this season, racking up 110 tackles and five sacks as the Cyclones posted a 7-5 record heading into the AutoZone Liberty Bowl against Memphis on Dec. 30.
Lanning, who was named a first-team all-American by the Football Writers Association of America, was a true three-way player for the Cyclones. He amassed 934 snaps on the season, including 124 on special teams and 45 on offense in spot duty at quarterback.
The Ankeny native became the first FBS player in 11 years to record a sack, interception, fumble recovery, rushing touchdown and passing touchdown in a season since Eric Weddle of Utah accomplished the feat in 2006. He has accepted an invitation to compete in the East-West Shrine Game.
Lanning recently took a break from his bowl game preparation to answer some questions from Ankeny Fanatic's Dan Holm. Here is their conversation:
Q. First of all, Joel, congratulations on a great career. In some ways it seems like you've been at Iowa State forever, but on the other hand it doesn't seem like it was that long ago that you were leading Ankeny to a state title at the UNI-Dome. How does it feel to you? Does it seem like these last five years have flown by?
A. Yeah, they really have actually. As a freshman, and it was this way in high school too, you always think to yourself that these four or five years are never going to get here. You feel like you're going to be playing college football forever and then (the end) gets here and you're like, "Where did the time go?" It actually went by super fast. In the heart of winter workouts and things like that, you think the season is never going to get here. But you see the light at the end of the tunnel when the winter workouts are over and you see the start of the season approaching. It's been a fast five years, let me tell you.
Q. You've survived a lot of changes at Iowa State during your career, including a head coaching change and a well-publicized position switch this season. Was the move from quarterback to linebacker a more difficult transition than you made it look, because you made it look awfully easy?
A. Yeah, it was. I can't thank (linebackers) coach (Tyson) Veidt and my teammates enough for allowing me to get extra film with them and just watching it over and over and trying to get better at the little things. I also had a lot to learn because the last time I played linebacker was in eighth grade at Northview Middle School (in Ankeny), so I had a lot to learn pretty quick. It was great to be able to have those practices during spring ball, and I think I made a lot of strides. And then we had our summer workouts, and I definitely needed those, too.
Q. Did you ever have any doubts whether or not you could be successful with the move?
A. No, I never had any doubts. My only concern was whether I could pick up the defense quick enough, and could I tackle. It's easier said than done, to be honest with you. But once I got out there for that first full-pad spring practice and we were going live contact, it kind of came back to me and wrestling-wise I just went for a double-leg takedown every time.
Q. I talked to Paul Rhoads about his new job at UCLA a few days ago, and with you being an Ankeny guy, I'm sure it wasn't easy for you to see coach Rhoads fired at Iowa State after the 2015 season. Did you ever consider leaving Ames either before or after coach Matt Campbell was hired?
A. No, I never thought about it after that. It was a situation where there was a lot going on here, but I never really thought about leaving. I just got named the starter halfway through that year, so I was definitely not going to leave the position I was in. I was moreso going to leave after last season than when the new staff came in.
Q. Coach Campbell has obviously done a great job, having been recently rewarded with a six-year contract extension. What has he brought to the program?
A. He's brought a lot, you know. He's brought a buzz around Ames, Iowa, since the day they got here. They've been preaching to "stay the course" and "trust the process" and all those things. But honestly, it's 100 percent true and that's what they live by every single day. I think you can tell that all the players have bought into what's going on. He's recruiting unbelievable classes here, and he's a players' coach. I think with the new contract he'll be getting a new locker room and a players' lounge for the players and new training facilities, things like that. The program is definitely on the way up.
Q. You certainly had a great senior season after moving to the defensive side of the ball. What was your reaction to being named a first-team all-American?
A. I really didn't have a reaction. Everyone was texting me and making a bigger deal out of it than what I thought it was, but it is pretty crazy to see your name up there with some of those guys who have been top-tier players for maybe two or three years. It's kind of surreal. But like I said before, it's all coaching and coach Veidt and coach Campbell and coach Heacock. They were the guys getting me in the right position. And my teammates helped me as well.
Q. What kind of expectations did you have going into the season? Did you envision having the kind of year that you've had?
A. Not really. We set personal goals with our position coaches. My personal goals were to have 100 tackles and to lead the team in tackles, and I've done that. I just wanted to come in here and be effective in all three sides of the ball. All summer long, I was planning on playing offense as well, so it just kind of worked out.
Q. You did have a huge impact on offense at times, and because of that you received a lot of national attention this fall for being perhaps the most unique player in college football. Has it been challenging to deal with all the media attention?
A. Yeah, after the Oklahoma game is really when things kind of blew up media-wise. Honestly, I think I was doing something every week with the new TV crew that was coming in for the game, the sideline reporters and the guys up in the box. They were always doing something, and it was pretty crazy. It's nice to have the (regular) season over and things have died down a bit. But yeah, it definitely picked up after the OU game.
Q. What would you say was the most memorable interview that you were asked to do?
A. I did a Big Man on Campus deal with Jeannine Edwards of ESPN. That was pretty cool.
Q. You mentioned the huge win at Oklahoma, which was one of the biggest victories in school history. Did you talk any trash to Baker Mayfield after sacking the eventual Heisman Trophy winner?
A. No, I definitely didn't say anything to him. I didn't talk trash or anything this year. He was probably talking more than anyone out there that day. That's just the player he is. He's a competitive guy.
Q. You've probably seen those shirts from Cyclone Fanatic that say "Our linebacker throws better than your quarterback." Maybe you should wear one of those.
A. (Laughs). Yeah, my girlfriend showed me those the other day. I think some of my family members bought some of them.
Q. Of course, Oklahoma bounced back from that loss to win the Big 12 and make the college football playoffs. Will you be rooting for the Sooners to win the national title?
A. Oh, absolutely. Even if it wasn't OU, whatever Big 12 team was in there…I think we'd want them to win. It represents the Big 12. And I like Baker, he's a great player and a great person. He's one of the most competitive guys I've ever seen and played against. I hope he goes out the right way and like I said, just represents the Big 12. Those guys deserve it.
Q. There was some chatter before the bowl matchups were announced that Iowa State might be headed to the Camping World Bowl in Orlando and a possible matchup against Notre Dame, which obviously would have had a lot of appeal. What was your reaction when you heard that the Cyclones were going to the Liberty Bowl to essentially play a road game against Memphis?
A. I was excited. We were practicing on the day that we found out, and we kind of figured out halfway through that we weren't going to Orlando because TCU didn't get into a New Year's Six (game). We were thinking it would either be the Heart of Dallas Bowl or the Liberty Bowl. But yeah, I was excited either way. I haven't played in a bowl game in the five years that I've been here, so I'm excited either way to be honest with you. But I was a little shocked that we're going to Memphis to play Memphis. Like you said, it's just another road game. But it's going to be fun and it's going to be a challenge, no matter who we're playing. Now that it's pretty much an away game, that makes it even more of a challenge. It's just a fun way to go out in your senior year of college.
Q. It sounds like you're going to have a lot of Iowa State fans down there. Maybe it won't feel like a true road game.
A. Yeah, that's what I've heard. I follow Jamie Pollard on Twitter, and it looks like we've sold out all of our tickets and people are still buying extras. I'm sure it'll feel like Ames, Iowa is in Memphis for a whole week.
Q. I know Memphis has an explosive offense with one of the best receivers in the country in Anthony Miller. Do they remind you of any team from the Big 12?
A. Yeah, they kind of remind you of everything. They can run it and pass it. They've got fast and big guys. We play against guys like that all the time, so it's going to be another great challenge. It's going to be fun. It'll be a great atmosphere and a great opportunity for us.
Q. Looking ahead a little bit, I've heard that you are now on the radar for many NFL scouts. At this point, do you think you'll be drafted in April?
A. I don't know if I'll be drafted. I've only played at my position for one year, so who knows what will happen. If I get drafted, it's awesome. But if I don't, I can still get an opportunity through free agency. I'm honestly not worried about getting drafted or anything. I just want an opportunity to play at the next level and to see what it's like.
Q. Are you confident that you can play in the NFL? And if so, would you like to continue to be a multi-purpose player?
A. Yeah, I'm definitely confident I can play at the next level. My first few years I might have to be grounded and just be out there on special teams, and then eventually if I find a certain team that wants to use me on both sides of the ball and do certain things with me, I would absolutely be down to do that. You've just got to find the right team that can use you.