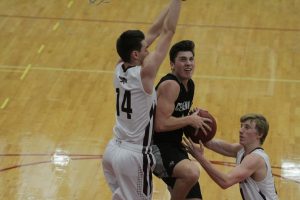 Bob Fontana wasn't fooled by the Ankeny boys' basketball team's 1-6 record.
The Ankeny Centennial head coach knew that his Jaguars were in for a dogfight when they traveled across town to face the Hawks on Dec. 21.
"I knew we were going to be in for a battle with (Dillon Carlson) back–he's a nice player," Fontana said of the junior guard who was making his season debut for Ankeny. "Their record is not indicative of the kind of team they are, because they've had some close losses."
The Jaguars rallied from a 10-point deficit and scored the last four points of the game to post a 55-52 victory before a crowded gym. Hunter Strait made a 15-foot jumper with 25 seconds left to give Centennial a 53-52 lead, then added a pair of free throws with 3 seconds remaining.
"We knew we wanted to go into Christmas break with a win to keep our momentum going," said Strait. "I felt like we've been playing well, and obviously it's Ankeny–we want to get that crosstown win."
Zach Kluver scored a career-high 20 points, grabbed eight rebounds and dished out four assists as Centennial improved its records to 2-1 in the CIML Central Conference and 5-3 overall. He made all eight of his free throws.
Kluver also stole Ankeny's final inbounds pass that was intended for Carlson, sealing the Jaguars' victory.
"We knew it was coming," Kluver said. "We were just prepared for it, and luckily we made a play."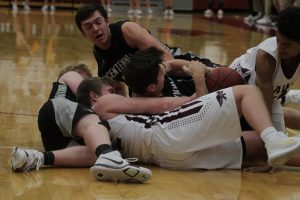 The loss was the fifth in a row for Ankeny, which dropped to 0-3 in the conference and 1-7 overall. The Hawks have lost four games by a total of 10 points, two of them in overtime.
"You always feel like you're getting better, but you'd certainly like to get better through winning," said Ankeny coach Brandt Carlson. "We're taking a lot of tight losses, but at the same time my job is to stay positive and keep encouraging these kids. They're working hard, and we're staying together. I think the future is bright. We'll regroup after Christmas."
The Hawks boast a young and talented roster that includes freshman Jaron Crews, who had 10 points in the loss. Three sophomores have also played significant roles for Carlson's squad.
"I think we'll be there at the end of the year," Crews said.
Centennial built a 51-44 lead in the fourth quarter before Ankeny answered with an 8-0 run. Crews made a 3-point goal, Jaxon Smith followed with a nifty drive through the lane, and Crews then added another 3-pointer with about 1 minute left to play.
"I thought we were going to pull it off," Crews said. "We were playing good 'D', but (Strait) just hit that shot at the end."
The Jaguars worked the ball around for more than 30 seconds before Strait made the go-ahead basket. He finished with 13 points.
"We were trying to set up a play, and we didn't get the play that we wanted to run," Strait said. "I remember coach (Fontana) always saying, 'M-A-P…make a play,' and I made a move and (the defender) was on my side. I had the confidence to hit that shot, and it went in."
After Carlson missed a driving layup on the ensuing possession, Strait grabbed the rebound and was fouled. A 76.3 percent free-throw shooter, the senior guard and Truman State commit calmly made both of his attempts from the line.
"My teammates have confidence in me, so that gives me confidence in (myself)," Strait said. "They know I can do it, so I know I can do it."
Smith had 13 points and four steals to lead Ankeny, which held a 29-19 lead late in the second quarter. Carlson added nine points, seven rebounds and four assists, while Ben Lyon contributed seven points and eight rebounds after exploding for 31 points in a loss at Des Moines North two nights earlier.
It was the first Jag-Hawk showdown for some of the young Ankeny players.
"It was pretty packed," Crews said of the atmosphere. "I had some nerves at the beginning, but I settled into the game."
Sophomore Micah Johnson had 11 points and six rebounds for the Jaguars, who relied on their veterans to make the big plays down the stretch.
"It's great to get a crosstown rivalry win," Kluver said. "We started slow the first half, but we picked it up and came out strong the second half."