For many reasons, Maddie Manning returned to the Oklahoma women's basketball team for one more season.
Another chance to play at Iowa State was just one of them.
Manning, a former Ankeny star, paid her final visit to Hilton Coliseum on New Year's Eve, helping the Sooners to a 74-69 victory before a crowd of 9,791. The graduate student guard scored 12 points in the win, surpassing the 1,000-point career mark in the process.
"I'm really excited about that game," Manning said in an interview on Dec. 22. "We have a wedding that night so I hope my family can still come. Hilton's always a special place to me. It's where I first saw a college game, so I'm definitely going to enjoy my last time playing there."
Manning could have elected to leave Oklahoma after last season, but she was granted a sixth year of eligibility by the NCAA after missing her first two years due to ACL injuries. She decided to return to Norman, putting off her decision whether to turn pro or to pursue a coaching career.
"I wasn't ready to leave the people in Oklahoma yet," Manning said. "I feel like I'm still growing as a person and as a basketball player. Some days have been harder than others, though. You see all your friends doing cool things. I just got done working out with (former Ankeny standouts) Cory and Cole (Myers)–they're doing a big business adventure doing workouts for kids. You see people doing stuff like that and you think it'd be cool to be doing something else, but I definitely don't regret staying by any means."
Manning is making the most of her second final season. She is averaging a career-high 13.1 points and 5.7 rebounds per game for a young team that is off to a 6-7 start while playing the nation's third-toughest schedule.
"I really feel like these last few weeks we've taken some big steps," Manning said. "We're a pretty young team–we only have three people who really have a lot of experience playing prior to this year. It's been a lot of building, but it's also made it fun watching the young ones grow. I think they're starting to get the hang of it."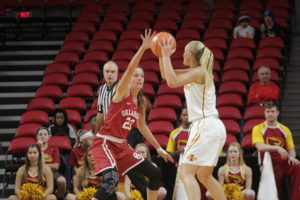 While Manning is one of the oldest players in college basketball, some of her teammates are only a few months removed from their high school graduation. Three true freshmen–Ana Llanusa, Shaina Pellington and Mandy Simpson–are playing significant roles for the Sooners.
That trio was in the eighth grade when Manning entered Oklahoma as a freshman in 2012.
"I've tried to take them under my wing and show them the way, but it's also important for them to be themselves and to figure things out on their own," Manning said. "A lot of times we just want to tell them what to do all the time, but it takes experience and really going through the ruts of your freshman year in order to grow. But I do try to help them in ways that I wish I would have been helped when I was a freshman."
Oklahoma suffered through some growing pains early in the season. The Sooners lost four straight games before posting a 79-74 victory over then-No. 16 South Florida on Dec. 9, when Manning played all 40 minutes and dished out a career-high six assists.
On Dec. 19, the Sooners played well for three quarters before falling to No. 1 UConn, 88-64, in the Women's Holiday Showcase at the Mohegan Sun Arena in Uncasville, Conn. Manning made three 3-point goals and scored 15 points in the loss, all of them in the first half.
"I think the best thing was that we didn't go in intimidated. We went in to compete," Manning said. "A lot of teams lose to Connecticut before they even walk on the floor, and that wasn't the case for us. When you're on the court with the best, and they've been the best for a long time–they know what excellence is–you get a taste of that when you finally play them. You've watched them on TV, but you don't know what it's like and what it takes on every single possession until you play against them, so I think we learned a lot that game."
The win for the Huskies gave UConn head coach Geno Auriemma his 1,000th career victory.
"The atmosphere was crazy," Manning said. "The game was sold out, and people were lining up at 1 o'clock to get into the 7 o'clock game. It was a great experience for everybody involved."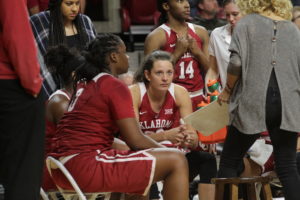 Manning has continued to stuff the stat sheet despite being less than 100 percent healthy. She recently overcame a bout with mononucleosis, and she also shrugged off a broken left thumb as just another injury.
"I broke it a couple of weeks ago during practice, but I played through it," she said. "It's just kind of an annoying injury. The little ones are more frustrating, but it's the cards that I've been (dealt) and it's just a matter of how you play them. I could go lay down and take a couple weeks off with a broken thumb, or I can go out there and play and try to give my team what they still need."
Manning said she'll wait until the end of the season to determine her future plans. She could likely play overseas or possibly in the WNBA, but she also aspires to coach at the collegiate level.
"I have started talking about some opportunities as far as playing, kind of word of mouth some people looking at me," she said. "It's kind of the same thing with coaching, just building some relationships there. But I still don't know which route I want to do for sure. I think I'll know more at the end of the year, whether I want to continue playing or whether I want to go (into coaching)."
Manning, who was a first-team academic all-Big 12 honoree a year ago, has also thrived in the classroom. She is currently working on a second Master's degree.
"I left Ankeny as a sophomore in college, so all these extra years have gotten me a lot of degrees," Manning said. "If they had told me I was going to be here for six years, I would have tried to be a doctor or something."