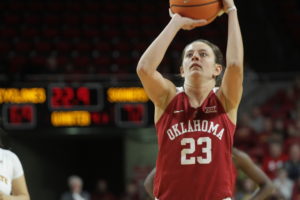 Maddie Manning made only one shot from the field during Sunday's game at Hilton Coliseum, but it was one that she'll never forget.
The former Ankeny star swished a 3-pointer from the right corner about 3 minutes into the first quarter to become the 33rd player in Oklahoma history to reach the 1,000-point career mark. The 6-foot-2 guard went on to score 12 points and grab five rebounds, helping the Sooners to a 74-69 victory over Iowa State for their third consecutive win at Hilton Coliseum.
"I never really thought about it much," Manning said of the milestone. "I'm just trying to win games right now. I'm sure one day I'll look back and I'll be proud of that, that I scored 1,000 points here. But right now I'm just trying to win games and get our team ready every night."
Manning went just 1-for-8 from the field, including 1-for-7 from behind the arc. But she connected on 9-of-10 free throws, including four straight in the final minute.
Manning hit two free throws to give Oklahoma a 72-66 lead with 35 seconds left. After Iowa State cut the deficit in half on a 3-pointer by Madison Wise, Manning added two more free throws with 23 seconds to go for the game's final points.
"I knew I had to do something to help my team win," she said.
It was the final trip home for Manning to play in front of her family and friends. The graduate student is in her sixth year at Norman, thanks to a pair of ACL injuries that wiped out her first two collegiate seasons.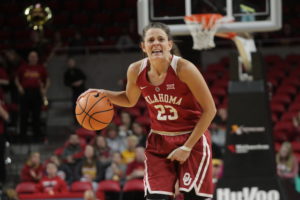 After the game, Manning received a hug from Iowa State coach Bill Fennelly.
"I told her, 'Now tell me, this is the last time.' And she was like, 'Yeah coach, it is,'" Fennelly said. "Maddie's a great kid. She's done so much for Oklahoma basketball, and she's done so much for women's basketball in the Big 12. She's a class act in every way that you can mention. She always handles herself with grace and dignity.
"She's not just a resource for Oklahoma, but she's a resource for our state. She's a great representative for what Iowa high school girls' basketball is all about. She came out of a great program in Ankeny, and I will be very excited to send her a graduation card. I've had a couple of them ready, but I think this one is for sure going in the mail," he added.