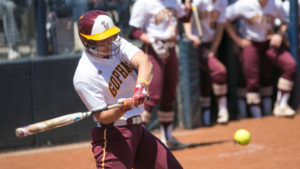 The game of softball has taken Kendyl Lindaman to a lot of different places.
In 2020, it could take her to the Olympics in Tokyo.
"It's always been my dream to play in the Olympics, and I think this would be a great start…making this team," Lindaman said on Sunday as she tried to catch a connecting flight in Chicago for the USA Softball Women's National Team Selection Camp in Florida. "Just being able to play with the best players in the country. A lot of these girls would also be able to make the team in 2020, so just getting a chance to play with them would be an amazing start."
Lindaman, a former Ankeny Centennial star, was among the 56 players invited to participate in the 2018 selection camp. The camp started on Monday and will continue through Friday at the Eddie C. Moore Softball Complex in Clearwater, Fla.
The University of Minnesota catcher is battling for a spot on the National Team roster and an opportunity to compete at the World Baseball Softball Confederation (WBSC) Women's World Championship in Chiba, Japan on Aug. 2-12, the World Cup of Softball XIII and other select events. During the tryouts, players will participate in drills and simulated games while being evaluated by the USA Softball Women's National Team Selection Committee.
"There's actually two teams this year, and I'm guessing that they'll take 15 to 17 girls for each team and probably two or three catchers for each team," Lindaman said. "They said that there's just so much talent that they want to give everyone the opportunity to play and to basically see who is the best of the best."
Lindaman is coming off a spectacular freshman season for the Gophers in 2017. She posted a team-best batting average of .426 while also leading her squad in slugging percentage (.899), on-base percentage (.598), RBIs (76), walks (63) and home runs (20).
Lindaman, who set a single-season school record for homers, earned eight Big Ten Freshman of the Week awards, which set a conference single-season mark. She was named the Big Ten Player and Freshman of the Year, was selected a NFCA first-team all-American, and was named Division I NFCA Sports Diamond Catcher of the Year.
Lindaman said her former coach at Minnesota, Jessica Allister, recommended her for the National Team tryouts. Allister left in July to become the coach at Stanford, her alma mater, and was replaced by former Iowa State coach Jamie Trachsel.
"(The National Team) wasn't necessarily on my radar," Lindaman said. "(Allister) said it could happen and she had talked to people she knows just to give me the opportunity to even try out for the team, but it was such a surprise when I got the email saying that I was invited to try out."
Lindaman is one of 10 catchers participating in the selection camp. Several players declined invitations to the camp, including pitcher Paige Lowary of Oklahoma, a former Dallas Center-Grimes star.
"I feel pretty good going in," Lindaman said. "I'm just lucky to be here. I play against the best players in the country, so it's just an honor to try out. If I make the team, that's even better. I think it would open a lot of gates for me."
Softball became part of the Olympic program in 1996, but the sport was dropped in 2008. The United States won the first three Olympic tournaments, compiling a record of 24-4 before being upset by Japan in the 2008 final.
Softball will return to the Olympics in 2020, but there is no guarantee the sport will remain beyond that year.
"It actually is great timing," Lindaman said of the Olympics, since she will be wrapping up her collegiate eligibility that spring. "If I am able to make the (National Team), I'll be able to play for these next three years. I think it'll really prepare me for my future and what the future holds for myself."