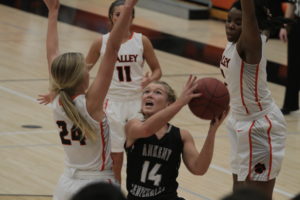 When Keanna Williams returns to the Ankeny Centennial girls' basketball lineup later this month, the senior point guard may not get her old position back.
That's because Sydney Wycoff doesn't want to give it up.
Wycoff, a senior, took over the point guard duties after Williams suffered a torn ACL during an AAU tournament last summer. She has led the Jaguars to an 8-2 record and a No. 5 ranking in Class 5A heading into Friday's home game against Ames.
"I actually love it," Wycoff said of her new position. "I don't want to give it up, but it'll be nice to go back to something that I'm really used to, since I've played (off-guard) forever. But I love playing the point, and I'm excited that I'll get to play it in college."
Wycoff is averaging 10.0 points per game and leads her team with 18 3-point goals. She also leads the Jaguars with 22 steals.
"Nobody usually notices the point guard unless they're not very good or they're throwing the ball away a lot," said Centennial coach Scott DeJong. "But I think Sydney's done a remarkable job, and we couldn't be any more pleased. I think she's grown a lot this year in a lot of ways, and playing that position has helped that growth."
Wycoff said she knew as soon as Williams got injured that her role this season was going to change.
"I just remember telling her, 'It's fine. If it happens to be a torn ACL, we'll get through this,'" Wycoff said. "We didn't know for sure how long she would be out, but I was like, 'If it happens to be longer, I'll get us to state and then you'll be back for that.' I knew I had to step up."
DeJong said he turned the point guard position over to Wycoff because he didn't have any other options. She has responded with a team-high 29 assists while committing just 28 turnovers.
"With the team we had coming back on the perimeter, she was the only (experienced player). So it was kind of by default," he said. "She's always been a good ballhandler; she just hasn't had to take the responsibility of really running the team much in the past because Keanna has been there mostly.
"It's a tough position to play. I think it's the hardest one in the sport because there are so many things that rely on the guard play. I don't know if it was an easy or a hard choice, but Sydney was the obvious one," he added.
Wycoff worked hard in the offseason to improve her ballhandling skills. She also committed to play next year for Mid-America Christian University in Oklahoma City.
"Even in college, I'll have to play the point guard position," Wycoff said. "So I just started working really hard over the summer to get ready for that, because I knew it would be different. I'm not going to be able to shoot my outside shots as much this year, so I had to learn new things."
Wycoff has had to focus on directing the team's offense, but she has shown that she is still one of the state's premier shooters. She is making 41.9 percent of her attempts from behind the arc.
Wycoff scored a season-high 16 points in a win over Southeast Polk on Dec. 8. One week later, the Jaguars posted a 55-43 victory at defending Class 5A state champion Valley as Wycoff contributed 10 points and helped hold Maryland recruit Zoe Young to just 13 points on 5-of-19 shooting.
"My demeanor on the court, it's changed completely," Wycoff said. "I'm always trying to be positive and encouraging my teammates. If something's not going my way, I'm making sure that I'm cheering for my teammates and picking them up in tough situations when we're starting to face some adversity."
The Jaguars were in danger of losing to crosstown rival Ankeny in their last game on Dec. 21. The Hawkettes tied the score at 41 when Sara McCullough made a 3-pointer with 7 seconds left.
Wycoff then took the ensuing inbounds pass, drove the length of the court and made a left-handed layup at the buzzer. It was the first game-winning basket of her career.
"She had the courage to get the ball and take it to the basket and see what would happen," DeJong said. "She's playing with a lot of confidence and I think that's what happens–you make those kind of plays."
Wycoff will continue to run the point until Williams returns to the court. Williams recently started practicing and could be back by the end of the month.
"She's getting close," DeJong said. "She's doing everything but 5-on-5 full-court scrimmage work. She's not there yet, but we're really encouraged. You always worry about being tentative and afraid, and I have not seen that. That's the greatest news."
Wycoff has also been impressed by her teammate's progress. Williams is beginning to look like the point guard who helped the Jaguars to a state championship in 2016.
"It's amazing," Wycoff said. "She's taking contact and she's finishing (her shots), so we're all really super pumped."
DeJong said it may take awhile to figure out the best way to use Williams once she's ready to play. He called it a work in progress.
"The awesome thing is that a lot of times you're lucky to have one point guard, and we're going to have two," he said. "They can work in tandem together and it's going to evolve a little bit, but I can see both of them fulfilling those duties. Hopefully, it will make us a lot more versatile."