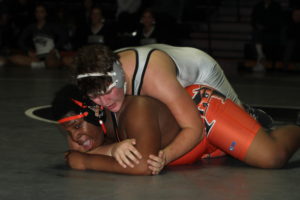 A lot of hard work over the Christmas break paid off for the Ankeny Centennial wrestlers.
The Jaguars returned to the mat on Thursday and rolled to a 76-0 victory over visiting Ames in a CIML Central Conference dual meet. They raised their records to 1-2 in the conference and 11-4 overall.
"We put in a lot of time over the break, and I spent a lot of time yelling and screaming at the guys to do what we need them to do," said Centennial coach Jay Groth. "I thought they responded really well."
Centennial recorded nine falls and three technical falls. Only two of the 14 matches lasted the full 6 minutes.
Kyle Janssen had one of the Jaguars' five first-period falls. He needed only 41 seconds to pin Maliek Johnson at 113 pounds.
Janssen was filling in for ninth-ranked Noah Blubaugh, who was unable to make weight.
"Kyle stepped in and cradled his kid and pinned him, so that was nice to see," Groth said. "We've got some depth that we can rely on when we need to and still be successful. Hopefully, we'll have Noah back on Saturday (for the Linn-Mar Duals)."
Lane Pruisner opened the meet with a fall at 220. Ethan Carter at 106, Jake Gilbert at 120, Darrien Rouse at 132, Desmond Vaughan at 152, fifth-ranked Logan Neils at 160, fifth-ranked Colin Honderd at 182 and Noah Stober at 195 also had pins for the Jaguars.
Ben Monroe, who is ranked third at 120, had a technical fall at 126. Tenth-ranked Eric Owens at 138 and Nic Leo at 170 also had technical falls.
"I was real happy with Nic's performance," Groth said. "He opened up his offense, and that's what we're looking for from him."