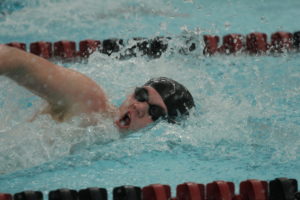 The Ankeny boys' swimming team dominated Thursday's dual meet against visiting Southeast Polk from start to finish.
The second-ranked Hawks opened the meet by sweeping the top three places in the 200 medley relay, built an early 46-16 lead and went on to post a 138-42 victory at Trail Point Aquatics Center.
"This team is full of potential," said Ankeny coach Justin Crouch, whose squad won all 11 events. "The sky is the limit. We didn't have our greatest meet tonight, but the effort was there."
Ankeny won the medley relay in a time of 1:42.62. That team consisted of Noah Westercamp, Mason Keinroth, Connor Neils and Max Martin.
Freshman Trent Frandson followed with a victory in the 200 freestyle, posting a time of 1:48.61. He later won the 500 freestyle in 4:48.55.
After Neils won the 200 individual medley in 2:08.18, Martin then captured the 50 freestyle in 21.89 seconds. The sophomore currently leads the state with a clocking of 21.69 in the 50 freestyle.
Adam Vaske and Jae Swanepoel placed second and third behind Martin for the Hawks, who improved their records to 1-1 in the CIML Central Conference and 6-1 overall.
Vaske later won the 100 freestyle, while Keinroth took both the 100 butterfly and 100 breaststroke. Brek Stukerjurgen captured the 100 backstroke.
Frandson, Martin and Vaske all swam on the winning 200 and 400 freestyle relays.
"I think that we will learn a lot about ourselves the next couple of weeks against Waukee and Valley and our championship meets," Crouch said. "We have to get a good week of practice in this week and hope to have a great showing at Waukee (on Jan. 11)."