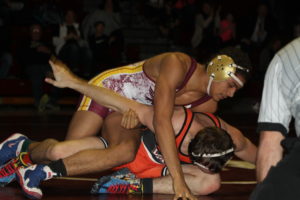 The Ankeny wrestling team is still seeking that breakthrough victory.
The Hawks battled fourth-ranked Valley down to the wire before dropping a 38-29 decision in a CIML Central Conference dual meet on Thursday at Ankeny.
"I thought the kids wrestled with a lot of heart tonight and that's been pretty typical," said Ankeny coach Jack Wignall, whose team dropped to 1-2 in the conference and 5-5 overall. "I feel like, top to bottom, we've got 14 kids who are going to wrestle hard every time they step on the mat. They may not be the most talented kid at every single weight, but we've got 14 kids who are ready to go every time."
Each team won seven matches, but Valley had the edge in bonus points. The Tigers recorded five falls and one technical fall.
Valley sealed the victory when heavyweight Carter Lawrence pinned Ankeny's Romello Gray in 1 minute 6 seconds to give the Tigers a 38-23 lead before the Hawks won the final match by forfeit.
"There's probably a couple of matches that could have gone our way, but all in all, we wrestled well," said Ankeny's Cole Rathjen. "But I think we could have done a little better."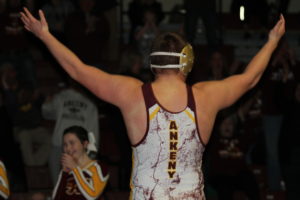 Rathjen provided one of the Hawks' biggest wins of the night at 195 pounds. He used a four-point move in the final 10 seconds to defeat Bracken Cobb, 10-8.
Trailing 8-6, Rathjen got a reversal and a two-point near fall to beat Cobb for the second time in three meetings.
"I was just looking for a way to get a reversal, score points and help the team get a win," Rathjen said. "He's a tough kid. I've wrestled him twice before and they've been close, but I knew he was gassed and could have been equally or more tired than I was. I knew I still had something left to get a 'W'."
In another thrilling finish, Ankeny's Killyan Green rallied for an 11-10 victory over Zach Oldham at 145. Oldham jumped out to an early 6-2 lead before Green battled back.
"I knew once I got out of the cradle, like, he's good…but I knew on his feet, he wasn't really all that," Green said of Oldham.
In the third period, Green emerged on top following a scramble and then held on for the win.
"I love to scramble," Green said. "I knew once I got my shin wizzer in and he started running it around, I didn't think he was going to step over it but as soon as he stepped over, I knew I was going for it."
Wignall said the Hawks have been working on those end-of-the-match situations during practice.
"That's what we've got to do at the end of the match–we've got to explode out of there," he said. "I knew those guys had the ability to pull those wins out, and that's exactly what they did."
Ankeny got a pin from 10th-ranked Sam Kallem at 126 and a technical fall from Derek Anderson at 120. Cael Cox at 106, Spencer Anderson at 132 and Anderson Martin at 170 had the Hawks' other wins.
"We had a couple people who didn't wrestle to their ability, but as a team I think we did pretty well," Green said. "We would have done better if Caleb (Rathjen) was in the lineup."
Rathjen, a freshman, is ranked second at 113. He has been hobbled by a sprained ankle.
Rathjen's replacement, Barsat Fnu, was pinned by top-ranked Nick Oldham in 37 seconds.
"We hope to have Caleb back next week, but we're not going to rush him either," Wignall said.
The Hawks will compete in the Atlantic Invitational on Saturday.