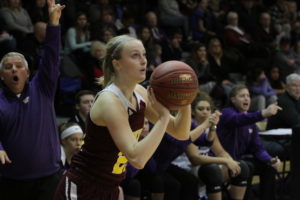 When Sara McCullough made her first 3-point shot on Friday, she knew it was going to be a good night.
"Oh my gosh, my shot was on," McCullough said. "I don't know what was going through my head. I wasn't really thinking. I just kind of played."
McCullough went on to score a career-high 27 points, including five 3-pointers, but it wasn't enough as the 15th-ranked Ankeny girls' basketball team dropped a 49-36 decision at No. 8 Waukee. The Hawkettes fell to 1-3 in the CIML Central Conference and 6-5 overall.
"We are never going to win a big game when we have to rely on one girl to score 75 percent of our points," said Ankeny coach Dru McAnelly. "That mathematical equation just doesn't work in the game of basketball, especially against a really good opponent. I know it sounds cliche, but we've just got to start putting the ball in the hole."
Waukee (4-0, 10-0) led by only 30-26 late in the third quarter before Paityn Rau helped the Warriors pull away. She scored 10 consecutive points as the margin grew to 40-30 early in the final period.
Rau finished with 19 points.
"We knew their size was a huge concern," McAnelly said. "We knew they'd get some putbacks and some deep postups on us. Our goal was to not let it be 80 percent of their offense, which it wasn't. But it proved to be the difference for about a 3-minute stretch."
Ankeny made just one basket in the fourth quarter, a 3-pointer by McCullough that halted an 11-1 run by the Warriors.
"They just started making more shots, and I think we lost our confidence and our momentum a little bit," McCullough said. "They got the ball into (Rau) a lot, and she can just shoot over the top. We needed someone to dig into her, but I think we were low on energy at the end of the game."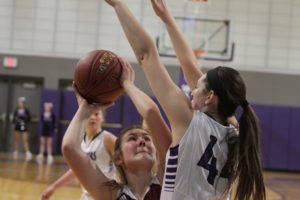 Waukee took an early 11-3 lead before Ankeny rallied behind McCullough, who scored 16 points in the first half. Her fourth 3-pointer gave the Hawkettes a 20-16 advantage midway through the second quarter.
"She has come so far in the last year," McAnelly said of McCullough, who has committed to play for Northern Iowa. "She's become extremely multi-dimensional. We know she can shoot the 3, but now she can ball fake, put it on the floor and attack the basket. She's a special player and a great kid."
Waukee scored the final six points of the first half to take the lead for good at 22-20. Ankeny's bid for an upset ended in the second half, when the Hawkettes could not find enough offensive support for McCullough.
"I know that my teammates can step up and make shots because they have in games before," McCullough said. "There are just some different situations that they need to, because I can't score all the points. I need people around me to help."
McAnelly urged his players to stay the course following the loss.
"We're tired of being proud of our effort," he said. "We want to find a way to win, but right now we're in the gauntlet of our schedule. The process can be painful at times, but we've just got to keep believing."