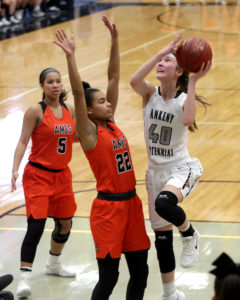 As the injuries continue to mount for the Ankeny Centennial girls' basketball team, so do the victories.
The fifth-ranked Jaguars overcame two more injuries to defeat visiting Ames, 50-40, on Friday. Leading scorer Rachel Schon re-sprained her ankle in practice on Wednesday and did not play, while fellow post player Alexandria Keahna-Harris sat out after tweaking her hamstring.
"It's been a crazy year for injuries," said Centennial coach Scott DeJong, whose team was already without forward Kenna Sauer and guard Keanna Williams. "Somehow, the kids have been really resilient."
Ames led at the half, 28-25, and held a 33-31 advantage after three quarters. Centennial then outscored the Little Cyclones, 19-7, in the final period.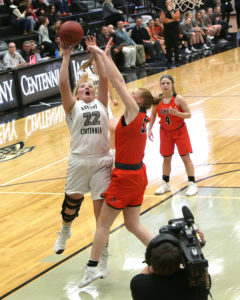 Chloe Olson poured in 17 points to lead the Jaguars. Taylor Runchey added a career-high 13, 10 of them in the fourth quarter.
Olson was the lone inside presence for Centennial. She reached double figures in scoring for the fourth time in her last six games.
"Without Chloe, we would have been strictly on the perimeter, and that's not how our team was built," DeJong said. "We like the inside-out mix, and she really stepped up big and had some big plays for us. We definitely needed that."
Centennial made its last eight free throws to seal the victory. The Jaguars improved to 4-0 in the CIML Central Conference and 9-2 overall, while Ames' records dropped to 0-3 and 5-6.
"Ames has got a good team, so we expected a close game going in," DeJong said. "Considering that we were down about four starters from what we thought we might have from last year, I thought our kids played awesome.
"We were really playing kids that had never practiced together against an Ames team that was basically ahead of Waukee the whole game (on Dec. 15) and has been very, very competitive in all their games. So we're very pleased to come away with the win," he added.