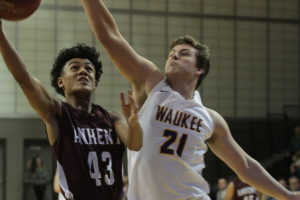 The Ankeny boys' basketball team had two chances to pull off a huge upset on Friday night at Waukee.
The Hawks missed one shot at the end of regulation. They had another one blocked at the end of the first overtime.
The Warriors then used an 8-0 run in the second overtime to pull away for a 70-65 victory in a CIML Central Conference game.
"It's real frustrating," said Ankeny guard Jaxon Smith, who led the Hawks with 18 points. "We're right there every time. We've just got to finish."
Nathan Nelson poured in 31 points on 12-of-16 shooting as Waukee improved to 3-1 in the conference and 8-1 overall. Nathan Johnson added 20 points, 10 rebounds and four steals as the Warriors extended their winning streak to five games.
Dillon Carlson and Deaglan Riordan each had 11 points for Ankeny, which dropped to 0-4 in the league and 1-8 overall.
"It's a free throw here, and it's a free throw there," said Ankeny coach Brandt Carlson, whose team lost its sixth straight game. "Our guys have been right there so many times. It's just one of those deals where we've got to get the monkey off our back and hopefully find a way to get some positivity going."
There were nine lead changes and six ties in the game. Ankeny held a 53-51 lead late in the fourth quarter before Johnson drove for the tying basket with 1:09 remaining.
The Hawks then held the ball for a final shot, but Smith's fadeaway jumper from about 19 feet bounced off the front of the rim as time expired.
"I thought it was in," Smith said.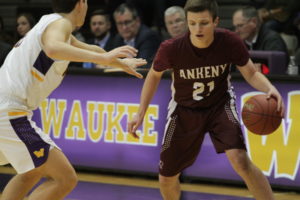 Ankeny took a 59-55 lead in the first overtime before Waukee rallied. Nelson scored off a rebound with 1:31 left, then added a pair of free throws with 50 seconds to go to tie the game.
The Hawks again held the ball for a final shot. This time, Carlson's shot was blocked at the buzzer.
"In my opinion, we've just got to make a play," said coach Carlson. "(Waukee) did a good job of going zone at the end of regulation and at the end of the first overtime, so give credit to them. They've got a great team and a great coach."
Smith opened the second overtime with a driving bank shot to give Ankeny a 61-59 lead, but the Warriors got a basket and two free throws from Nelson to move ahead for good. Noah Hart, who had seven assists, then made 5-of-6 free throws to help seal the victory.
Nelson had been averaging just 9.5 points per game.
"I felt like we played good in the post for what they had," Smith said. "We overcame a lot of adversity. It should have been a blowout, but we always keep it close."
Ankeny forward Ben Lyon scored eight points before fouling out with 1:28 left in regulation. After the game, he took the blame for the loss.
"Hawk nation, that one is on me," Lyon tweeted. "I promise that will never happen again."
Carlson said he believes the Hawks are on the verge of going on a winning streak. They just need to stop their losing skid first.
"I don't think there's any doubt," he said. "We're that close."
The Ankeny players know that their record will be meaningless once postseason play begins.
"We're going to make a run at state for sure," Smith said. "That's our time. That's what we're focused on."