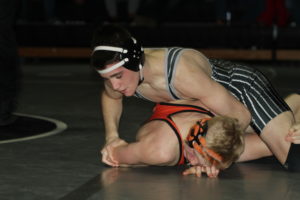 What started out as a promising day for the Ankeny Centennial wrestling team ended with a disappointing finish.
The Jaguars advanced to the championship round of the Linn-Mar Duals on Saturday before dropping a 48-25 decision to Western Dubuque of Epworth. They are now 15-5 on the season, leaving them one win shy of the school record for most wins.
"We just mentally let that last match get away from us," said Centennial coach Jay Groth. "There's no other excuse. We didn't approach it with the right mindset, and it came back to bite us in the (butt)."
Groth was especially disappointed with the performance of his seniors. Six of them were in the lineup against Western Dubuque and they all lost, five of them by falls.
"We just did not show up, and it's unfortunate," Groth said. "I tell the guys that pressure is a privilege and you've got to embrace it and be ready to compete, but I think we either thought maybe they were going to roll over for us or we looked at some of the rankings and maybe that gave us a mental excuse if we lost to a good kid. I just don't like that mentality."
Centennial easily defeated all four of its other opponents, including a 64-12 rout over Mediapolis and a 68-12 win over Cedar Rapids Xavier. The Jaguars also topped Mount Vernon and Clinton.
"I thought we wrestled well the first four rounds," Groth said.
The Jaguars were led by Ben Monroe, who is ranked third at 120 pounds, and Nic Leo. Monroe won all five of his matches while competing at 120 and 126, while Leo went undefeated at 170.
"Nic wrestled really well against some solid competition," Groth said. "And I think Ben beat two or three state qualifiers. We moved him around a little bit, and he's always willing to take one for the team and go where we need him to go."