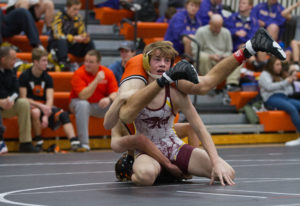 Spencer Anderson is the Ankeny Fanatic prep of the week sponsored by Revive Clinic and Spa. The senior has compiled a 15-7 record at 132 pounds for the Ankeny wrestling team.
Anderson placed third in the Rollin Dyer Invitational on Saturday at Atlantic, helping the Hawks to the team title. He will celebrate his 18th birthday on Jan. 16.
Here is some inside info on Anderson:
How is the season going thus far?
The season is going well for the most part. Other than the tournament at Waukee (on Dec. 16), I am pretty encouraged with how I've been wrestling.
What has been the highlight for you?
I think the highlight for me thus far has been winning the Valley tournament (on Dec. 9).
Have you been able to stay healthy?
Actually, yes. I have been healthy this year for the first time since my freshman year. So it feels good to be able to stay in the lineup.
Do you ever have any trouble making weight?
No, I don't have a problem making weight as a 132-pounder. However, it was a little more difficult when I had to cut down to 126 for the Valley tournament since Sam (Kallem) got a concussion the previous weekend in Independence.
Goals for the rest of the season?
My goals are to qualify for state and ultimately place. I would also like our team to qualify for the state duals for the first time since the split.
One of your freshman teammates, Caleb Rathjen, is currently ranked second in Class 3A at 113. Did you know much about Caleb before this season?
Yes, I have known Caleb for a long time. Our families are pretty good friends and he has wrestled with my brothers who are seventh and eighth graders. So I have probably known him since he was in first grade, and what Caleb has done thus far has not surprised me at all. We all expected this.
Have you ever wrestled Brody Teske of Fort Dodge, who is ranked No. 1 at 126 and one of the state's top wrestlers regardless of weight class.
Yes, I have wrestled Brody. I wrestled him last year as a 120-pounder, but I have not wrestled him this year due to me jumping up to 132.
Plans for next year? Would you like to wrestle in college?
As of right now, I don't plan on wrestling in college. I plan on attending Iowa.
Your grandmother, Jackie Frisk, has been taking photos at your sporting events for a long time. Is there one photo she took that was particularly memorable?
Yes, she has been there since I first started and I know she will still be there when my brothers come up. Not off the top of my head, no. I mean once you've seen thousands of pictures of yourself, they kind of just run together.
You're also a member of the Ankeny boys' soccer team. Are there any similarities between soccer and wrestling?
The similarities would probably be that you have to have your conditioning as good as you can and like wrestling, I expect the soccer team to be pretty good. Especially with the addition of our new coach (Jordan Burns).