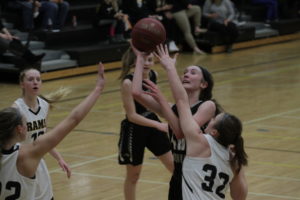 At the start of the season, sophomore guard Meg Burns was expected to be a complementary player for the Ankeny Centennial girls' basketball team.
Now, somewhat out of necessity, she's becoming an emerging star.
Burns scored a career-high 17 points on Tuesday in the fifth-ranked Jaguars' 59-45 loss at No. 10 Southeast Polk. She had eight of her points in the third quarter.
"Meg's a really good player, and she has a chance to be a great player," said Centennial coach Scott DeJong. "She was taking the ball to the basket and finishing. She didn't shoot well early, but I was proud of the way she stuck with it. She was really good in the second half."
Burns has averaged 11.5 points over the last four games while Centennial's leading scorer, Rachel Schon, has been out of the lineup due to a sprained ankle. The Jaguars have also played the last two games without fellow post player Alexandria Keahna-Harris, who has a hamstring injury.
Centennial was already missing two of its starters from last year's team, forward Kenna Sauer and guard Keanna Williams.
"As soon as those two players went out, I knew my role was going to change," Burns said. "I needed to be more of a threat on the offensive end."
The 5-foot-10 Burns is also a solid defensive player. She spent most of Tuesday's game defending Southeast Polk standout Shiloh McCool, who led the Rams with 15 points and 10 rebounds.
"I'm comfortable taking on the other team's best player," Burns said. "I just feel like it's my role to help shut them down."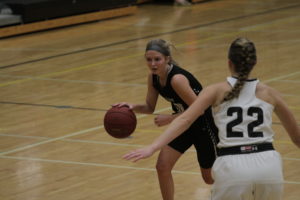 Southeast Polk jumped out to an early 7-0 lead and never trailed. Centennial closed to within 11-10 on a basket by Burns late in the first quarter, but the Rams then answered with an 11-2 run that included seven points by Jessica Stuart.
The Jaguars later pulled to within 38-34 when Burns made three free throws after being fouled on a 3-point shot late in the third quarter. But that was as close as they could get.
"Southeast Polk was a hard guard for us," DeJong said. "To be honest, we played four guards most of the game. I don't think we've practiced that all season. I think we showed some promise (with that lineup), but we got pounded on the boards and that's not good."
The Rams eventually took their biggest lead, 56-41, when McCool hit a 3-pointer with 2:41 left. She went 7-for-9 from the field.
"Meg and Taylor (Runchey) didn't come out the second half, and they played a lot of minutes in the first half," DeJong said. "In an intense and fast-paced game like this one, that's too many. But they did what they had to do, and they went all out. I was proud of their efforts–all of them."
Stuart and Grace Larkins each had 12 points as the Rams improved to 3-2 in the CIML Central Conference and 10-2 overall while avenging an earlier 19-point loss. Centennial's records dropped to 4-1 and 9-3.
The Jaguars' loss allowed No. 8 Waukee (5-0, 11-0) to take over sole possession of first place in the conference. The Warriors visit Centennial on Friday, when Williams could make her season debut after recovering from ACL surgery.
Williams is expected to be cleared to play on Wednesday. Schon and Keahna-Harris might also be available.
"I think that once we get our injured players back, we'll be a force to be reckoned with," Burns said.