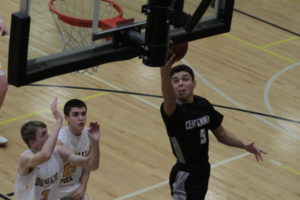 Hunter Strait picked a good time to have one of his best games of the season.
The senior point guard had 21 points, five rebounds and two steals to lead the Ankeny Centennial boys' basketball team to a 61-33 victory over host Southeast Polk on Tuesday.
Afterwards, Strait received a visit from Truman State head coach Chris Foster, his future college coach.
"I didn't even know he was coming, to be honest," Strait said. "Coach (Bob Fontana) told me after the game that (Foster) was here."
Strait went 9-of-14 from the field, including 3-of-6 from 3-point range. He had 10 of his points in the first quarter as the Jaguars jumped out to an 18-4 lead.
The Rams were coming off their biggest win of the season–a 54-53 victory at Valley on Friday.
"They sure got everybody's attention when they beat Valley," Fontana said. "Watching that game, they came back from 12 or 13 down a handful of times. I thought our kids were very businesslike. We came out and our defense was really, really good."
Centennial held a 28-12 lead at halftime, then continued to pull away in the second half. The Jaguars increased their advantage to 42-14 on the third 3-pointer by Strait, who outscored Southeast Polk all by himself until late in the third quarter.
"Their win over Valley showed that we can't overlook them at all," Strait said. "They came back and cut those leads, so we knew we couldn't let up at all."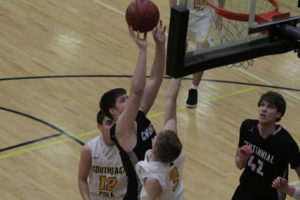 Micah Johnson had 10 points and seven rebounds for the Jaguars. He had a perfect shooting night, going 3-of-3 from the field and 4-of-4 at the free-throw line.
The win was the fourth in a row and the seventh in eight games for Centennial, which also posted a 61-34 victory over the Rams on Dec. 8. The Jaguars improved to 4-1 in the CIML Central Conference and 7-3 overall, while Southeast Polk's records dropped to 2-3 and 4-6.
Centennial has not allowed more than 55 points in any game since losing to Des Moines North, 62-52, on Dec. 1.
"Your defense creates your offense, and we're the type of team where we've got to be really good defensively and we've got to own the boards and win the free-throw line," Fontana said. "Because sometimes we are going to be inconsistent offensively, and we're not the most explosive offensive team."
The Jaguars will host Waukee (4-1, 9-1) on Friday in a showdown for first place in the conference. Strait said another strong defensive performance will be crucial.
"Sometimes we go into shooting slumps and we're not scoring as well, and our defense is going to help us beat those good teams," he said. "We're beating the teams that we should beat, but we've got a big test on Friday. I think if we play good defense, that will really help us."