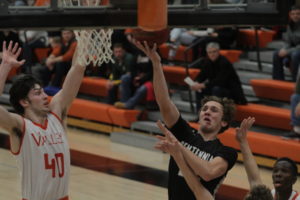 CIML Central Conference basketball standings
Girls'
| | | |
| --- | --- | --- |
| Waukee |  5-0 |  11-0 |
| Ankeny Centennial |  4-1 |  9-3 |
| Southeast Polk |  3-2 |  10-2 |
| Ames |  1-3 |  6-6 |
| Ankeny |  1-4 |  6-6 |
| Valley |  0-4 |  5-7 |
Boys'
| | | |
| --- | --- | --- |
| Waukee | 4-1 | 9-1 |
| Ankeny Centennial | 4-1 | 7-3 |
| Valley | 2-2 | 5-5 |
| Ames | 2-2 | 4-6 |
| Southeast Polk | 2-3 | 4-6 |
| Ankeny | 0-5 | 1-9 |
The races for the CIML Central Conference basketball titles are beginning to heat up at the midway point of the season.
No gym will be hotter on Friday than at Ankeny Centennial, where the Jaguars will host Waukee in a matchup of the top two teams in both the girls' and boys' races.
Here is a closer look at how things could shake out down the stretch:
Girls
The girls' division may be one of the strongest in the state. Defending Class 5A champion Valley, which boasts one of the nation's top players in junior point guard Zoe Young, has yet to win a conference game heading into Friday's contest at Ankeny.
Seventh-ranked Waukee can take a commanding lead in the league race with a win over a depleted Centennial squad, which has been ravaged by injuries. But it won't be an easy task–the Warriors have lost the last five meetings in the series.
No. 9 Centennial can move back into a first-place tie with a victory. If the Jaguars lose, they would fall two games behind with just four games left to play.
No. 8 Southeast Polk could also be a factor in the race. The Rams lost to Waukee by just one point on Jan. 2, then avenged an earlier loss to Centennial with a 59-45 victory on Tuesday, handing the Jaguars their first conference loss.
Southeast Polk will visit Waukee on Jan. 26. The Warriors will also host Centennial in the regular-season finale on Feb. 9.
If the Jaguars can find a way to win Friday's game, they would have a good chance to win the title. They should be healthier for the rematch at Waukee in four weeks.
Boys
Waukee and Centennial are tied for first place heading into Friday's showdown. The two teams will meet again at Waukee on Feb. 9.
Waukee is currently riding a six-game winning streak, while the Jaguars have won their last four games. The Warriors own four consecutive wins in the series, all of them by 10 points or less.
Centennial needs to protect its home court in order to have a good chance to capture the title. A loss on Friday would almost certainly force the Jaguars to win the rematch next month at Waukee, which would be a tall order.
Valley and Ames are tied for third place. The Tigers handed Centennial its only conference loss on Dec. 15 and split two meetings with Waukee, but a loss to Southeast Polk on Friday was damaging to their title hopes.
The Jaguars will host Valley on Jan. 19 and could possibly knock the Tigers out of the race with a victory. That game will carry even more importance if Centennial falls to Waukee on Friday.