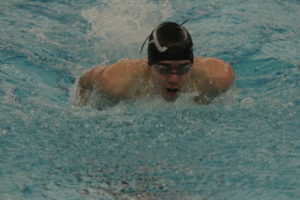 The Ankeny boys' swimming team didn't even need its best lineup to defeat the two-time defending state champs.
The second-ranked Hawks competed without a couple of varsity swimmers, but still posted a 95-75 victory at No. 8 Waukee on Friday.
"We were a little short-handed," said Ankeny coach Justin Crouch. "But I thought the boys responded with a workmanlike effort and were able to come out with a win."
Ankeny had lost the last three meetings against Waukee by an average of 32 points. The win improved the Hawks' records to 2-1 in the CIML Central Conference and 7-1 overall.
"There were three key events that we were short in tonight–the 200 IM, 100 (butter)fly and 100 breast(stroke)," Crouch said. "I thought we would struggle a little in those events going in, but we were able to swim well enough to limit the score while we were able to take advantage of our depth in the freestyle events."
The Hawks will host Valley on Jan. 18 before competing in the conference meet on Jan. 20 at Southeast Polk.
"With two big meets coming up next week, we will see what we are made of before we start resting for the district and state meets," Crouch said.