Ankeny Centennial boys' basketball coach Bob Fontana would rather qualify for the state tournament than win a conference title.
If his team continues to play like it did on Friday night, the Jaguars just might be able to accomplish both of those things.
Centennial relied on a balanced scoring attack and a stingy defense to beat visiting Waukee, 62-55, in a showdown for first place in the CIML Central Conference.
"I would rather be in the state tournament and not win the conference than win the conference and not be in the state tournament, because I've been in both of those positions," Fontana said. "But our league is tougher than hell, and if we can win it that's a feather in our cap."
Hunter Strait scored 15 points as the Jaguars improved to 5-1 in the conference and 8-3 overall. Lathan Brandt had a career-high 14 points on 5-of-6 shooting, while Jackson Brannan made a trio of 3-point goals and added 13 points.
"It's great to be in first place," said Brannan, who also had six rebounds and three assists. "It's just something we've been working for the whole year, and it's nice to finally see it all come together."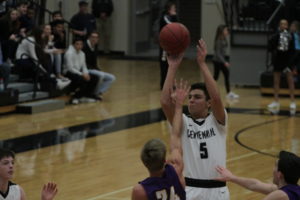 The Jaguars outscored Waukee in the second quarter, 19-10, to build a 30-20 lead at halftime. The fourth-ranked Warriors could get no closer than six points the rest of the way.
The loss ended a six-game winning streak for Waukee, which dropped to 4-2 in the league and 9-2 overall. The Warriors, who had won the last four meetings against Centennial, got a game-high 18 points from Nathan Nelson.
"Our main goal was to keep them off the glass," Brannan said. "We knew if we could do that, it would limit their opportunities on offense. We didn't want them to get any easy buckets."
Centennial has won five straight games and eight of its last nine. The Jaguars have not allowed more than 55 points since their second game of the season.
Fontana said his squad has rebounded nicely from an 0-2 start.
"We have nine football guys on the team, and they weren't even at the first three or four practices. And some of them were banged up," he said. "I knew it was going to be a rough start, but I'm just real proud of the way this team has come together. They play hard, and even when we make a bad play, they pick each other up."