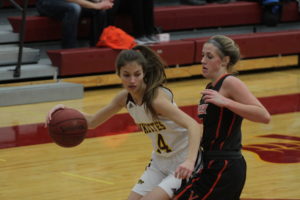 A couple of unlikely heroes emerged on Friday for the Ankeny girls' basketball team.
Reserves Reilly and Abby Johnson combined for eight points in the second quarter to spark the Hawkettes to a come-from-behind 59-53 victory over visiting Valley, the defending state champion and the No. 12 team in Class 5A.
Ankeny trailed, 19-7, before Reilly Johnson hit a jumper and Abby Johnson followed with back-to-back 3-point goals during a 15-6 run that cut the Tigers' lead to 25-22 at halftime. Reilly and Abby had been averaging a total of just 2.5 points per game.
"We could have easily folded, but we had some girls come off the bench who were huge for us," said Ankeny coach Dru McAnelly. "Reilly and Abby came in and hit some big shots, got a couple of steals and just changed the momentum of the game in that second quarter. Without them doing that, I don't know if we win the game."
The Hawkettes then opened the third quarter with a 9-0 run, getting a pair of 3-pointers from Kayla Pitz and another one from Sydney Shadravan.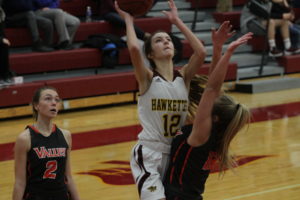 "I think when our girls came in off the bench and made some shots for us, that kind of picked us up," Shadravan said. "We just had to start playing harder, and we started making some shots."
Ankeny held a 41-34 lead after three quarters. The Hawkettes then got a strong final period from Sara McCullough, who finished with 21 points.
"Sara was in a zone and just carried us," McAnelly said.
Pitz had 10 points and Shadravan added eight as Ankeny ended a three-game losing skid. The Hawkettes improved to 2-4 in the CIML Central Conference and 7-6 overall, while Valley's records dropped to 0-5 and 5-8.
"It was a huge win for us," Shadravan said. "We really needed it."
All-state guard Zoe Young scored 24 points to lead the Tigers, who suffered their sixth consecutive loss.
"She really had to fight and work for those points," McAnelly said of Young. "And she got in some foul trouble, too. I think we wore her down a little bit."