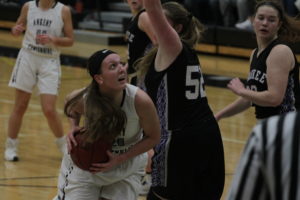 Sydney Wycoff was relieved to hear that teammates Rachel Schon and Alexandria Keahna-Harris would be returning to action for Friday's showdown against visiting Waukee.
"I was so excited when they said they were playing," Wycoff said of the two post players. "It just helps so much with that inside-out game, especially because we had eight 3-pointers."
Schon scored 12 points after missing the previous four games due to a sprained ankle, while Meg Burns and Wycoff combined for 27 more as the ninth-ranked Ankeny Centennial girls' basketball team held on for a 52-50 victory over No. 7 Waukee. It was the first loss of the season for the Warriors, who have now dropped six consecutive games to the Jaguars.
"I thought we played at a really high level the first half," said Centennial coach Scott DeJong, whose team went 8-of-12 from behind the arc overall. "We shot the ball great, and we were fortunate we had a nice lead. We knew they were going to come at us. We bent a little bit, but fortunately we didn't break."
Centennial held a 33-22 lead at halftime. The Jaguars increased their advantage to 49-36 on a three-point play by Chloe Olson early in the fourth quarter, but Waukee then answered with an 11-0 run.
The Warriors closed the gap to 49-47 on a drive by Jori Nieman with 2:12 remaining.
"We just talked about having composure and staying positive," Schon said. "That's kind of been our goal all year, and I think we really came through with that tonight."
Burns made two free throws with 1:09 left to give Centennial a 51-47 lead. She finished with 16 points, including four 3-pointers.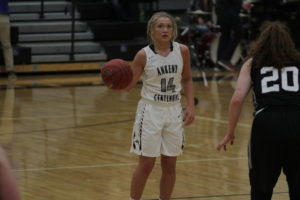 After Waukee's Anna Brown hit a free throw with 23 seconds to go to cut the margin to 51-48, Wycoff connected on the first of two free throws with 16 seconds left to give the Jaguars some breathing room.
The Warriors got a rebound basket from Paityn Rau at the buzzer, but it wasn't enough.
"The first (free throw) was crucial because it gave us a four-point lead," said Wycoff, who contributed 11 points and six assists. "I missed the second one, but I knew our team would get a stop."
The win allowed Centennial (10-3 overall) to move into a first-place tie with Waukee (11-1) in the CIML Central Conference. Both teams are now 5-1 in the league with four games left to play, including a rematch at Waukee in the regular-season finale on Feb. 9.
Schon said she wasn't 100 percent on Friday, but there was no way she was going to sit out another game.
"I love the competition," she said. "Being out of the game and just watching is so tough, and it was really great to be back on the court with my teammates. I had a little pain throughout the game, but that's just part of an ankle sprain. As the season goes on, it should get better and I should be good to go."