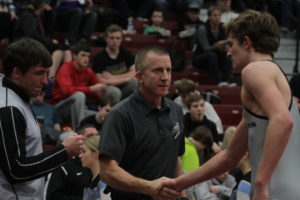 The Ankeny Centennial wrestlers are beginning to feel right at home in their crosstown rival's gym.
The Jaguars visited Ankeny on Saturday for the Bob Sharp Invitational and came away with the team title for the fourth straight year. They racked up 217.5 points in the 10-team tournament.
"It's awesome. I'm pretty happy," said Centennial coach Jay Groth. "A couple of the guys didn't wrestle the way I thought they would, but all in all, we still managed to get the job done today. That was a big change from last weekend (at the Linn-Mar Duals) where we kind of let that final round get away from us."
Norwalk placed second with 205 points. Ankeny finished third with 200.5.
"I'm pleased with the way we wrestled today," said Ankeny coach Jack Wignall, whose team again competed without second-ranked 113-pounder Caleb Rathjen. "I've been saying it all year, but this team has a lot of fight in it. We're fighting off our backs and fighting for wins, and that's all I can ask right now."
Centennial advanced six wrestlers to the finals and had a pair of individual champions. Fifth-ranked Logan Neils pinned Pedro Rodriguez of South Tama in 3 minutes 15 seconds to capture the 160-pound title.
"I was feeling a little sick, but once you get out there it goes away," said Neils, who raised his record to 17-5. "I was trying to do a Turk, but (Rodriguez) just kind of tried to roll and got himself stuck."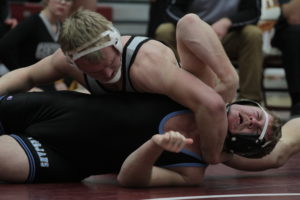 Fifth-ranked Colin Honderd then claimed another crown at 182 by pinning all three of his opponents. In the finals, he recorded a fall in 2:18 over Dalton Rosenburg of South Tama, who is ranked sixth in Class 2A.
"I was pretty confident," said Honderd, who improved to 24-3. "I've seen (Rosenburg) on the rankings, but I tried not to worry about it too much."
Ankeny had four finalists and crowned one champion in Derek Anderson, who posted a 3-2 decision over third-ranked Ben Monroe of Centennial at 120. Anderson got a takedown in the first period and then held on to beat Monroe for the first time ever.
"It feels good," Anderson said. "I haven't won (a Bob Sharp title) yet so I wanted to accomplish that today, especially against Ben. I've been looking forward to this match for awhile."
The score was tied at 2-2 after two periods. Monroe then let Anderson escape to begin the third period, but he was unable to get the takedown that he needed.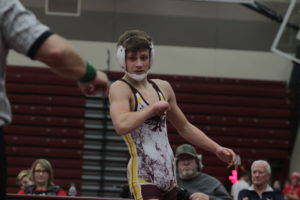 "I just had to stay busy on the my feet," Anderson said. "I know he's really good with his outside singles, so I was just keeping that back and I was just staying on my game plan."
The win improved Anderson's record to 20-6. Monroe dropped to 23-2.
"I didn't compete and that's the way it goes," Monroe said.
Also placing second for the Jaguars were ninth-ranked Noah Blubaugh at 113, Noah Stober at 195 and Lane Pruisner at 220.
"We came in with the expectation that we would (win the tournament)," Neils said.
Ankeny got runner-up finishes from 10th-ranked Sam Kallem at 126, Spencer Anderson at 132 and Killyan Green at 138. Kallem was denied a second straight Bob Sharp title when he dropped a 12-11 decision to Colby Schriever of Mason City.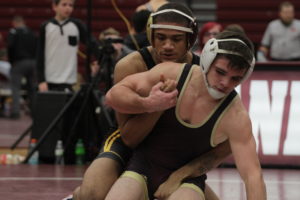 "We would've liked to win more than one (title), but we had some tough matches," Wignall said.
The Hawks and Jaguars will collide again on Thursday in a dual meet at Ankeny. Centennial will be looking to avenge last year's 28-26 loss.
"Ultimately, what matters is what happens on Thursday," said Derek Anderson.
Monroe likely won't have to wait long for an opportunity to avenge Saturday's loss.
"Ben is as self-critical as anybody," Groth said. "We'll work on some things this week and get another shot at (Anderson) on Thursday."