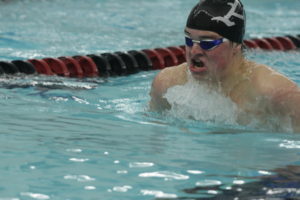 Connor Neils is the Ankeny Fanatic prep of the week sponsored by Revive Clinic and Spa. The senior has helped the Ankeny boys' swimming team to a 7-1 dual record and a No. 2 ranking in the state.
Neils placed fourth in the 500 freestyle and fifth in the 200 individual medley at last year's state meet, helping the Hawks to a seventh-place finish overall. He is currently ranked 10th in the state in the 500 freestyle and 12th in the 200 IM.
Here is some inside info on Neils:
How is the season going thus far?
Our season is going great. I think the team is really loving the new pool, and we've beaten a lot of teams we don't usually beat.
What has been the highlight for you?
I think the highlight of this season has been getting to train with the group of guys we have at practice. Everyone knows we have work to do and when it comes down to it, we get it done. It's a great atmosphere.
Your team posted a 95-75 victory on Friday at No. 5 Waukee, the two-time defending state champion. What did you think of your team's performance.
I was out with a neck injury last week, but I'm very proud of the team for stepping up and winning even missing quite a few swimmers.
What is your favorite event?
The 200 IM. Swimming all four strokes brings a little more strategy into the race, so it's always exciting.
Individual goals for the rest of the season?
I'm hoping to make the podium in both of my individual races at state and set team records in both.
Do you think your team can contend for a state title, and do you think No. 1 Ames is beatable?
They're a very solid team, but we've had our best year in a long time. I think we'll have our shot.
You were one of the top runners on the Ankeny Centennial boys' cross country team before deciding to focus on swimming. Was it tough for you to give up running?
It was a tough choice, but it really just came down to time. This fall, between school, swimming, working and going on college visits, I ran out of hours in the day.
Plans for next year?
I have made a verbal commitment to swim at Truman State University in Kirksville, Mo.
What are you going to study?
I am planning to study biology or chemistry with a potential minor in Spanish. My current plan is to attend medical school after graduating from Truman.
Your younger brother, Logan, is a member of the Centennial wrestling team and currently ranked fifth at 160 pounds in Class 3A. Has Logan ever tried to compete in swimming?
He has. We both started with the Ankeny YMCA Aquahawks the same year. He decided one season was enough, though.
Who would have more success–Logan as a swimmer or you as a wrestler?
That's a question that we have actually already answered. When I was just starting swimming and he was just starting wrestling, we decided to each try the other's sport. He made it through a season of swimming; I made it through one practice of wrestling. That said, it was a long time ago. Things might be different now…