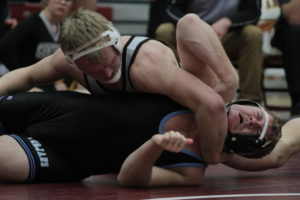 Saturday's Bob Sharp Invitational wrestling tournament was just the beginning of what Colin Honderd calls "Rivalry Week".
The fifth-ranked Honderd won an individual title at 182 pounds to help Ankeny Centennial to the team crown for the fourth straight year. The Jaguars finished with 217.5 points, while host Ankeny placed third in the 10-team field with 200.5.
"We were pretty confident," Honderd said. "We really wanted to start off this 'Rivalry Week' by winning the tournament like we did the last three years."
Fifth-ranked Logan Neils also won a title at 160 for the Jaguars, who advanced six wrestlers to the finals. He pinned Pedro Rodriguez of South Tama in 3 minutes 15 seconds after two of his teammates lost their championship matches.
"We got a spark from Logan when he got that fall," said Centennial coach Jay Groth. "We were kind of faltering until he got the pin and kind of juiced us all up."
While Centennial left the Ankeny gym with the biggest trophy, the Hawks also earned their share of bragging rights. They won the lone head-to-head matchup against their crosstown rival in the finals, thanks to Derek Anderson's 3-2 decision over third-ranked Ben Monroe at 120.
Anderson had never before defeated Monroe, who was a state runner-up a year ago at 106.
"I knew that I was going to get it," Anderson said. "I was going to win the home tournament."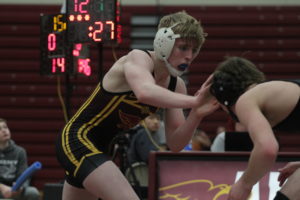 Ankeny also got second-place finishes from 10th-ranked Sam Kallem at 126, Spencer Anderson at 132 and Killyan Green at 138. Four other Hawks placed third.
"Our kids really stepped up," said Ankeny coach Jack Wignall. "With Caleb (Rathjen) out of the lineup, our kids know that they have to step up and that's what we're doing."
Both teams will now turn their attention toward Thursday's dual meet at Ankeny. The Jaguars will be looking to avenge last year's 28-26 loss.
A win would allow Centennial (15-5) to tie the school record for most victories in a season. The Jaguars had 16 wins in each of the last two years.
Ankeny (5-5) is expected to again be without Rathjen, who is ranked second at 113. The standout freshman continues to battle an ankle injury.
"We're just trying to be overly cautious," Wignall said. "We just don't want to ruin him for the postseason."
Even without Rathjen, the Hawks proved on Saturday that they can go toe-to-toe with Centennial. If both teams use the same lineups that they entered at the Bob Sharp tournament, the Jaguars would likely be favored to win five matches, one more than Ankeny.
The outcome of the meet will likely be determined by the results of five toss-up matches. Here's a closer look at perhaps the four most important matches of the night:
120: Centennial's Ben Monroe (23-2) vs. Ankeny's Derek Anderson (20-6). How will Monroe respond after losing for just the sixth time in his varsity career? The sophomore will be trying to show that Saturday's loss to Anderson was a fluke, but he'll now be facing an opponent with growing confidence that knows he can beat Monroe. This will be the most anticipated match of the night…if it happens. The Jaguars could elect to move Monroe up to 126, where he has wrestled at times this season.
138: Centennial's Eric Owens (21-6) vs. Ankeny's Killyan Green (14-7). Owens was a state placewinner last year at 113, while Green was a competitive 145-pounder. Owens has moved up four weight classes this season and placed fifth at the Bob Sharp Invitational. Green dropped down to 138 on Saturday and earned a runner-up finish. The two did not meet at the tournament.
195: Centennial's Noah Stober (22-5) vs. Ankeny's Cole Rathjen (20-9). This appears to be another even matchup. Stober placed second and Rathjen finished third in Saturday's tournament without facing each other, but both of them lost close decisions to champion Nate Heckart of Norwalk. The winner of this match could be knocking on the door of the Class 3A rankings while potentially helping his team to a victory.
285: Centennial's Riley McClaskey (14-9) vs. Ankeny's Romello Gray (17-13). These two heavyweights split a pair of matches at Saturday's tournament. Gray recorded a fall in the quarterfinals, but McClaskey later turned the tables by pinning Gray in the third-place match. Who will win the rubber match?