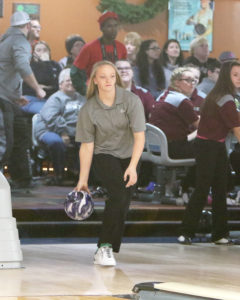 The Waukee bowling teams entered Monday's dual meet against Ankeny with more than just a home alley advantage.
The Warriors have also benefited from a huge disparity in practice time.
"They practice four times a week for 90 minutes in their home bowling center, and it really showed tonight," said Ankeny coach Jim Robidoux. "They had more practices midway through November than we've had all season, but it's just the nature of the beast this year."
The Waukee girls' team remained undefeated with a 2,425-2,265 victory in the CIML Central Conference opener at Warrior Lanes. The Warriors raised their overall record to 7-0, while the Hawkettes dropped to 2-3.
Sydney Sears led Ankeny for the third straight meet with a 397 series, which included a 213 in her second game. She posted the highest score among all the girls.
Isabel Tetmeyer bowled a 353 series for the Hawkettes. Emma Harris rolled a 270, Christina Angran had a 267, Kora Kolln bowled a 227, and Zoe Baker added a 182.
"The Waukee girls are unbeaten for a reason," Robidoux said. "We held tight with them and beat them in two of the Baker rounds. But they were just too strong on their home alley."
The Hawkettes posted their second highest score of the season.
"Zoe came to the match after having oral surgery on Friday," Robidoux said. "We're really proud of her for giving an effort today."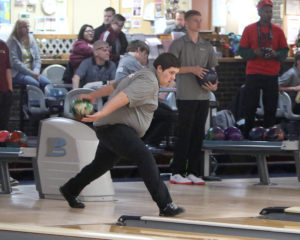 Waukee also won the boys' meet by a score of 2,964-2,545. The Warriors are now 5-2 on the season, while the Hawks fell to 1-4.
"Waukee started hot with four 200 games in game one," Robidoux said. "We actually bowled three pins over our average in the individual rounds, but they had a strong average of 191 coming in and they bowled 18 pins above their average."
Joel Unick led Ankeny with a 392 series. Gage Payton bowled a 387, Collin Runyan had a 383, Bryce Follett rolled a 309, James Cole had a 299, and Brandon Schumacher added a 250.
"We just haven't been able to put our top five together," Robidoux said.
Jeff Carothers bowled a high game of 219 for the Hawks during the junior varsity meet.
"Jeff just keeps it simple," Robidoux said. "He rolls a straight ball down the middle and never gutters."
Ankeny will have two more meets this week, facing Urbandale on Tuesday at Merle Hay Lanes before hosting Marshalltown on Thursday at Great Escape.